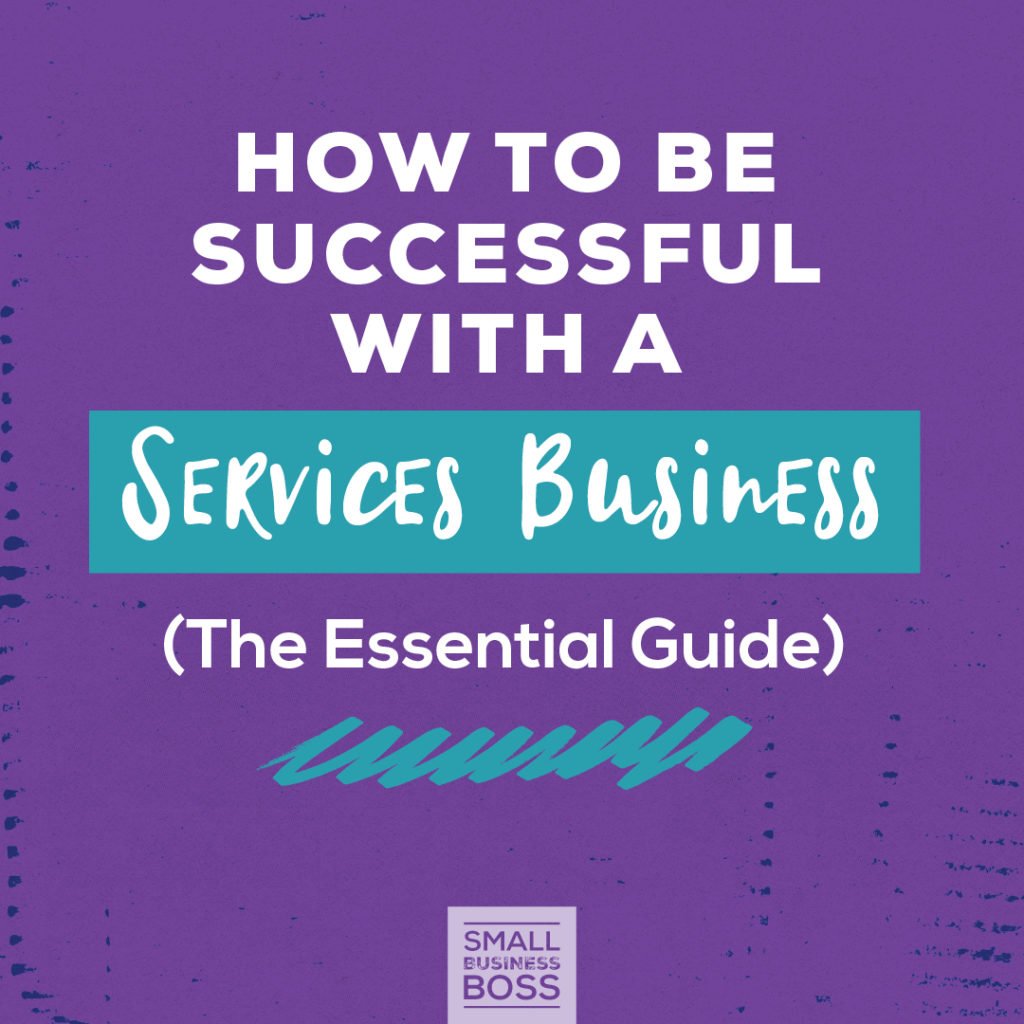 How to Be Successful With a Services Business (The Essential Guide)
When we start a business, we're motivated by so many things, like freedom, flexibility, impact, service, money and much more. Whatever your motivation, there's one thing I know about you — that you're in this to be successful. And you're wondering how to be successful with a services business.
Yes,  you want that success on your terms, but you're doing this business thing so that you can get what you want out of it.
In my many years of working as a boss providing services, I've learned a lot. I mean, so many things that I could never ever write enough blog posts to share everything I've learned, and even if I could, you never would have time to read them all. After all, you've got a business to run.
But what I have done is bring ALL of that together in this post to give you the essential guide for how to be successful with a services business.
How to Be Successful with a Services Business: The Service Business Boss Success Map
Over the last three years, I've invested a lot of time in reflecting on my own experiences and working hands-on and connecting with 100s of service business owners to gain a deep understanding of the common elements that make for a successful service business.
The result of all of that is a framework I created called the Service Business Boss Success Map. Consider this a blueprint for the must-have elements for you to create a sustainable, profitable business with your services – aka, Maggie's guide for how to be successful with a services business.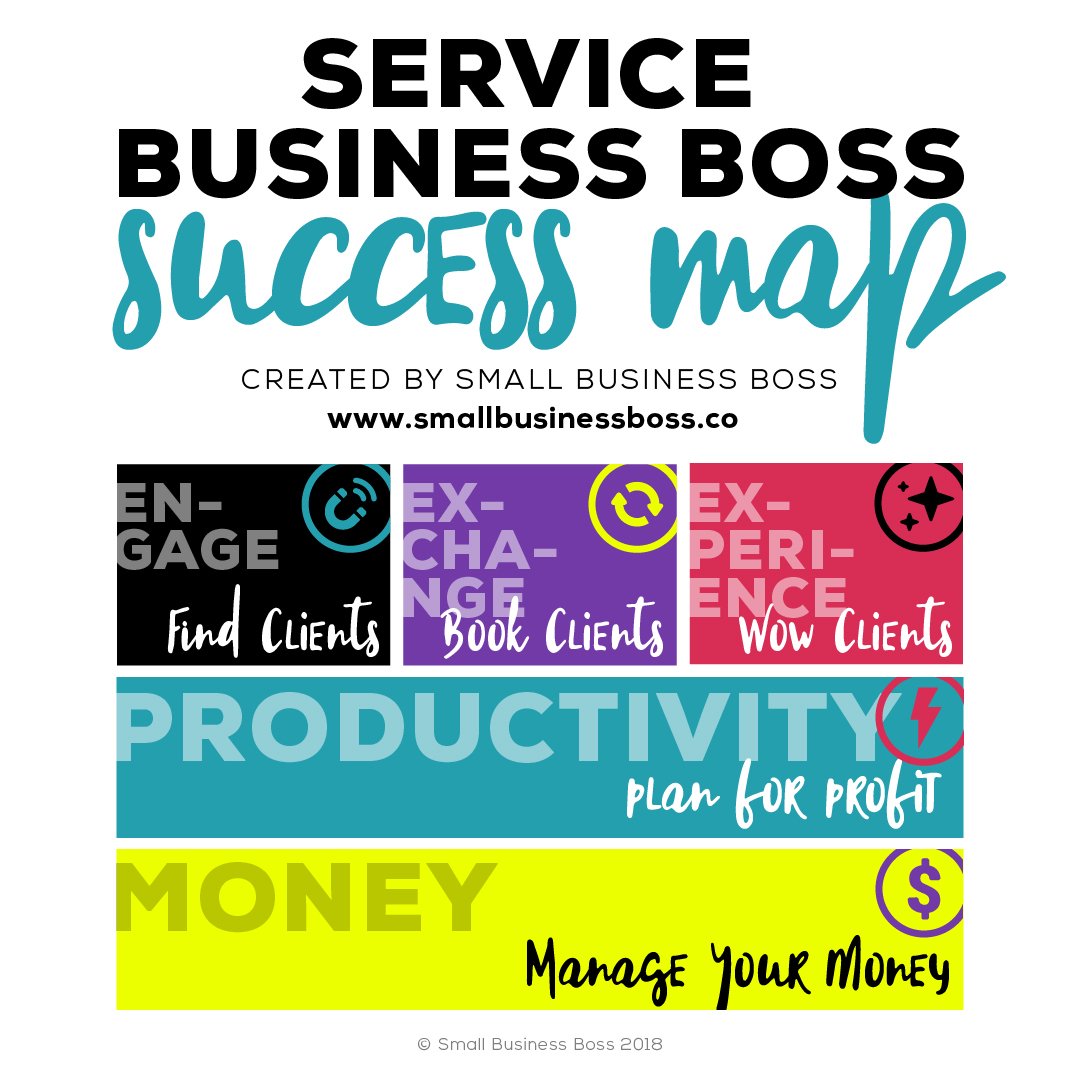 Now, the success map isn't about telling you how to run your business. It's about helping you pinpoint what you may need to do more of or what you may be missing in your business.
Time and time again, I've found that most of us are missing one or more of the five elements of this success map and that's what prevents us to getting to that next level in your business.
Now, before you think, "Ah, I've got this handled," I encourage you to keep an open mind because these five essential areas of your business require ongoing time and effort. After 13 years in business, these are things I STILL need to focus on, and they don't go away when you to get to consistent $10k months or crack $100k a year.
No matter what your goals are or where you're at today, these five essential building blocks of a services business can help you get to where you want to go.
ENGAGE: FIND CLIENTS
As a freelancer or service provider, everything you do comes down to being able to find clients.
Seriously. If you knew how many times I've chatted with a service provider who's running in a million directions and is doing all the things but has no plan in place for getting clients, I'd be a very wealthy woman!
It's easier to focus on doing all kinds of things that feel like we're working to get clients, from creating funnels to fancy branding, when the truth is, until you're at a point where you have a steady, sustainable stream of clients, you need to get back to basics.
Here's the reality. If you don't have clients, you don't have a business. Clients bring in the cash, and I'm assuming that you want to make money with your business.
At every stage of your business, finding clients should be priority number one. If you're offering services, you always need to be thinking about this — even if you're full up with more clients than you can handle and you've got clients coming to you. Because trust me, things change, and if you get complacent or your biggest client suddenly leaves, it's harder to get back in action.
Working Your Network
The most direct way for you to find more clients is to focus on your personal and professional network. As the saying goes, "It's not what you know, it's who you know," and as a service provider, you should ensure you consistently cultivate relationships within your network.
First off, your network is incredibly powerful in business. Don't underestimate how people who know you want you to be successful and will go out of their way to help you.
Put time on your calendar every week or month to ensure you're staying in touch with people you know personally and professionally. This is a simple act but well worth the time invested. I'm consistently surprised how these efforts to keep in touch continues to pay off.
Asking for Referrals
To step that up, ensure you're asking for referrals on a consistent basis. This could be from your current or past clients who you know may be aware of clients that are perfect for you or from people you have a working relationship with. Don't just wait for people to refer you; take the time to ask for referrals as a way to remind potential referrers that you're looking for new clients.
Also, don't overlook opportunities to find new clients through collaborations with other service providers or via subcontracting. In my early years as a freelancer, I was able to ensure my client docket was full by subcontracting to a small PR agency, and to this day, we frequently collaborate with other marketing agencies or service providers on projects. Having a close working relationship where you can be a preferred partner helps save you the time and effort of finding clients on your own.
Connecting in Communities
Online or off, you're likely involved in a number of communities, so you need to look at these groups as places for you to find clients. By being involved in communities and investing time in cultivating relationships, you're putting yourself in front of the people you SHOULD know — a pool of potential clients or collaborators.
Online communities on social networks offer an amazing way for you to get connected and position yourself as a subject matter expert. This may be in Facebook Groups, a Slack community, or an online forum, but the key here is that you don't just lurk — you show up and focus on being of service.
Another way to get plugged into communities is with events — from big industry events to smaller niche ones. When you're looking at events, figure out where you can find your ideal clients, and don't just settle for events that are full of people who do what you do. Once you lock into events, look for communities around the event or special, smaller groups as a way to meet more people and develop your network.
Finally, don't overlook opportunities for local networking. Unless you live completely off the grid, you're likely to find some type of local networking from chambers of commerce to women in business groups.
I live about 45 minutes to an hour from downtown Ottawa in a rural area, so for years, I avoided going to events as it meant I'd lose at least half a day. About 18 months ago, I decided that I needed to focus more on local networking, and I quickly discovered many many groups around me that would be a fit for me — all of which were full of my potential clients. This local focus has helped me and my brands get known in my immediate community and has resulted in a number of new clients as well.
Other People's Platforms
Once you've exhausted the above ways of finding clients, it's time for you to start creating your own content and building your platform. But before you dive into everything that goes with blogging, podcasting and building an email list, consider this: with all of those activities, you're relying on someone finding you and coming to you.
What if, instead, you could go where your potential clients already are? I call this using Other People's Platforms or OPPs, which is a brilliant way to shortcut the time and effort in building an audience.
The best thing about focusing on OPPs is that you can play to your strengths by doing what comes easiest to you, and you can build your reach and reputation in the process because when someone features you, it's a sign of their trust in your skills and experience.
Now, if you're wondering what exactly would be an OPP, I'm talking about:
Speaking on stage at events.
Being a guest on a podcast.
Teaching in someone else's community or program.
Writing guest posts.
Being an expert for industry or consumer media.
If you're new to using OPPs, I recommend you start by picking one and going from there. Take the time to understand what you can offer to that platform that's unique and the value you're able to deliver to their audience. Do your homework on how they like to be pitched, what they're looking for, and what their submission process may be. Finally, be sure to carefully customize your pitch or submission so that you stand out from the pack, and show that you're different.
EXCHANGE: BOOK CLIENTS
Now that you've found some potential clients, you need to be able to book them. If you've ever been stuck in a back and forth with a client that goes on for weeks or even months, you know exactly how tricky this step can be. Or if you've written proposals that were met with silence or found yourself struggling to price a project.
As a services business owner, your goal is to not just survive, but to thrive, so the Exchange part of the Service Business Boss Success Map gives you the power to create greater income, more profitability and attract an even higher caliber of client.
The goal is to focus on the strategies that will help make booking clients easier and increase your income in the process.
Packages and Signature Services
Now, maybe you've worked on packages and pricing in your business, but this should always be a work in progress as you gain more experience, deliver even more value, and become even more in demand as an expert at what you do.
Typically, service providers start off by charging for services by the hour, which quite frankly, is a good, simple place to start. It's easy for potential clients to understand and for you to manage your workload as the exchange of dollars for hours is clear.
At a certain point, most service providers outgrow this model or need to layer in other revenue streams that build on a flat-rate. (Side note: There's nothing wrong with hourly work. In fact, we have agency clients who work with us in hours based retainers, and this is ideal for more tactical work that varies month-to-month.)
By creating packages you can move out of the hours for dollars model. You can do this by defining a set of deliverables for a pre-set price and which helps you increase how much you're making with each client engagement.
Over time, you may identify something that you want to be known for as a service provider that you can turn into a productized or signature service. This type of package is set at a premium price and built on a specific approach or method that you use with your clients.
Both packages and signature services provide a way for you to make the sales process easier as potential clients can quickly see how you can help them, and you're working with a structured process that you can explain to them.
Pricing for Profit
With both types of packages, you're able to price your services in a way that's profitable and move away from the constant squeeze of being up against the clock. This enables you to provide a quality service without the constraints of not going over hours or feeling like the client is checking in on your every move.
One of the biggest mistakes I see service providers making is that they price their services too low. Why? They fail to account for the real cost of delivering that service, including things like tools you use, unbilled time, the cost of acquiring that client and more. If you price your service using a base rate of $50/hour, you may not be accounting for the cost of doing business or the fact that not every hour of every day is billable.
With pricing for profit, your focus is on ensuring that you're using "real" numbers to come up with your prices and not just picking prices out of the air based on what you think you're worth or worse yet, fear.
Proposals
If you've ever written a proposal, you know exactly how time-consuming they can be, which is frustrating when the client simply doesn't respond or goes MIA when you follow-up.
Not all proposals are created equal. When you create a proposal, you need to do more than define the scope of work and offer up a price. To create winning proposals, you need to sell your services and the value you deliver so that the price is beside the point and they want to say yes to working with you.
Consults That Convert
Consult calls where you get on Skype or the phone and chat with prospective clients can quickly turn into a free consulting or strategy session. The goal of a consult call isn't for you to provide strategy for free to your potential clients, but rather as a place for you to connect to see if there's a fit with what they need and what you're able to deliver.
For you to book consult calls that turn into paying clients, you need to do some pre-screening in advance of getting on the phone. Start by having a series of questions they answer when they request the consult, as well as a way to check-in before the call on their budget expectations.
Some may argue that your job is to sell them on the call so the budget isn't an issue, but it's been my experience that there's no selling someone that wants $500 website copy when I'm selling $5k copywriting packages. This pre-qualification can be handled with a question on your intake form to pre-screen potential consult call candidates or via a quick email in advance of your call.
Closing Clients
Once you've sent a proposal or shared package details, waiting to get a yes can be excruciating.
While you're waiting, don't make the mistake of assuming silence is a no! It's not a no until they've actually said NO.
To close clients, the first thing you're going to need is patience and a good understanding of how their sales cycle works. Next up, you need a plan for how you can do more than "Hey, have you decided yet?" and "Hey, me again, have you decided yet?" emails.
You need emails that reinforce the value you deliver and make it extremely hard to say no to working with you. Offer to get on another call to answer any questions and work on handling any objections they may have.
More than once I've closed clients on the strength of my follow-up and willingness to stay in touch, which is why after your initial follow-up, be sure to have a process in place to keep in touch and continue to nurture that relationship.
EXPERIENCE: WOW CLIENTS
Once you have clients in the door, you need to keep them happy and provide them with an experience that makes them give you rave reviews. Remember, you want this client to refer you and provide a testimonial, so how you serve them once they're a client matters tremendously. (Also, having a plan helps you ensure your client doesn't turn into a client from hell.)
When it comes to your client experience, the good news is that you don't need anything fancy, and once you have systems in place, you can rinse and repeat with your new and ongoing clients on a continual basis.
Welcoming Clients
You've got a new client — yay! Now you want to get them started quickly and easily and have processes in place to make sure that their first 30 to 90 days of working with you go smoothly. (After all, you don't want them to have buyer's remorse!)
Take the time to map out all of the steps in your welcome process from start to finish from the time they say yes.
These steps may include:
Getting a signature on the contract.
Issuing the first invoice.
Setting up the client on the project management system.
Collecting important information, including logins and client contact information.
Establishing the project timeline.
Scheduling the kickoff meeting.
Sending a welcome card or gift.
Having a check-in at the 30 or 60-day point in the project.
As part of your onboarding process, be sure to think of it from the client's perspective; you don't want to overwhelm them by asking for everything all at once. (A stressed-out new client isn't the way to get things off to a solid start!)
Clear Communication
Client communication can be challenging. After all, we're human. That's why I'm a huge fan of clarity and ensuring you're proactively communicating with your clients on an ongoing basis.
You want to avoid the client having a case of what I call the "what abouts," as in, "What about this? Did you do this? Are you thinking about this?" It's the client version of nagging you, and I can tell you that many times from the client's perspective, it's justified as they don't have visibility into what's going on, and they're left wondering if you're doing what you've said you're going to do.
It's key that you, as a boss, take the steps to manage your clients, and ensure they feel taken care of. That includes having standard processes in place for check-ins and updates on a regular basis. Don't let weeks go by without them hearing from you.
You can enhance your client communications by ensuring you have clearly stated boundaries and guidelines for how you work together. You want to answer questions regarding communications, what your office hours are, when you're out of office and other basics so they know what to expect.
Finally, sometimes things are going to get rough, and you'll have to deal with a difficult client situation. Keep your cool, and be a professional — no matter how ridiculous the client may be! (The one time in recent memory I got heated with a client, it was a poor reflection on me, and it only made things worse!)
Seamless Client Management
Most of us are juggling multiple clients, and it's easy for things to get out of control. Investing time and energy into your client management systems are critical so you're not drowning in details or deadlines for your clients.
One way to help manage your clients is by ensuring you have a project management tool in place such as Trello or Basecamp. With these systems, you can manage all of your files, tasks, and communication in one place.
Now, if you're thinking, "My clients won't go for that," make it part of your standard operating procedure and explain to clients that it helps you better serve them.
While you're in the services business, you need to have the right systems in place to ensure you're able to be of service to your client and not running around after bits and pieces across multiple systems. Plus, when you position your system to clients that way, they appreciate why you're doing what you're doing and that using your project management platform is of benefit to them.
Offboarding
If you do a lot of project work, this one is for you. Most client engagements run their course, and you want to take the time to wrap things up with a bow.
Put in place a standard offboarding process with the steps you follow each and every time you wrap up a project. This is critical to supporting your client experience and leaving a positive lasting impression.
As part of your process, include how you transition files, how to keep in touch, if there's an opportunity for a future project, and most of all, show the client your gratitude. This is also a good time to ask for a referral or testimonial!
Testimonials
Most service business owners rely heavily on word of mouth marketing, and having testimonials in place for your business is part of ensuring you're able to substantiate to a potential client that you do what you say you're going to do.
If you've got happy clients, you need to be asking for testimonials. Make it part of your offboarding process, and create standardized templates to ensure you follow through and ask for feedback from your clients.
[embed_popupally_pro popup_id="8″]
PRODUCTIVITY: PLAN FOR PROFIT
With productivity, bosses — especially those who work with clients — tend to fall into one of two camps.
Camp one is the planners. They plan and plan and plan…sometimes so much to the point of procrastination or making themselves unproductive in the process.
Then camp two are the resistors. They hate the idea of rules and plans and trying to make the most of their days. Or they simply feel like a hot mess as they can't get anything done but their client work.
Productivity is an essential part of your ability to succeed in a business where you work with clients.
Without a focus on productivity (the healthy kind, not the planning to avoid doing work kind), you're going to end up always working IN the business and not ever have time to work ON it. Without that time, you'll find yourself on a hamster wheel where it's hard to grow.
For me, when I got serious about how I was spending my time, my business started to grow. It's no accident, and I've seen that time and time again with my mentoring and mastermind clients as what you focus on is what will grow in your business.
The Small Business Boss approach to productivity isn't about just doing it because you can, but rather focusing on it as a way to build a more profitable business. Plus, it takes into account the realities of planning your days when you work with clients.
Quarterly Planning
Being more productive starts with having a quarterly plan where you're establishing priorities for the next 12 weeks. This plan should include a handful of specific, measurable goals that you can work towards.
By focusing on a 12-week plan, you're able to speed up your time to accomplish the goal and stay more focused on actually accomplishing that goal.
Monthly and Weekly Planning
Often, I speak to bosses, and they've got a quarterly plan, but they don't really have time set aside to work on that plan. That's why you need a plan at the monthly level that sets a realistic path forward for how you're going to work towards your goals.
Additionally, how you manage your time each week makes a critical difference. That's why having at least a loose ideal week is key — particularly if you're trying to ensure that clients don't suck up every last minute of your workday. You want to have time set aside to work ON your business each week, days set aside where you have calls with clients, and blocks of time to do work for your clients so you're not cramming it in after hours as you've been on the phone all day.
Daily Productivity
Plans and productivity strategies are great, but if you don't execute at the daily level, it's going to be challenging to make meaningful progress on your goals.
We've all been there, endlessly scrolling Facebook, checking our email, or multi-tasking like our life depends on it. All of these distractions keep us from making the most of our time and keep us stuck where we're at.
Go into every day with a plan for how you're going to use your time, and set time aside for potentially distracting tasks, such as reviewing your email. Plus, watch for things that pop up that cause you to lose focus on what you're supposed to be doing, as each time we start and stop and restart a task, we lose time. And that time spent on what's called context switching can eat up to 30% of our days.
MONEY: MANAGE YOUR MONEY
The last part of the Service Business Boss Success Map is managing your money. Love it, hate it, doesn't matter, because how you manage money means everything to your business.
If you're not sure how "money" is a growth strategy for your business, it's simple really. What you manage will grow, and when you're a good steward of the money you have in your business and stay on top of your numbers, it's easier to make more money.
I'm not talking about money mindset or manifesting money (both of which can be helpful if you're into that) but more about having fundamental money management systems in place for your business.
No matter where you are today with managing your money, just know this is something you can improve over time. For years, I avoided managing my money and left it to my bookkeeper on a quarterly basis, and truthfully, I was doing the absolute minimum. So, if I can improve to the point where my money is handled, and I know my numbers inside out, so can you.
So, what money management systems do you have in place? Here's the good news: you don't need anything super fancy, but you do need a few basics.
Monthly Bookkeeping
When my books were only done on a quarterly basis, it was stressful for me to make sure I had all the paperwork I needed, and quite frankly, to remember all the things I needed to do. I'm sure I lost out on thousands of dollars in expenses due to my sloppy management.
Monthly bookkeeping that's done consistently gives you an accurate picture of where you're at in the business. This isn't about things being "good" or "bad" but rather having a grip on reality. It's easy to tell yourself stories or make unfortunate choices when you're dealing from a place of emotion and not facts.
If you struggle with doing your books yourself, this is a great place to get help, so they're done every month, and you're not worried about it. Accounting was the very first investment I made in my business — and it's still one of the most important ones!
Monthly Budget
Did you just roll your eyes when you read the word budget and thought, "I don't want a budget!"?  (Yes, I know some of you did!) Your business budget isn't about deprivation but rather about helping you get what you really want.
Having a budget in place saves you from making investments you can't afford.  Most of all, your business budget can help you keep more of your money in your pocket by giving every dollar a job and keeping you away from those late night online course impulse purchases.
Your budget doesn't need to be fancy, and you can create it in a Google Sheet, and keep track of what you're spending on it and then track against it each month. Speaking of which, to stay on budget, and keep expenses in check, do a quarterly expense review to make sure you're not spending on things you're not using.
Revenue Forecast
Taking time on a monthly (or even a more frequent basis) to plan for what revenue you have booked in, you'll be able to quickly spot budget shortfalls, cash flow challenges or where you may have room for a new client. Keeping a finger on the pulse in terms of what money you're forecasting can help ensure sound decisions and keep you focused on activities that support new business development.
Invoicing Clients
If you're in business, clearly you've got systems in place to invoice clients and collect payments each month, but this is one area that some incremental improvements and/or careful management can make a serious difference.
One of the most important ones is your process for invoicing your clients and the tools you have in place. Do you have a system where you can send a link to the invoice and track if it's been opened? (Tools like Harvest and Freshbooks both do this.) That little piece of data helps you know if a client needs to be reminded and ensures there's no game playing about invoices not being received.
Also, creating and managing your invoices should be an easy process for you that takes up very little time. For years, I created my invoices in Word, and the second I moved from that to Freshbooks (I now use Harvest), I went from dreading the process to it being a non-issue for me.
Money Collection
Finally, consider how you actually collect money from clients, and answer this question, "Do I make it easy for clients to pay me?" The answer has to be yes. Understand how your clients want to pay you, and offer that to them, (even if it costs you in processing fees), because if you make it easy, they'll pay you much faster.
A few years ago, I had someone I needed to pay an invoice for, and the system was painful. It involved way too many steps to do a bank transfer and that resulted in me procrastinating on paying their invoice. I can guarantee if there had been an option to pay by PayPal or credit card, I would have paid within minutes of getting the receipt. Instead, it took me days as I had to dig out bank routing information. While fees were saved on the contractor's end, it meant they had to wait longer to get paid.
The Recap: How to be Successful with a Services Business
Phew, we made it! Now, I'm not going to tell you that you can implement everything above right away, and BAM-O, you'll have the business of your dreams. It'll take work and commitment to get where you want to go, but when you ensure you have the essentials above covered, and don't waste your time on the shiny objects of the internet and Facebook. With the right focus you'll be so much closer to being successful with a services business.
Get started now by picking one of the above five essentials from the Service Business Boss Success Map and focus there. And if you need help with that, check out this totally FREE course below this post. It's applicable to you even if you're making more than $5k a month too.