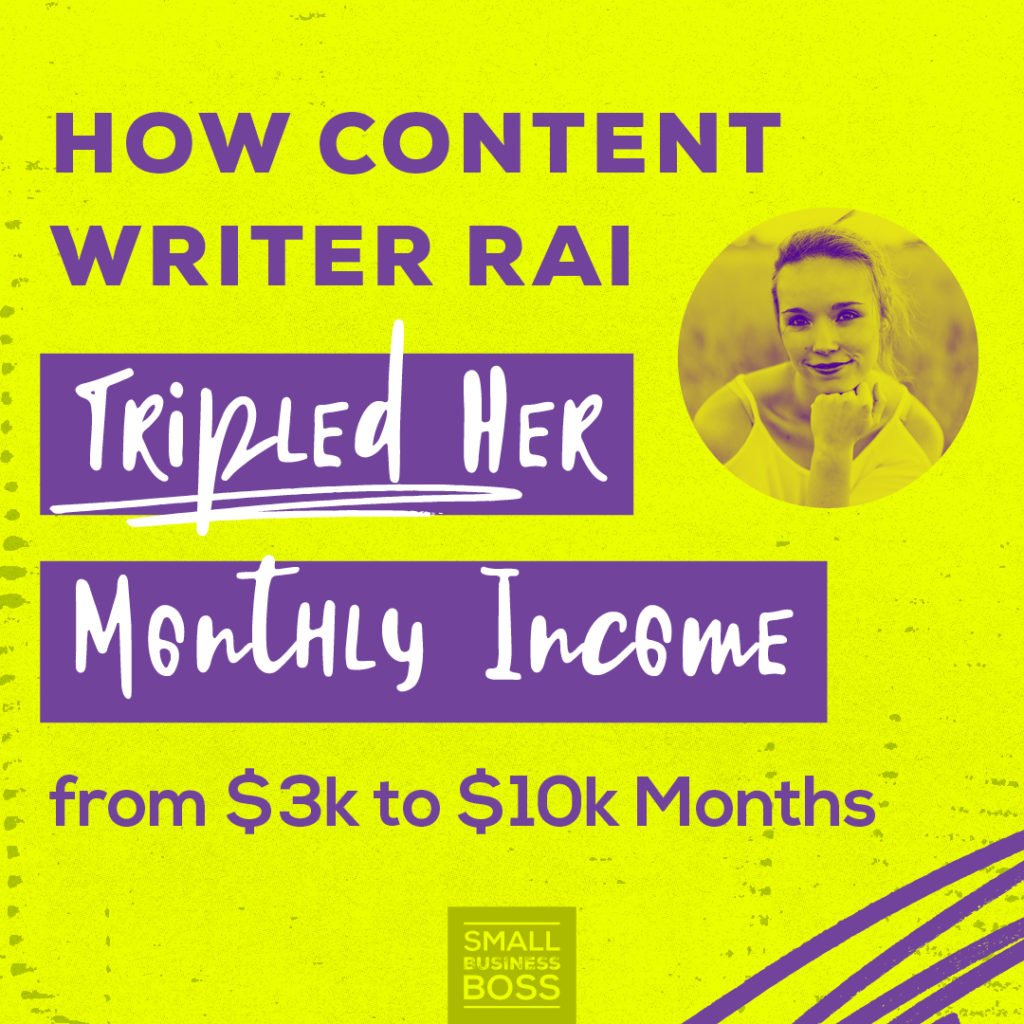 How Content Writer Rai Tripled Her Monthly Income from $3k to $10k Months
Welcome to new series on the blog where I'll be sharing success stories from my mastermind and mentoring clients.
We're going to kick things off with Small Business Boss Mentorship client Rai.  Here's her story.
When Rai Rose Cornell of Cornell Copywriting approached me about the Small Business Boss Mentorship, she had one thing in mind — she wanted to find a way to meet her income goals.
As Rai explains, "I just wasn't finding the right path by myself. I needed the help and vision of people who had already done what I was aiming to do and were willing to guide me in finding a way to make it work for myself."
After connecting with me in a Facebook group, and a quick exchange, Rai booked a call to discuss the mentorship. She quickly knew after our chat that the mentorship was going to be a perfect fit.
Making Sure Mentoring Was a Fit
"Not only was Maggie supportive of my income goals and business aspirations, she was also encouraging about aspects of my personal life. As a business owner and self-employed woman, it's nearly impossible to separate your personal aspirations from your business decisions. Your business exists for the sole purpose of giving you the life you want, and Maggie helped me figure out how I could travel and do all the things I wanted to do while still running my business. She asked about my long-term goals to ensure that our mentoring path took me on the right trajectory toward those long-term achievements."
One of the things that impressed Rai the most was the vetting process to be accepted into the mentorship program. Knowing that I was invested in ensuring that I only works with people I can truly help made Rai feel even more confident that she'd made the right choice.
"Maggie understands that not everyone is going to be a good fit for mentoring, unlike other programs I've done that just accept everyone and end up with favoritism or unproductive social dynamics. Her taking the time to vet possible candidates not only prevents some people from wasting money on a mentorship that just may not be for them, but it also ensures that each person they do accept gets individualized, personal mentoring. This isn't a one-size-fits-all program."
From $3k to $10k Months and Beyond!
Working together we did a few key things to help optimize what Rai had already built, starting with her packages, proposals, and pricing. During our time together, we closely collaborated, and Rai did the work to take what I taught her and put it into action.

After just a few short months of being in the mentorship program, Rai started to see the BIG results she was hoping for.
"When I started, I was hovering around $3,000 in monthly retainers with a few one-off projects here and there. I had student loans looming over my head and was only making tiny incremental gains every few months. By the end of our work together, my revenue was at a steady $10,000 per month in retainers with future clients already lined up to help me hit $12k and $14k months — and that's not including the one-off projects I was still getting each month."
But even with her increased revenue goals being met, there were still some other benefits that Rai wasn't expecting when she signed up for mentoring.

According to Rai, "The concrete knowledge, skills, and strategies Maggie has given me are invaluable. While other mentoring programs and masterminds promise lofty dreams, Maggie keeps it real while at the same time never limiting you. She helped me understand the reality of what I would need to do to earn the income I wanted and gave me tangible tools — like an INCREDIBLE proposal template and killer packages that my clients can't resist — to make those dreams a reality."
When asked what advice she would give to another person considering mentoring with Maggie, here's what she had to say.
"I would abso-freakin-lutely recommend this experience. But remember, you get what you put into it. You have to ask for help. You have to speak up. Maggie is giving you her time and attention, so come prepared with a problem to solve at your face-to-face meetings. Always loop her in when you're in doubt. She can make a world of difference in your business — so let her!"
You can learn more about Rai on her website.