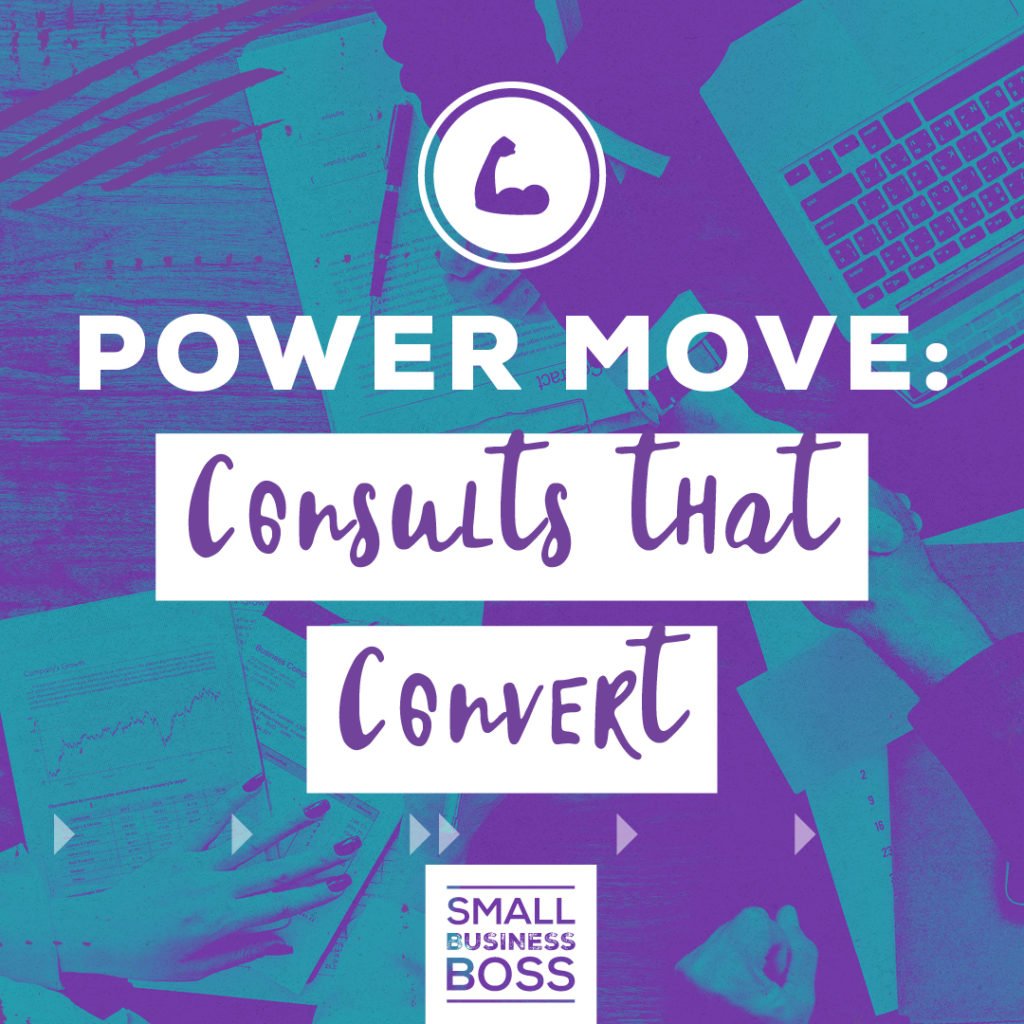 Episode 124: Power Move: Consults that Convert
The second you get on the phone with a potential client, you should be on your way to closing the sale. But if your consults aren't converting, or you're spending hours talking to potential clients and getting nowhere, you need a better plan. In this episode, I'm sharing a power move with you on consult calls that convert.
A few months back, I was chatting with one of my mentoring clients, and she shared that she'd spent nearly an hour talking to a potential client — and she had a pattern of doing that. The problem wasn't necessarily the time being spent, but rather she was giving way too much strategy on the call.
And I share that story as I think that's pretty common with most service business owners. We get so excited that someone wants to potentially work with us that we let consult calls turn into something other than what they're designed to do.
Purpose of a Consult Call
It's not a get to know you call. It's a call designed to talk about working together.
Your prospects need to be pre-qualified BEFORE you get on the phone. I don't believe in talking to people if pricing is a deal breaker — I'm not going to convince someone if their budget is 500 bucks and I charge $5k.
The potential client should know WHY they're talking to you — they should have a specific problem — not just to chat with you and see if you like each other.
Prequalification
Use a survey or intake in advance (be reasonable, don't get nuts with too many questions) but definitely get the basics on budget, timelines, and needs.
This was something that has evolved over time, but it means when I do talk to someone, they're already qualified, and there's real potential.
If you don't have the info you need, check in before the call via email to make sure you're on the same page.
Managing Your Call
Have a plan for how you approach consults — what questions you ask and what info you share.
Establish time limits and what they can expect at the top of the call. Take control, and run the call, so they feel confident with you as a service provider.
Stick to the timeline. Seriously. You're not there to talk for hours. Your time is valuable. I schedule 15 minutes typically, and if it goes a bit longer, okay, but it can be under 30 minutes because they know it's supposed to be shorter.
Avoid giving strategy — they can pay for that once you're working together.
Stay away from quoting pricing on the call if it makes you uncomfortable. Decline, and say you want to think about it, or give a range.
There should be parameters around your follow up so the potential client still feels taken care of — set the expectation on when they'll hear from you with the proposal. Have those next steps be VERY clear.
Follow-up
If someone is excited about something, don't wait to send them the proposal! Send it quickly.
Waiting to follow up does not make the client think you are really busy and desirable; it means you don't have the system in place or time to serve them. This is a potential deal breaker!
Sometimes 'no' means "not right now;' it's okay to follow up and ask why the answer is no.
Use a system and structure for how you follow up and why. This will really set you apart if done in a really authentic way.