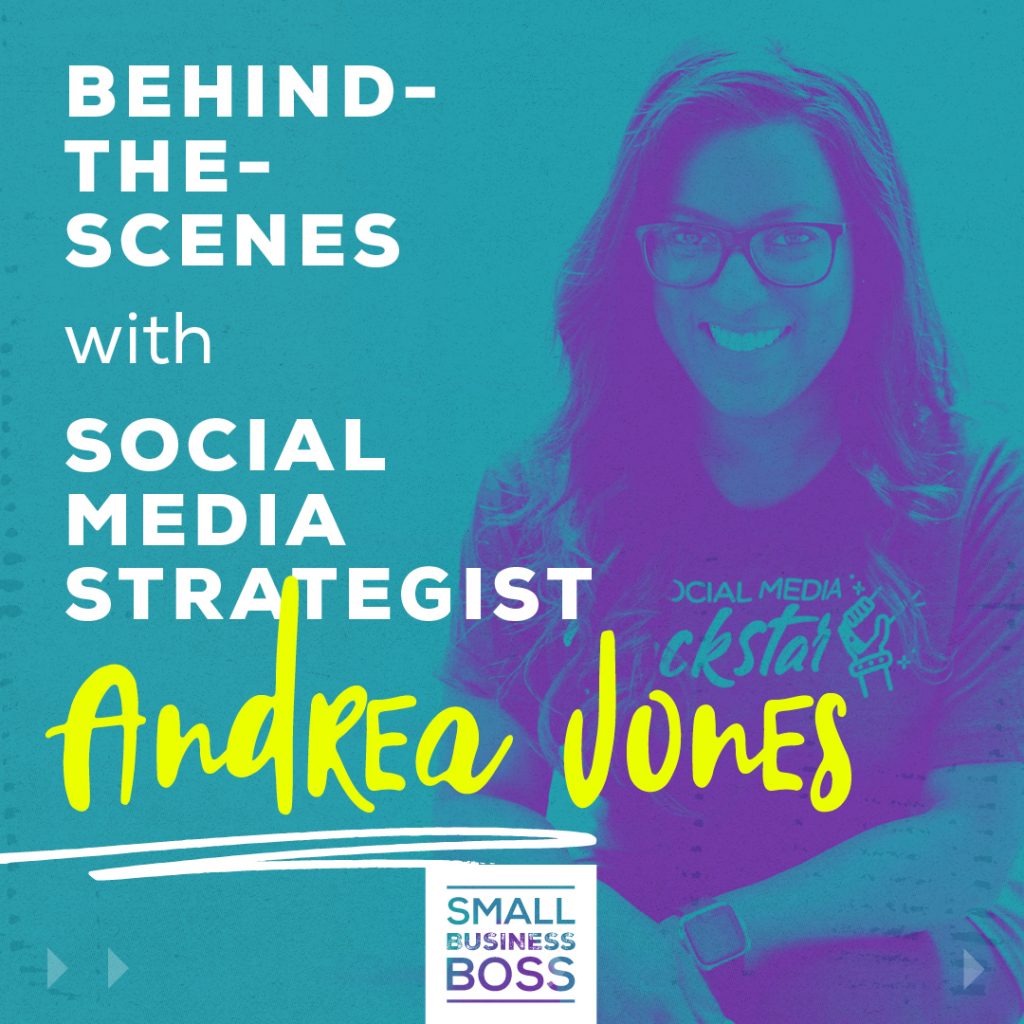 Episode 202: Behind-the-Scenes with Social Media Strategist Andrea Jones
Many times we have ideas that can hold us back or result in bumps along the way. In this episode of the Small Business Boss podcast, guest Andréa shares insights on things she's had to revamp along the way of building her social media agency. 
I talk a lot here on the show about what I'm doing in my business, but as part of my commitment to showing you how businesses really run, I have another behind-the-scenes episode.

Today's guest Andréa Jones runs a social media strategy and management agency, and she's sharing with us how she went from a solo show to an agency with multiple contractors, along with the adjustments she had to make after being faced with a cashflow crisis in the Summer of 2018.

Here's what we discussed:
Andr

é

a's journey from struggling with cash flow to scaling her agency relatively quickly. 

What her business looks like now including a bump along the way that made her revamp how she compensated her team and managed time. 

Why Andr

é

a chose to focus on building an agency over a different business model, and why services are so much faster to make money with. 

How she found her team, and how she got comfortable with making those hires, along with what her team looks like today. 

Real talk on being the face of the company and managing client expectations. 

What she's learned from going from solo to agency owner and how the agency model is more structured and corporate feeling. 
Lessons From This Episode
Growing an agency the

right

way is key to your success. Building out systems to create efficiency and ensuring effective communication with your team and clients makes all the difference. Offering services is a much faster way to build revenue than targeting passive income streams.

Hiring contractors on an hourly basis, as opposed to hiring them in a permanent role provides flexibility for you to increase and decrease your labor costs as the business evolves. Consider virtual options for building your team. If the location isn't a concern, you can access a bigger talent pool, and also offer more flexible work arrangements (which are often a big selling point for potential hires!).

Set strong expectations with your clients from day one. As the owner of the agency, you shouldn't be the only one interacting with them, and you need time to work on the business, not just in it. Ensure clients are aware you use a team-based approach for all projects. 

Clients like to see that you're out there and you're practicing what you preach. Finding opportunities to showcase your work and create more visibility helps build authority and trust — blogging, speaking, podcasting, etc. Expanding your network can also open the door to finding great collaborators.
Andréa's Bio
Andréa Jones is fiercely committed to helping businesses and podcasters build profitable communities online through simple social media solutions. She's been featured in places like Hubspot, Awber, and WordPress. She's also named one of Social Report's top marketers to follow in 2019.
As the host of the Savvy Social Podcast and the creator of SavvySocialSchool.com, Andrea is dedicated to simplifying social media through easy-to-follow courses, professional guidance, and community support. Outside of teaching and training, she spends most of her time serving her full-service clients and practicing what she preaches by implementing organic social media strategies for businesses and brands that want to grow an engaged audience online.

Links for this episode:
Online Drea