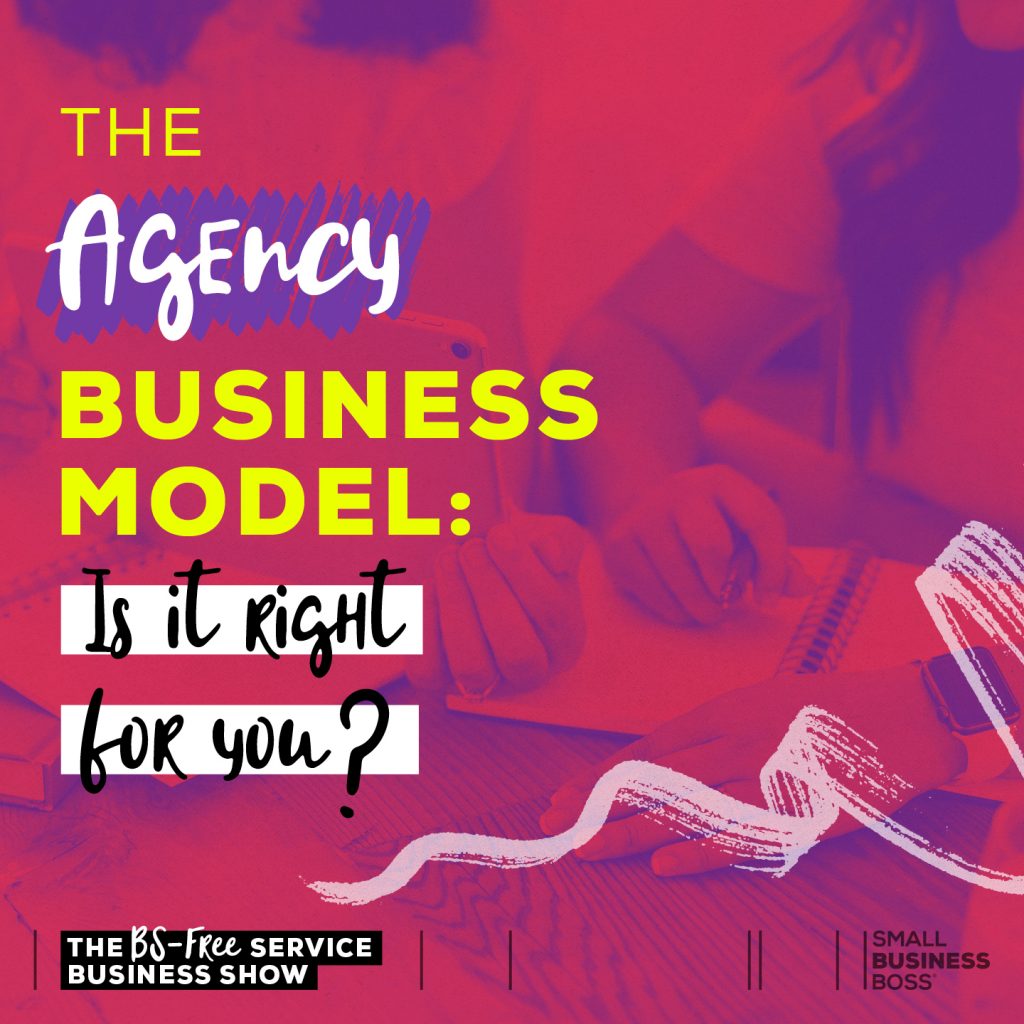 The Agency Business Model: Is it Right For You?
You're reaching a point in your service business where you work too much. Where you feel like there's not enough time. And you've still got a demand for your services. It's time to figure out how to grow without driving yourself into the ground.
When you think about it, an agency seems like a good option. But is it? In this episode, we're diving into the ins and outs of the agency business model, to help you answer the question…is it right for you?

When you start your business, you usually have a goal like making a living, replacing a salary or having a career with flexibility. But then as you grow, you see the potential for your business, and you wonder if there could be something more.
That's definitely my story. I freelanced for eight years, then I realized that maybe I could grow past the point I'd been at for many years. So I switched things up, raised my prices, and took on new clients.

Fairly quickly, my business grew for the first time in years, and I found myself trying to figure out how to grow in a sustainable way. And that's where today's episode really starts.
Why We're Talking About This
Over the last two years, I've been working with agency owners in the Agency Mastermind, and I run an agency myself.

So when done-for-you service business owners start to think about how they're going to continue to grow their business, naturally they start asking me about the agency model.

I've had this conversation a lot in the last year as more and more service providers recognize that growth for them likely isn't through a course or program, and that they want to stick with services.

Here's where it gets interesting.

Some of these people think they "have" to do an agency as they've bought into the hype of building an agency as the only way to scale services.
And others want nothing to do with an agency as they have a lot of misconceptions about what an agency really is.
After all, what's modeled in the online business space for agencies is a lot of building your 7-figure agency while you sleep, and not enough people who are actually running this business model.
You know why? Agency owners don't really have the time or interest in playing big shot and flexing about their business on IG.
In fact, most of the agency owners I work with have a minimal online presence. They're running their business and aren't super into doing the work of being a personal brand.
This episode is going to be some real talk about what it's really like to run an agency so you're making a decision about what type of business you want to run based on facts, not fiction.
What the Agency Model Really Is
When you think about an agency, you're probably thinking of a really traditional agency with dozens or even hundreds of employees. And if you've ever worked in or with an agency, you probably have an idea of what things you don't like about agencies.
As I've talked about before, in the context of the current landscape, this is not the type of agency I'm talking about. The world of work has changed, and now more than ever, there's a new generation of agencies.
These microagencies have small teams, lean operating costs, and are agile. Many times these agencies (like mine) are tightly niched and offer a contained set of services.

When you think about this type of agency, the underlying goal is to build it so that you're not the only one delivering work and managing clients. Billable work is produced by members of your team and your primary role is running the business.
That's not to say you can't do any billable work, I still do by choice. I focus on editorial direction and strategy for clients, and execution for one client.

If you don't want to stop doing creative or client work, there's no rule saying you have to. The key is to understand that as the owner of the agency, you have other hats to wear, and you can't do it all yourself.

Ideally in this model you have a point person that can help with client and project management. This can be an account manager or client service director who oversees the operational day-to-day with clients and your team.

If you want to run a bigger agency, having a microagency with a small, manageable team lets you build the foundation for that. You can become a stronger leader, set systems in place and get everything working smoothly.

As someone who's been part of an agency team that grew exponentially nearly overnight, I can't emphasize enough how important that foundation is. Fast growth without a solid foundation creates stress and drama for everyone involved, and it may impact your client's experience.

Personally, I have zero interest in growing beyond the microagency stage, as this provides me with the type of work I like to do without having a large team to manage or a lot of potential headaches.
What You Need to Know About Running an Agency
This may sound harsh, but agency ownership isn't for everyone. It requires the development of a different skill set than running a solo business.

Leadership
First and foremost, you're likely going to have a team of either contractors or employees and your leadership will be crucial. It's easy to think that if you have a team that things will be easier, but there will always be bumps along the way.

I know for me, I've had to learn how to give up control, provide feedback, delegate effectively and keep things running through the ups and downs.

Lead Gen and Sales
When you're running an agency, someone needs to take the lead on lead gen and sales, and while you're already doing these things as a solo business owner, you're going to do more of this as an agency owner.

With an agency, you're likely going to have more clients than you would as a solopreneur, and that means you'll require more potential clients coming your way. And yes, you can hand sales or marketing off to a team member, but that's unlikely until you have the right people on your team and a whole lot of trust.

I don't think that enough people realize that moving into the agency model requires a firmer eye on lead gen, and you may need new ways to generate leads. As a solo business owner, I was able to rely nearly 100% on referrals, but to grow my agency I layered in other tactics such as speaking and cold outreach to generate more leads.

Knowing Your Numbers
As a solo business owner, it's easy to fly by the seat of your pants, but with an agency you need to know your numbers. You need to learn to love them as so much of the business will come to depend on them.

For example, on the Agency KPI tracker I share with my clients, they're looking at revenue, leads generated, deals closed, lead sources, total client value, team capacity and personal capacity.

Then for capacity (and yes, that's another dashboard) we get into billable vs, non-billable work, percentage of billable time, billable by client and more.

Not everyone tracks every number, but your decisions, from your pricing to if you have room for a new client relies on this data.

Money Management
As you grow, you're making more money, and as the saying goes, more money, more problems. Some of them are successful business problems and others are complete headaches.

By far, this has been my biggest learning edge with my agency, as while I've worked in and with agencies my entire career, until I started Scoop, I wasn't the one that had to deal with the money.
Sure there are invoices, but there's cash flow, taxes, and so much more. I'm going to talk more about this journey in my next episode.
Agency Alternatives: Solo With Support
Everything I've shared isn't meant to stress you out but to give you an idea of what's really involved in running an agency.
There's a lot more nuance and complexity to this than the FB ads about growing your million-buck agency would have you believe.

My goal is to help you make a fully informed decision about if any agency is right for you…or not.

So let's say you've reached the point where you feel maxed out, but an agency doesn't feel right, or maybe it's a bit premature.

I want to introduce you to a concept I've been sharing with people in my community, I'm calling Solo + Support, which exists between an agency and being a solo show.
Because here's the thing. Not everyone is destined to be an agency owner.

And running an agency is really about systems and structures. It's not something that automatically happens when you have a couple of contractors, it needs to be an intentional choice you make.
If it's not for you, but you want to support, Solo + Support is an excellent path for you. It's the path I took from 2013 to 2015 when I was growing out of my freelance business but wasn't ready to even think about starting an agency.

I define Solo + Support as having key support in your business, but you still do most of the client management and day-to-day business. What that support is may vary from a trusted subcontractor to a VA who handles your admin.

I'll be talking more about Solo + Support in a future episode as it's a solid way to keep growing without having to commit to an agency.

The Agency Business Model: What's Next?
In the next episode, I'll be diving into seven things I wish I knew before I started an agency. The last five years have been a real adventure, so I wanted to share a little behind-the-scenes.
Get on the Agency Mastermind wait list here. We open up each fall for the coming year.