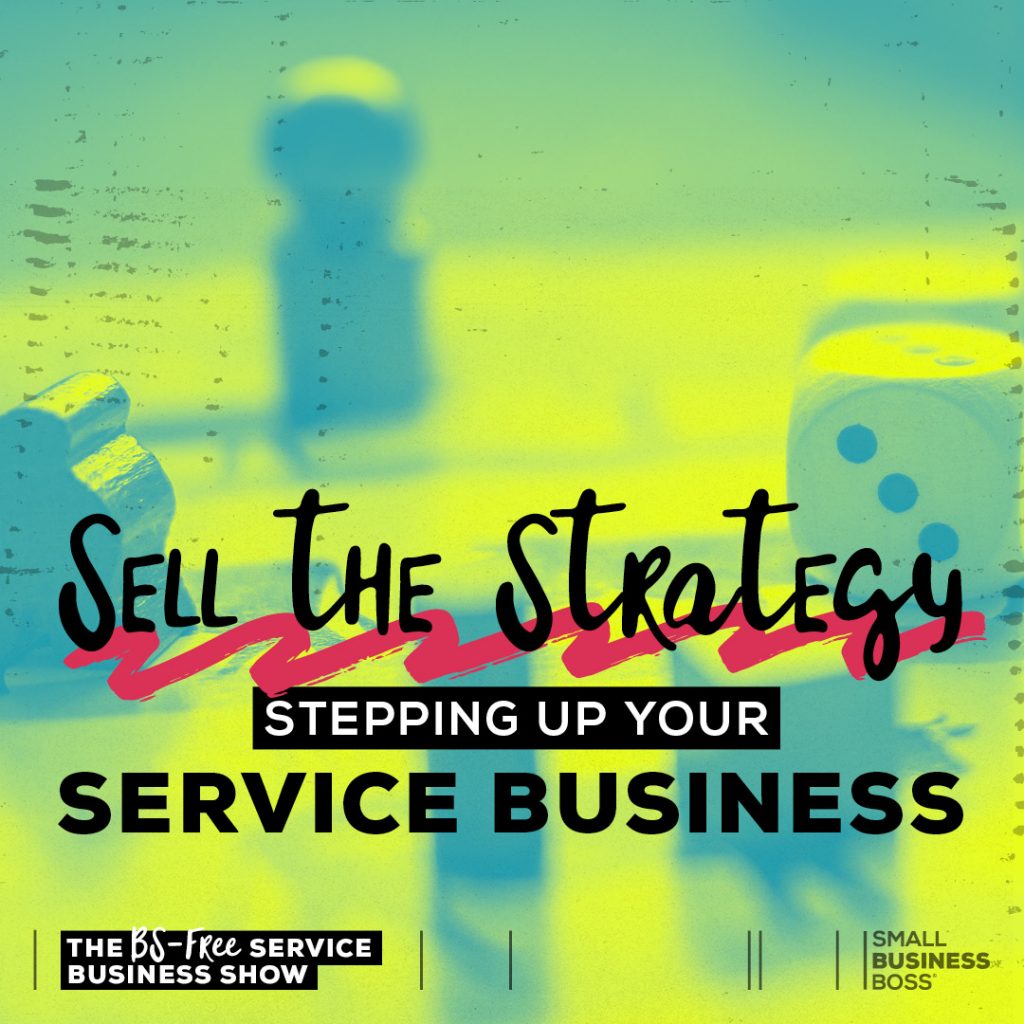 Sell the Strategy: Stepping Up Your Service Business
As service providers, there are definitely situations where we can feel underpaid and unappreciated which leads to frustration and resentment. I know I've definitely been there, and in today's episode, I'm going to share the pivotal change that made all the difference for me and my business.

In the last episode, I shared my 2022 list of myths about service businesses, and today's episode is a natural follow-up. All of the myths are rooted in a kernel of truth about what it's really like to be a service business owner.
I mean who's not felt frustrated by a client or like they were on the verge of burnout? These are very real situations that we face, but they're in no way inevitable.
While I'm not one for sweeping solutions, in this episode I'm going to share something that has been a gamechanger for me and my business. It's something I believe has the potential to help service business owners be paid like the experts they are and create a different dynamic within their business.
I call it Sell the Strategy. It's something I've talked about for years, but it was always in the context of signature services.
But in the last year, I noticed a pattern where this came up time and time again with my clients. In the half-day intensives, we'd end up focusing on this strategy work in nearly every session. With members of my masterminds, it came up over and over during one-on-one calls.
Honestly, this is one of those things I thought that everyone knew to do in their service business, but I looked at this pattern and knew that wasn't the case.
Talk about a classic case of doing something so much and for so long that you just thought it was already a thing!

After doing some research and talking to my clients, I recognized that this was far beyond a signature service and needed its own name for the process.
This brings us to Sell the Strategy and how it can help you in your business.
What Is Sell the Strategy?
Back in 2014, I was at a crossroads in my business. I'd shifted to focus on working more with online businesses, and I was struggling.

I had clients, I was meeting my goals, but I was grappling with feeling undervalued and frankly, disrespected at times.

I was busting my ass writing proposals and giving away strategy for free. I can't even tell you how many times potential clients walked away with thousands of dollars of free work that they were able to put into action.

Another challenge was that I had great relationships with my clients, but I was the doer. Every time they'd bring in an outside consultant to do the strategy part I'd die a little inside. I was watching them pay other people when they could have been paying me.

Then there was the entire hot mess of working with clients who didn't value strategy. There's nothing wrong with tactical execution, but doing it without a strategy is a freakin' nightmare. It felt transactional and not at all strategic. (Plus, end result would typically suffer.)

After a series of situations which I'll spare you the details of, I decided something had to change. I looked at how in my past roles working with agencies we'd approach new client engagements, and there was one thing that kept coming up time and time again.

Everything started with a strategy. It wasn't given away for free, even when we were pitching to huge multinationals. The strategy was a pre-requisite to our work together and it often took a considerable upfront commitment.

Total lightbulb moment. ????

So I started selling the strategy as the first step in any work I do, and I'm not even exaggerating a little bit when I say it changed everything.

So, what exactly is Sell the Strategy?

It's simple, it's a proven method to help you put strategy FIRST in your offers. To help you get paid for your experience and strategic thinking so you can reach your goals.
You may do this in some way right now, or not at all. Sell the Strategy focuses on the strategy being the core of your offering, not execution. Even if you do tactical work, it positions those services in a way that's a higher value, not just transactional task completion.
There are four core elements to Sell the Strategy that work together to help you shift your business
Product
The first thing is your product. What are you going to do for your strategy offering? Hint: this is probably something you're already doing, it just needs to be packaged and sold more specifically as being strategy-focused.
Position
The offer is really only one part of this, you need to be able to explain it and have a unique value proposition. What makes this different? Otherwise, you're going to struggle to get people to buy into this.
Price
People pay for strategy, so you need to charge accordingly. And you shouldn't be picking your price randomly. This is a strategy, and you need a pricing strategy to go with it.
Promotion
Finally, you need a way to promote your strategy offering. Without it, it's going to languish on your website. Often, you'll need to build thought leadership around your Sell the Strategy offer so that people really and truly get it.

That promotion part is like how I'm sharing Sell the Strategy now so that people start to see how this could help their business.

I've been doing this in my own business and working with my clients on this for literal years. I can say with certainty and confidence that you need to nail all four of those elements for it to really work. Otherwise, you've got an offer that's not getting its job done for your business.
It's worth noting that Sell the Strategy is more than a signature service or method, it's about getting to the heart of what your client needs and is really willing to pay for.
Too many times signature services (and how they're taught) package up a bunch of crap or are too focused on the service provider's needs. (Or let's be real, it's a big old cash grab with an overpriced offer that no one really needs.)
Sell the Strategy is client-centric and is really about finding the sweet spot between what strategy you can bring, and what your clients really and truly need.
Why Strategy?
Remember a few minutes ago when I talked about how using Sell the Strategy was a game-changer for my business?

I want to talk more about that as I'm completely serious, and I think you all know I'm not prone to exaggeration.

Selling the strategy helped shift so many things for me and my business. One of the biggest ones was that the quality of my clients improved as I was only working with people who took a strategic approach.

It quickly became a filter for who was and wasn't a good fit for my business.

When I started using this approach with my copywriting and content clients by selling content strategy first and making it a requirement of working with me, I screened out people who just wanted some "quick and easy" web copy.

Another thing happened in that process. Before I required clients to pay for content strategy, I would find myself doing it anyway. I was doing it for free as a way to ensure the content or copy being written was meeting their business goals.
Getting paid for strategy meant I wasn't doing it for free anymore. If they weren't willing to pay, we weren't going to work together.
Plus, not giving away strategy for free in the proposal process? Speeds up everything and creates a firm boundary from day one.
Over time, I noticed I have not just better quality clients, but stronger client relationships. Instead of having clients were overlooking my counsel in favor of shiny objects or "it" copywriters, I was seen and treated as the expert I am.
My input and strategic thinking were trusted and respected. No more bringing in flashy experts and me feeling disgruntled.
Another big benefit of putting strategy first that I've experienced over and over again is that my clients got better results. I mean, it's not surprising but my requirement to do strategy first ultimately meant no more random acts of marketing that didn't add up to anything.
Finally, we all know I do not engage in BS income claim marketing, but I did make more money. That first move to selling the strategy back in 2014, was a turning point for me revenue-wise.
I can't guarantee the same will happen for you, but the reality is that people will pay more for strategy than execution.
Will Selling Strategy Work For Me?
You're probably starting to think of the possibilities for what you could do by putting strategy first. Or how you can do a better job of positioning the strategic work you already do.

And now you're thinking, but will this work for me?

The answer is, most likely yes. I've worked with coaches, creatives, consultants and agency owners using this strategy for over five years. As service providers, we ALL do strategy work whether we sell it or not.

I've personally used this very effectively with corporate clients and small businesses, both B2B and in the online business market. I've sold many different strategic offers to clients and there are countless ways to package it up including audits, playbooks, strategic plans, intensives and much, much more.

The possibilities are nearly endless, and the real key to selling the strategy is understanding what your clients value along with the strategic thinking they need to be successful.
It's Time to Step Into Strategy
I'm going to be talking much more about Sell the Strategy in the coming episodes as we tackle the VIP day model, retainers, and much more.

If you're looking to step into strategy, I have a new intensive option focused on Sell the Strategy. Over a six-week period, we'll work together to get everything for your Sell the Strategy offer nailed down including package, position, price and promotion.

I'm booking a handful of the Sell the Strategy intensive for April to June 2022 with a special intro price. You can get all the details on my website.  

With this intensive, you'll get my brain on your business in a series of three calls with Voxer support in between so you can go from strategy to sale in weeks, not months.