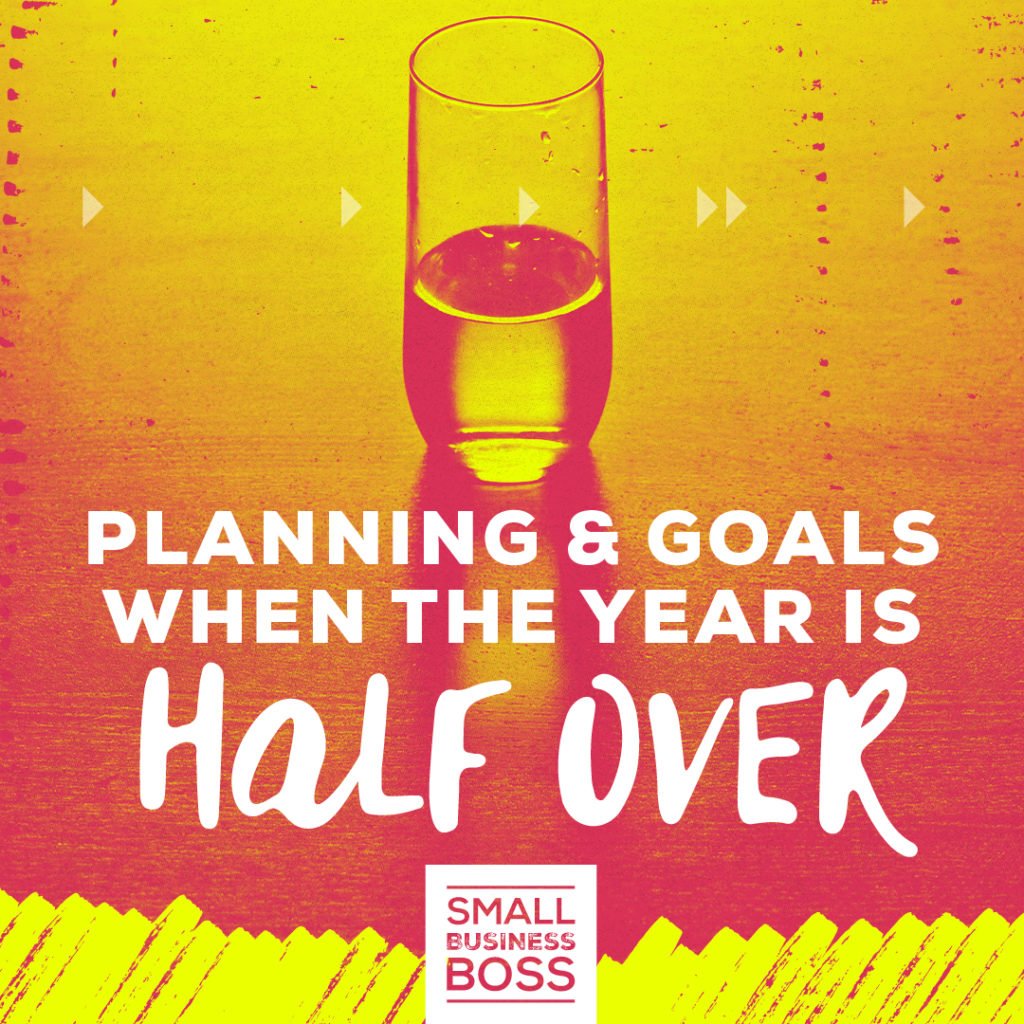 Episode 115: Planning & Goals When the Year is Half Over
We're about halfway through 2018, so it's the perfect time for us to check-in on our progress for the year so far. In this episode, I'm sharing how to do a mid-year check-in to set the rest of 2018 up for success.
Back when I worked with large corporate clients, around this time of year, something would happen as people realized we were at the halfway point in the year. Typically, at the end of Q2, people would review goals and then think, "Oh crap, we've got so much left to do in our annual plan."
This set me up with a longstanding dislike of annual plans, and it's why I encourage focusing on 12-week plans for bosses — especially service-based ones. That doesn't mean you shouldn't have a handle on where you want to be by the end of the year, but that to be your most productive and focused, your planning should be done in a way that encourages you to pick a lane.
So, how do we do this mid-year check-in?
REVISIT YOUR PRIORITIES:
The origin of the word "priority" was meant to be singular.  Seriously.
Now, we probably all have our top 2 or 3 priorities, but if you have more than that, you should really consider reassessing them.
A priority is something that is overarching to a goal. It is really, really important.
The goals should be set with the priority in mind.
Your priorities have likely shifted or evolved from the start of the year.
Shit happens. Life happens. Take some time now to dig in and adjust those overarching priorities.
When you have a clear and limited set of priorities, it enables you to focus your goals.
Believe me, I can set goals all day long, but I hate how it feels when they don't happen, so getting super picky about what goes on the list in the first place makes all the difference. (And FYI, this is not about playing small; this is about not feeling like a failure.)
Your priorities enable you to give your business — and your life — shape. Less is definitely more in this case.
CREATE YOUR VISION:
One way to dig into this is is by creating a six-month vision, answering the question: "Where do you want to be on Dec 31, 2018?"
This vision doesn't have to be perfect, but it's really hard to prioritize at all when you don't have that bigger vision.
Vision is a challenge for a lot of us, so carve out time to work on your vision, as that will help you develop your 12-week plans and give you the motivation to keep on, keepin' on.
Think back thru the year so far, where you want to go, what's working and what's not.
Beware the vision that's beyond a stretch and is going to send you on a one-way ticket to frustration-ville.
GETTING CLEAR ON WHAT YOU WANT:
As you do this, get clear on what YOU want. Not what your business associates, your partner, your mom, (your Facebook trolls, etc.) think you should be doing in your business. What YOU want.
Watch for the shoulds that are the things you THINK you want, but you really aren't sure why.
I constantly ask why I want something, and follow that line of questioning until I get to the heart of WHY.
I often find it's driven by things that don't matter to me, like ahem, EGO, or me simply thinking that's what I'm supposed to do. Screw that. It's not the point of having your business in the first place.
EXAMPLE: Want to make X amount of dollars — why? Why is that the magic number? What do you want to achieve with that?
Really unpack your attachment to whatever it is, and understand what is driving you in that direction. What you think you want isn't always what you really want.
This money one has been true for me for sure — I've been digging into my motivation and goals around this and what I want things to look like in a big way. (More on that to come in a future episode!)
When you realize what you really want, it can be sooooo scary.
And what you want will change over time, so check in with yourself often. Set aside time regularly so you can do this check-in and not just keep pressing ahead with things that don't serve you.
Remember, many times we're going to feel challenged about really examining this — especially as women — as we're programmed to be perfect and follow the rules.
This is your call to break the rules and do it your way. Big business. Small business. Whatever the hell you want is totally cool.
Now, my challenge to you, boss, is to set aside the time to actually focus on this mid-year check-in. Make an afternoon of it, get your fave coffee or a cocktail, take yourself on a lunch date, and spend time on this. (Even if you're slammed — it is important that you do it.)