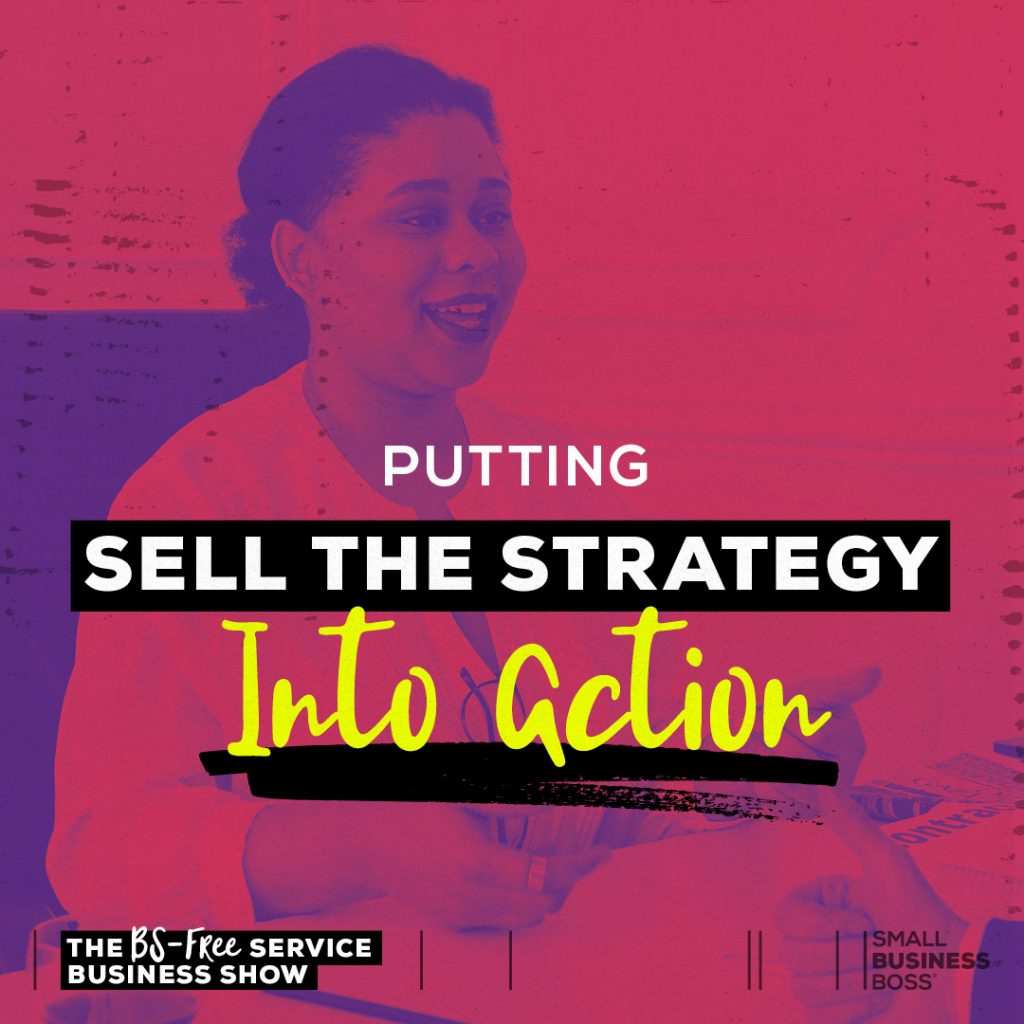 Putting Sell the Strategy Into Action
Strategy may be one of those words that makes you want to roll your eyes. After all, there's a hell of a lot of things that just have the word strategic slapped on them so they can charge more money.

But here's the thing. When you sell strategy, real strategy, people will pay for it. And it makes your life so much easier when there's an actual strategy for the rest of your work. This is why it's time to start selling the strategy, and in this episode, I'm going to give you specific examples to help you get into action.
Last week on the show I shared something I'm calling Sell the Strategy. If you haven't listened to that episode, I recommend you go back and give that a listen before you dive into this one.
As a quick reminder, Sell the Strategy is a proven method to help you put strategy FIRST in your offers. For you to get paid for your experience and strategic thinking so you can reach your goals.
Because the reality is that most of us are doing strategy work right now. Even if our clients don't pay us for it. There's no tactical work actually happening if there's no strategy behind it, and many times, even if we're hired to do tactical work, our clients aren't bringing the strategy.
And like I shared last episode, tactics without strategy are really soul-sucking. Results suffer, and no one is happy. That's why strategy has to come first in the work we do as consultants, creatives, and even as coaches.
That's why in this episode, I want to share specific examples from my own business and others of strategy offers in action. I want to get your wheels turning so you can see possibly how this could fit into your business. Then, I'm going to share an experiment I'll be doing in my own business to sell the strategy.
The Building Blocks of Sell the Strategy
Sell the Strategy has four core building blocks: product, position, price and promotion. By nailing down all for aspects you're not just creating a strategy offer, but one you can actually sell, and that will be profitable for you.

Too many times strategy offerings go off the rails as there's no actual need for them, or they're priced too low or too high. Too low and they don't seem like they could actually be strategic, and when they're too high, people worry if they can actually execute the strategy after as they'll be out of budget.

This is why I want to start with one of my fave strategy offers I've ever done called the Story Distillery. Now, if you've been listening to my podcasts over the years, you may remember this one.

It was a storytelling offer where I'd dive into your story so that you could use it across your marketing and overall business. I created it in response to having copywriting clients that literally didn't have this foundational work in a place that made my work that much harder.

It quickly became a necessity, so I created a strategic storytelling offer that was available as a standalone service, and required for all copywriting clients.

Now you may be thinking, come on Maggie, that's not super strategic or different. But I'm telling you this really was as it was before everyone was talking about storytelling all the time, and what made a crucial difference for me was my positioning.
The offer itself was pre-work, a 1-hour call, followed by research and development of the Story Distillery Handbook. It was relatively easy to execute on my end, and actually fun for me.

The price of the offer was everything from $400 when introduced up to $2000, but the amount of work was static. I was able to increase the price over time thanks to my positioning.

When I launched this offer, I went all-in on storytelling and the fact that I was a communications person first and foremost. My business tagline was "intelligently crafted communications" which set me apart from sketchy fly-by-night copywriters churning out copy. My position was that I used a specific proven process built on years of communications experience and knowing how to package a story for different audiences including the media.

That positioning was important as anyone can claim to do copywriting and storytelling, but I had a unique spin on it.

All of my promotions focused on the story and messaging around this position. My podcast, blog, social, email and everything was all storytelling all the time. Plus, I actively used other people's platforms to build my credibility as a storytelling expert. I was a podcast guest, a guest star teacher in programs and I placed a series of guest posts in high-profile media outlets.

Was I sick of talking about storytelling? I was. I was so bored of it after a solid year of storytelling, but this was definitely a turning point in my business. I did this not long after I pivoted into the online market, so this cemented me as an expert in a relatively new market.

Over that year, I saw a lot of growth in my business thanks to this offer both by itself and how it led into other services like content strategy and copywriting.
Speaking of content strategy. Over the years I've probably written hundreds of content strategies, and it's been much because of following the same process.
The Content Strategy Roadmap
Back in 2014 (maybe 2015?) I created the Content Strategy Roadmap as a strategy offering, and I've been selling it in different formats ever since. This one has a bit different as I had to do way less positioning work around it as people already knew me as a communications person and content marketer.

But a big lesson with this one I wanted to share was around the pricing. I literally have charged everything from $1250 for this work through to well over $5,000. And much of that has been about the complexity of the research involved, as well as the audience.

For an online business, a quick and dirty content strategy is much simpler to execute, and I know they have an upper limit to their pricing. Plus, this offering is usually the pre-cursor to more work together. It's very rare that people want a one-off content strategy.

On the corporate side, the content strategy is a high-value offering as if they're coming to us their content marketing needs fresh eyes, or they're starting new. Typically, there are a lot of moving pieces and a pile of research and analysis needed, so the price tag reflects that.

What's been interesting is that corporate clients will do a one-off content strategy, so we price with that in mind as that upfront investment in them may have no ROI.

For potential retainer clients, this has become the best possible way for us to ensure mutual fit and to be able to scope out the retainer before talking budgets. It's a paid discovery that means we don't get into situations where we're making things up as we go, or have agreed to a budget that's a fraction of what they really need.

The main reason I'm sharing this strategy offering with you is that I've realized that in spite of the audience, the overall process is pretty much the same. And because I know this offer backward and forwards, I can sell it as a strategy package with ease.
So enough about me. I want to share some other examples with you, as I run one type of business, and it's often challenging to conceptualize how a strategy offer may work for your business.
Sell the Strategy in Action
As I've been formalizing everything around Sell the Strategy, I've thought a lot about the application of this, so I wanted to give you some examples from my clients, and from bigger businesses.

If you're grappling with this voice that says "no one will pay for strategy", it's time to knock that off. People DO pay for the strategy. Maybe they're just not paying you.

One thing that I always remind myself about with strategy (and service businesses in general) is that huge consulting firms like Accenture and McKinsey exist to do strategy work. Service businesses, especially ones doing strategic work, are not going anywhere, despite the noise of the online business world.

In the US alone management consulting is projected to be a $263.5 billion industry in 2022.

While you're not Accenture, you can sell strategy, so here are a few examples to get you inspired.

Shulamit Ber Levtov, the entrepreneur's therapist, works with women entrepreneurs in a coaching and consulting capacity. She offers a strategy-focused service to help people create a mental health plan alongside her ongoing support services.

Britney Gardner, who works with bloggers and course creators, creates measurable content plans in her Biz GPS Intensive, and she also offers marketing dashboards to help measure the strategy's effectiveness.
Alejandra Ortega, an Ontraport expert, offers strategic consulting to clients to map out a plan for migrations, maintenance and more.

Megan Von Groll, the founder of the digital marketing agency Evoke + Engage, offers a Social Media Playbook that is required for all clients as she puts strategy first.

What all these people have in common aside from being my client, is that they're leaning into strategy as part of their offerings.

See how many possibilities there are? You've got an example for a coach, a done-for-you service provider, and an agency. Having a strategy offer can work for different types of services from coaching to consulting to creative, you just need to think about what may work for you and what your client actually wants.
Keep in mind a strategy offer can be a one-off engagement, the entry point to ongoing work, the focus of a VIP day, or month one of a retainer. The possibilities are truly endless.
My Sell the Strategy Experiment
As we wrap things up, I want to share something that I'll be working on for the rest of 2022, which is an experiment with a new-ish offer for my agency, Scoop Studios.

My goal is to share this with you as it unfolds so you can see Sell the Strategy in action. Honestly, this type of building in public is nausea-inducing, but I also know if I'm doing it this way I'll probably do a much better job.

Over the years we've had many companies come to us in a consulting capacity. Usually, they have a content marketing plan in place but something isn't quite right or they worry they're missing something.

Basically, they want an outside perspective on their content marketing program, and we're brought in to do a content audit.

This has always been a bit of an ad-hoc version of our Content Strategy Roadmap, and as we have a bit of capacity in the agency, I'd love for us to do more of this consulting-specific work. It's ideal as it can be a one-time engagement with a company, or open the door to ongoing work.
To start, I'll be mapping out this offer in the next month with a focus on both the position and the price. I feel way more confident about the pricing and packaging than the positioning.
On one hand, I know what we deliver for these projects is incredibly valuable. I just did a piece of work for an existing client that's part of this type of audit and the new strategy officer's feedback was that it's spectacular, so that should count for something right?
On the other hand, content marketing is a super-saturated market. It's rapidly changing, and I really don't want to oversell our capabilities. But there's got to be a slice of the market we can slide into with our unique mix of experiences and skills.
After that's all nailed down, it will be all about promotion. After all, I can't create an offer not actually promote it and expect to sell it. (And if you feel attacked, I know, I've definitely done that too.)
As the experiment unfolds, I'll be sharing it here on the podcast with the good, the bad and the ugly. And it's a great way to show you that I actually do what I teach. I'm not one of these sketchy people teaching service businesses who haven't worked with a client in literal years.
Plus, I'm sure doing this in real-life will help me refine the Sell the Strategy offer so I can be of even greater service and value to anyone I work with.
Stay tuned for further updates here on the podcast as we dive into this experiment.
What's Your Plan to Sell the Strategy?
I'm sure your wheels now with ideas on how to package and sell strategy work regardless of what type of service you provide. We'll be talking way more about this in future episodes, so consider today your jumping-off point so you get started now with creating a plan and getting your strategy offer out there.