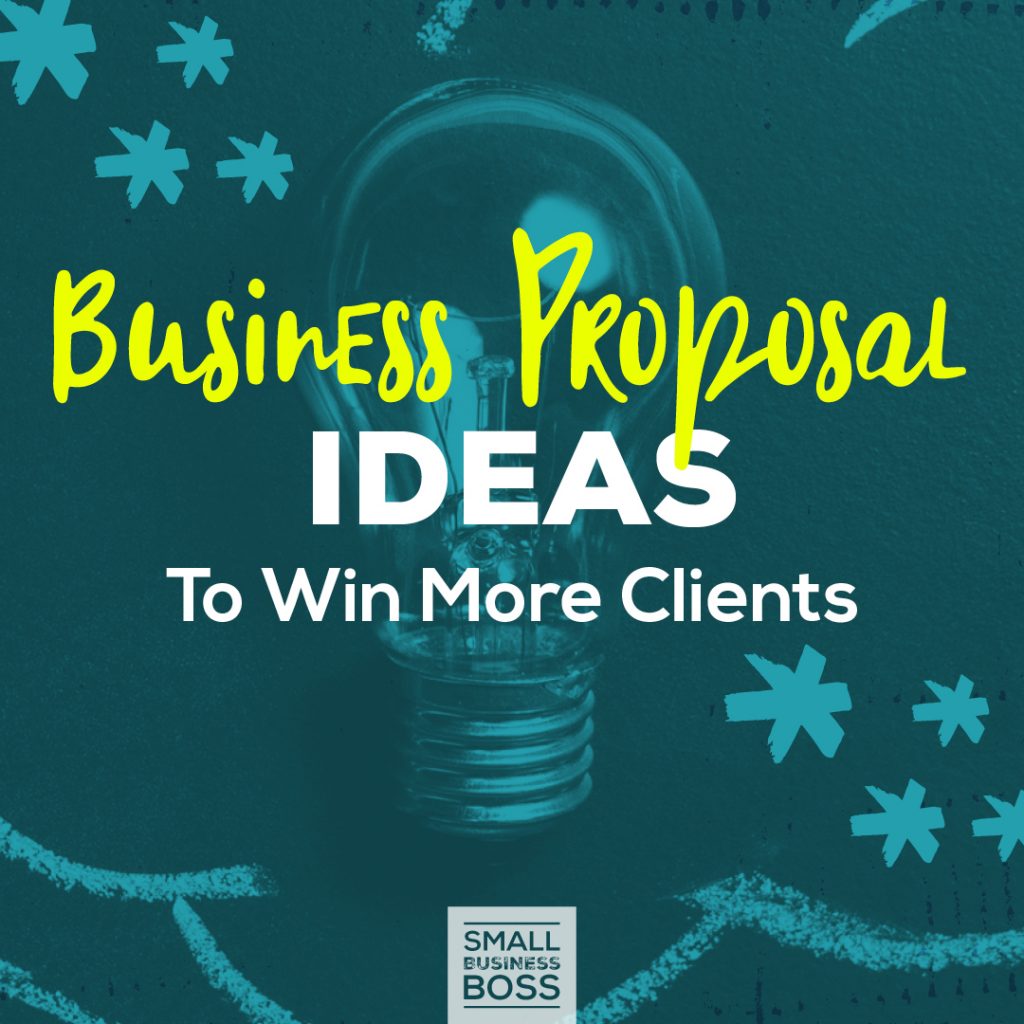 Business Proposal Ideas to Win More Clients
As someone who's been selling creative, done-for-you services for more than 15 years, I could talk business proposal ideas all day.

Why? It's simple. People seriously underestimate the power of proposals, and overestimate the time and effort it takes to create and send winning proposals.

When done effectively and efficiently, proposals can be a game-changer for freelancers, creatives and agency owners.
Despite what some may think, the best sales proposals are not the ones that are most creative or detailed. An effective business proposal will speak to what your potential customer wants and what you can deliver.
Let's dive into what you need to know about proposals and what it takes to write them without reinventing the wheel every time.
Why You Need a Proposal
People often think they don't need an entire proposal as having a sales page, packages or a list of services with pricing is good enough.
Sales on-demand from your website or a consult call sounds good in theory, but it's not realistic when it comes to done-for-you services. This is why business proposal ideas are so important.
When you're engaging with clients to offer consulting or creative services, they want you to understand their business and to know that you can deliver on their specific needs.

Your potential clients need more context, and possibly customization than a simple sales page or consult call can offer. Your proposal is your sales pitch, so you need to have business proposal ideas that are compelling enough to get a yes.
Bottom line, leave the sales pages to coaching programs, packages and courses. If you're selling done-for-you creative or consulting services, you need a proposal that helps you land new clients.
Your Business Proposal as a Sales Tool
Think of your proposal as a sales tool, a system designed to secure clients.
It's important to note that packaging and productizing your services is a good practice and if you haven't done that already I encourage you to do so.

Your packages will act as a foundation for your sales process. Even if you deliver a nearly identical set of services using the same exact process every time, a custom proposal creates an experience for your client and helps articulate how you're uniquely positioned to help them.

Your proposal should be designed to take your potential client through precisely what it would look like to work together, how you will deliver those services and why you should be their service provider of choice.
Your proposal content should include key details such as:
How do you communicate with clients?
How many revisions do they get?
What will the timelines be?
When will you get started?
Who will be their point of contact?
What are your business hours of operation?
How do you accept payment?
What's the payment schedule?
What's the specific scope of work?
Answering common additional questions.
Including all of this information on a page on your website would be overwhelming, but with a proposal, you can customize it to their needs and communicate exactly what they need to know to make a decision.

With a proposal document, you can take it further with any creative ideas or business opportunities that you see based on your consult call. Keep in mind that if you're responding to a request for proposal, you should follow those requirements when preparing your proposal as that's what you'll be evaluated against.

An additional benefit of using a proposal is that it can help speed up the sales process as questions are answered proactively and everyone is on the same page.

Keep in mind that while you may be resistant to writing proposals, that extra effort will help set you apart. It helps clients look beyond who has the most affordable price to the experience and value you would bring if they hire you.

I often hear from clients that creating even a basic business proposal takes up too much time and that they're not worth the effort, or that they struggle to come up with business proposal ideas.

You can easily remedy that by creating a business proposal template (check out Pitch Perfect Proposals to help you with that) and putting a system in place to streamline the process. Once you have a proposal template and process, it will take just a little customization to get your proposal out the door.

Plus, looking at proven business proposal examples will help you ensure you're not re-inventing the wheel.
Business Proposals Ideas: Common Challenges
When the topic of proposals comes up with the agency owners, consultants and creatives I mentor at Small Business Boss, there are a few common things that come up.
#1. I don't understand the purpose of a proposal.
We've covered this from a practical perspective; the point of a proposal is to win business. But unless you've come from the client-side and you've been in the position to hire service providers, you might not really understand the purpose a proposal serves.
A prospective client is weighing several options and your proposal is a tool that will be used to measure you against the competition. Having a stand-out proposal will position you as the best possible solution for your prospective buyer.

#2. I don't know what to include in a proposal.
If you're feeling lost because you have no idea what to include in your proposals, you're not alone.

I hear this a lot from my clients and community and the good news is that here's a pretty standard set of sections that all strong proposals have including a table of contents, scope of work, timeline, company overview and fees.

Depending on the industry you work in, there are different types of business proposals, so you'll want to take that into consideration. If you work in B2B corporate consulting, what they're looking for may vary from someone offering creative services to local small businesses.




#3. I don't have time to create proposals.
If you think proposals take up a ton of time and this is why you're avoiding them, think again. Even if proposals have been sucking up lots of our time up to this point, it doesn't have to be that way.

Having a template and process in place will expedite the process.
When I analyzed my time tracking for the 32 proposals I submitted to prospective clients in 2019, I found that it was taking me an average of 35-45 minutes to customize proposals. While one detailed proposal for a large engagement required four hours other proposals took only 15 minutes.
Overall, writing business proposals takes up a tiny percentage of my time, and that's how it can be for you too. (That's where business proposal templates come in!)
#4. I don't know how to make my proposals look professional.
I'm not going to sugarcoat this. The visual content of your proposal matters, so it's worth investing in making sure it looks professional.

A few quick design tips:
Ensure your proposal is consistent with your branding.
You don't have to hire a designer for a proposal, a pre-made proposal template can give you a cost-effective starting point.
Keep your proposal clean and simple. An overly designed proposal can detract from the overall job of the proposal, which is to sell your services.

Additional Considerations for Your Proposal
Beyond creating the proposal, there are a number of additional things to consider.

If you need business proposal ideas, focusing on these areas can make all the difference and help you land the client.
How Fast You Send Proposals
If you want to win more clients, you've got to stop procrastinating because how fast you get your proposals out the door matters. When you send proposals within 24 hours, you're more likely to get ahead of the competition and get a signed contract faster.
A quick turnaround on a proposal after a consult demonstrates that you're enthusiastic, prepared and organized. If you have the process streamlined, you can get it done immediately following your call.
Knowing Your Clients
The better you know your ideal clients, the more effective your business proposal ideas can be. Once you've narrowed down who you serve, you're able to speak to their challenges and concerns with authority, present appealing solutions and set appropriate expectations.
Plus, you'll know how to make yourself stand out as the ideal choice by tying your services to their business plan, without diving into tons of last-minute research or jumping through hoops to prove yourself.
Communicating Your Value
Your prospective client should immediately know how you are able to solve their problem, why you are uniquely qualified to meet their needs and what sets you apart. In your proposal, you should address every pressing concern discussed during the consult call.
Any number of creatives, consultants or agencies could solve this problem for them. Why should it be you? What makes you different? How will you make their life easier?

Answering this will make your business proposal ideas compelling and more likely to get a yes from the potential client.
Following Up
As the saying goes, the fortune is in the follow-up. As mentioned above, following up on your proposals in a timely matter can make all the difference.
As you follow up, focus on the client's needs. Ask if they have any questions or need more information. The key is to support them in the decision-making process by ensuring they have everything they need.
Get Started with an Effective Busienss Proposal
Over the years, I've worked with many service business owners who didn't yet know how to shape their ideas into a winning proposal, but I've yet to meet an experienced service provider without the substance required to create a proposal that sells.
Taking your business proposal ideas and putting them into action by creating a sales system that works is a skill, and it's one you can learn and hone over time. Before you know it, you'll wonder why you waited so long to give your proposals the attention they deserve.