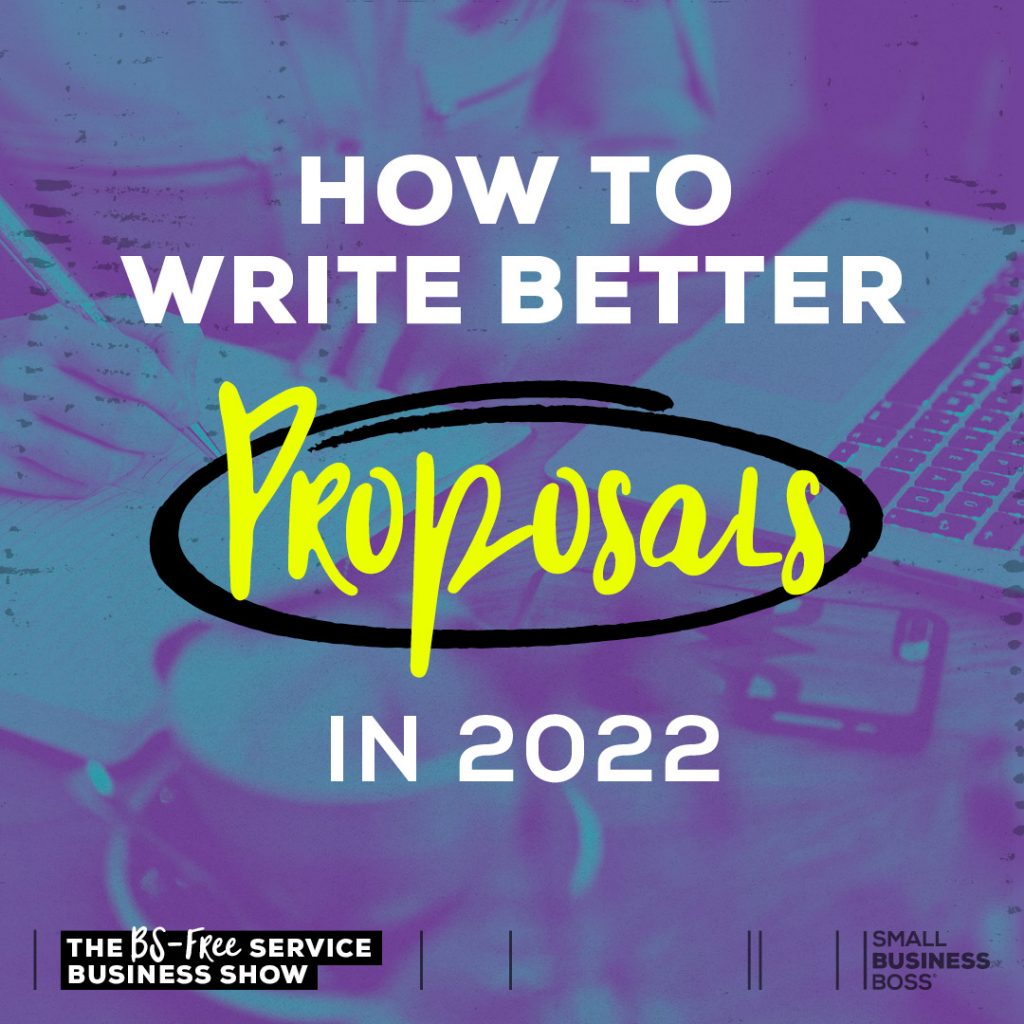 How to Write Better Proposals in 2022
My name is Maggie, and if there's a hill I'm likely going to die on it's that your creative or consulting business needs a proposal. That's why in this episode we're going to talk about how to write better proposals in 2022 including what to include, what you may be missing, and the latest research on proposals that you should take into consideration.
A little confession to kick off this episode. I've had more than one heated discussion on the internet about proposals over the years.
Why? As someone who works with creatives and consultants, I see a lot of confusion about how to sell their services. Many times they've been taught by people who don't offer done-for-you services to sell their services the same way you would a course or a group program.
I love a good sales page, but it's not right for every service, especially if the service needs to be customized. What may work for a productized service doesn't necessarily work for other types of work. And it especially doesn't work to try to sell without a proposal to corporate clients.
If you're listening to this episode, you probably already agree that you need a proposal, so I'll stop trying to convince you and get down to business.

The State of Proposals 2022
I currently use Proposify as my proposal tool of choice, and I'm a huge fan of how easy that process is. I save literally hours on proposals thanks to having a tool, and I look like a total pro when I send a proposal.

Every year Proposify releases its State of Proposals Report, and the 2022 report had a few key findings that are worth sharing as part of this episode. Especially as it provides us with insight based on actual data, and not just my strongly held opinions.

I'm going to use these findings to help guide me through the rest of this episode and give you some actionable insights on how to create better proposals in 2022.

First, a little bit of background about the report. The findings are based on data from over 1 million Proposify users, and this is their third annual report.

The report is broken down into six different sections which we're going to walk through right now so I can share the most relevant info with you as a done-for-you service provider.
Proposal Structure and Design
The report states that there's a winning formula for creating proposals and I 100% agree, as my proposal format has helped me close an incredible amount of business. When I started freelancing I honestly think my past experience writing proposals gave me an edge, and to this day, we get positive feedback on proposals.

A key finding that's worth highlighting is those winning proposals are short, with 11 pages and 7 sections. For your business, I recommend you look at how long your proposals are, as I typically see two things, proposals that are too short so they lack the information needed to help someone make an informed decision and proposals that are so long that no one is ever going to read them.

The key is to find that sweet spot between too much detail and leaving out parts that really are needed for them to trust you enough to say yes.

The report shares how important it is to have a logical flow of sections in your proposal, and this is something I often dig into when I review proposals. My number one fix is ensuring the appropriate placement of the pricing section so there's enough context for your pricing.

A final takeaway from this section is that proposals with images can increase your close rate by 72%. This is reflective of the need for a proposal that's on brand and looks good.
Creating and Sending Your Proposal
When it comes to creating your proposal, the report shares how important it is to have a template for your proposal. (This is why I created the Proposal Template Pack that's over in the SBB shop)

They found that the majority of people use a template, with 64% creating proposals based on an existing template.

One thing I've seen saying forever is that you need to send proposals quickly, and the Proposify report backs me up on that. They share that faster is better and that 15% of proposals are opened within 5 minutes of sending, and 42.5% are won within 24 hours of sending.

When you think about it, it makes total sense as if you talk to someone and send the proposal quickly, you're top of mind. If you drag it out and send it a week later, you're likely just one more thing on their to-do list, and they may think you're so busy that you don't have time to take them on as a client.

Basically, the longer it takes you to get a proposal, the less likely someone is to buy. I think we all know I don't love false urgency, but this is one place where it pays to be quick, so set aside time after a call to get that proposal done.
This is another reason why you need a template and a system in place so every proposal doesn't turn into a time-suck.
After You Send Your Proposal
One of the main reasons I switched to Proposify was that I was tired of not knowing what was happening when I sent a proposal. It went into a black hole and then I'd wonder if they even got it. Was it with my kid's missing socks? Do they hate me?

Having a proposal tool in place lets me track what's happening so I understand what they're looking at, and where they may have questions. (Well worth it for just over $200 a year I pay for it!)

The report shares that winning proposals are typically viewed 7.1 times, while lost proposals are viewed 5.1 times. This shows how important it is for your proposal to be complete and really be a stand-alone document. You can't assume that they know things, spell it all out in your proposal.

Your proposal is a sales tool, so you need to take the time to ensure it's helping you actually sell.
Another finding was that proposals with automatic reminders have a 35% higher close rate than those without. Does this mean you need to have a tool? No, but it does mean you need to actually follow up once you send a proposal. In my case, I have a series of scripts I use (which are shared in the Consults and Closing Workshop) and I set up a series of tasks so I don't dodge my follow-up.

At this point you've sent someone a proposal they're already interested in working with you, so don't botch it as you don't want to bug them. They want you to follow up!

Finally, the report shares how having proposals with e-signatures close at a 35% higher rate than those without. Does this mean you need to use a proposal tool? No, you can easily use something like HelloSign with a PDF of your proposal to get a signature.
While I love Proposify, there are a lot of other solutions out there from best-of-breed proposal tools to all-in-one solutions. From my point of view, it matters less what system you may be using and more that you have a proposal that includes the information your potential client really needs in order to make a decision.
Power Up Your Proposals
It's time for each of us to see them for what they are, a powerful sales tool in our business. Maybe your current proposal needs a little spring cleaning, or your proposals need a complete overhaul. Either way, time and energy invested in your proposals and the accompanying process will be time well spent.

If you need a little help with your proposals, check out the products over in the SBB shop. You'll find Pitch Perfect Proposals which gets into proposal strategy, the Proposal Template Pack which has proposals in Canva and Google Docs so you have a proven and pretty proposal to wow your clients, and Consults and Closing gives you everything to nail your calls and follow-up with potential clients.
Links for this Episode: