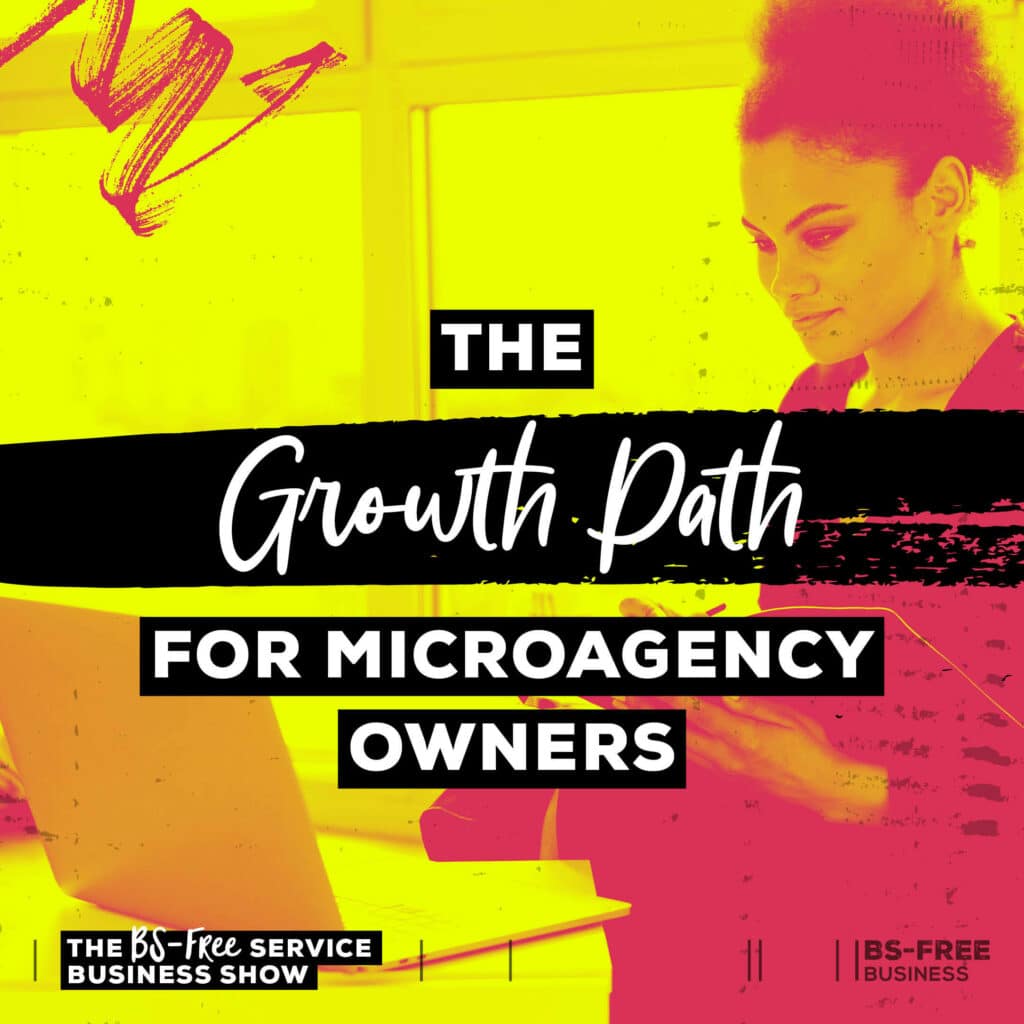 The Growth Path for Micro Agency Owners
Every business owner knows that growth is never linear. Sometimes, it's so far from a straight line that you wonder if you're doing something wrong. In this episode, we're looking at the messy and momentous growth path for micro agency owners.
Starting and growing a micro agency is one of the most rewarding and challenging things I've ever done. If you're an agency owner, you know exactly what I'm talking about. (And if you're newer on your agency path,  you're about to discover what I'm talking about!)
When you start an agency, you typically have a handful of clients and a vision for how you no longer want to be a team of one. As you grow your agency, you will likely find that reality differs from your initial vision.
As I've touched on over the last couple of episodes, there's no easy-button version of growing an agency, and people often underestimate the pitfalls of transitioning from being a solo business owner to a micro agency.
In this episode, I will share what you need to consider on the growth path for micro agency owners.
Define Your Growth Goals
The shift from being a solo business owner to building a micro agency isn't always a clear and intentional choice. Sometimes, it's even accidental, as we hire a contractor or two. Then suddenly, we're not a one-person show anymore and slowly became an agency.
This is often where a lot of strife can occur, as in this scenario, we may need a clearer idea of our goals and how we will grow.
If this sounds like you, please keep in mind this isn't "bad" per se, but rather it may be the root of some of the challenges you face as an agency owner.
On the flip side, even if you have a perfect five-year plan for your agency, things shift and change over time.
This is why every agency owner must continuously focus on defining growth goals. As I've said many times during this series, that may sound obvious, but the truth is even with a micro agency,  the goals may vary wildly based on the owner's vision and objectives.
In some cases, it may be to have a limited client roster and to cap growth at a specific level; in others, it may be to continue to grow year-over-year.
There's no right or wrong way to approach it, but you need to have a plan for a sustainable path to growth.
Here are a few questions to explore related to your growth goals:
How big do I want my team to be? My client roster?
How much time do I want to invest in the agency and its growth?
What revenue level feels sustainable and profitable?
What do I want the agency to look like three to five years from now?
Don't overthink your answers. My goal here is to get you thinking about your micro agency in a way where it's not just about growth for the sake of growth but rather building something that works for you and your life.
Tough Truths About Micro Agency Growth
In the last episode, I touched on revenue break points where businesses struggle to grow at specific points due to the skills and resources needed.
I want to explore that a bit more as it helps frame up what it's like to grow a micro agency and what may be needed for you to execute your goals. I don't think we talk about this part enough and end up thinking that our growth should be linear.
I found it frustrating when growth wasn't happening in a straight line in my agency. Once I realized that the time and money required to add on more clients (and revenue) had a lag effect, I was much more confident in my ability to grow and sustain over time.
I want to avoid being prescriptive here, as experiences will vary wildly. It would be easy for me to say, "With an agency with $250k in annual revenue, you'll need a full-time employee and likely have less than ten clients." 
The key is to watch for where things are stuck; no matter what you do, your revenue is stalled. Your revenue starts to plateau as you're unable to take on more clients due to a lack of resources or needing to uplevel systems and processes within the agency.
This isn't necessarily a BAD thing. It's important information to help you guide what's next and decide if you will continue to grow, and if so how fast.
When evaluating this, you need to decide if you're willing (and frankly able) to make the investments required and take the potential hit to your profit margin. Also, you need to ensure that you're not "investing" when you don't have a clear (and proven) way to get the clients you need to expand your revenue.
Consider these questions when you're deciding on your next move:
What's needed to facilitate further growth?
Do you have the time, capacity and money to make that investment?
What's the current state of your client roster? Do you have more clients currently than you can handle? Do you have a proven, consistent way of acquiring new leads?
What happens if you don't grow anymore? What happens if you do?
What's your number one reason for wanting to grow to the next stage?
What will you gain professionally and personally? What will you sacrifice?
This may seem like a lot to process, but part of a sustainable business is ensuring you carefully assess when and how to grow and when to stay where you are.
Possible Pitfalls to Watch For
A common thread with my clients and community is that they strive to run an ethical, profitable, sustainable business. The micro agency owners I work with are no exception, as they're committed to doing what's right for their clients and teams.
That can lead to challenges you may not expect, so I wanted to wrap up by talking about possible pitfalls on your growth path as a micro agency owner.
Not Compromising Quality
When you're a solo business owner, you have a firm handle on all your client deliverables, but that changes when you have a team. It can be demanding as you have a more extensive client roster and team to ensure that everything meets your stringent quality standards.
This is not to say that you need to ensure perfection, but a major mistake I've seen too many times to count is that the bigger an agency grows, the more quality slips. That's not to say it's a given, but growing too quickly can compromise quality.
It will always be better to grow slowly and ensure that you deliver outstanding client work and results. Your agency's reputation relies on it.
Overextending Your Finances
Growth can quickly impact your cash flow, and expanding can strain your finances. The key is taking calculated risks and not engaging in magical thinking where you overextend your finances in pursuit of growth.
The definition of "overextended" differs for each of us, but I encourage you to make these decisions methodically. Not every problem can be solved by throwing money at it, mainly when there's reliance on outside factors, such as signing new clients that aren't even in the pipeline yet.
Expecting Too Much From Your Team
When growing your agency, you need to be conscious of the needs and limitations of your team. No matter how amazing your team may be, you need to remember they'll never be as invested in growth as you're going to be.
That may sound harsh, but we simply cannot expect them to be ready or willing to do the same things we're willing to do. Growth plans need to be managed so that it's not just about what you want but what's best for the team.
Your team's well-being is essential to ongoing success and shouldn't be sacrificed due to a personal need to expand relentlessly.
Sticking to Your Values
So many of us start businesses because we want to do things differently and are deeply committed to our values. That said, the pursuit of growth, even in a micro agency, can put our values to the test.
Challenges will arise from potential clients we're unsure about, approaches to our work that we're not aligned with, and much more. As always, I'm not going to tell you what to do, but I will say I've never regretted making decisions that result in less revenue or slower growth when I know I'm aligned.
Sometimes, you'll need to make choices at the expense of your bottom line. You can make this easier by developing a documented set of values and principles that guide your business decisions. This acts as a north star in challenging situations and ensures you make the right choice.
Micro Agency Growth Isn't Linear
My goal for this episode was to help anyone who feels like their micro agency journey has been messy feel less alone. Business growth, especially micro agency growth, is never linear.
If you're a micro agency owner and found this episode valuable, you may want to check out the Agency Mastermind for 2024. We have spaces for a handful of new members, and we're enrolling now.