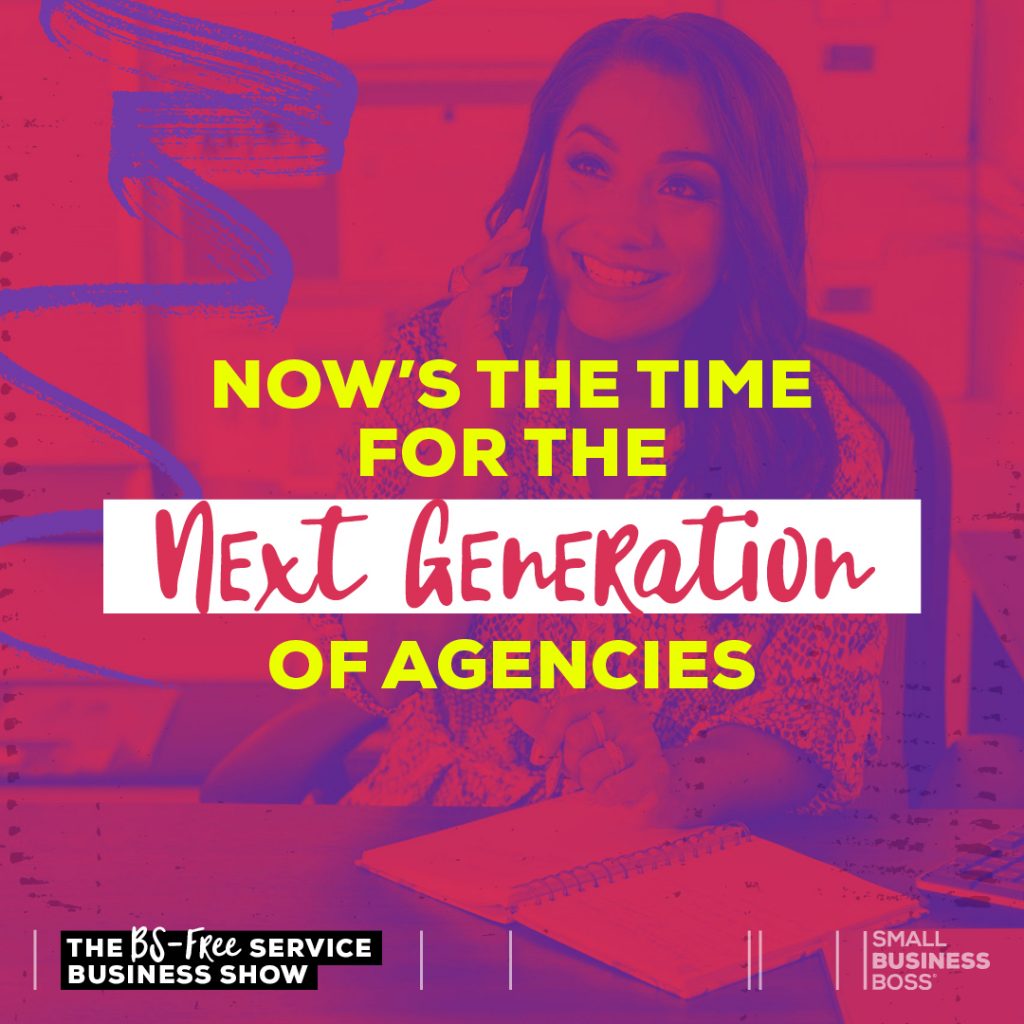 Now's the Time for the Next Generation of Agencies
When you hear the word agency, does it make you think it's not the kind of business you want to run? I know that was the case for me for many years, which is why in today's episode, I'm talking about a new type of agency business model, the kind that skips the BS and helps you build a business you can love.
As someone who literally built my career in an agency, I had a lot of ideas about what an agency "had" to be like. After all, I spent five years working in an agency taking on bigger and more complex roles and client accounts, and once I freelanced I did a lot of subcontracting work for other agencies.

It would make sense that I had some baggage that meant I wasn't super keen on running my own agency. Next week I'm going to talk more about my agency journey, but I never really wanted anything to do with agencies, until my business hit a certain point and I had some decisions to make.

That decision, back in 2014, was to embrace the agency business model, but I did it with a commitment to building a new kind of agency. After freelancing for nine years, I had a clear idea of how I wanted things to be, and almost a decade later here we are.

Whatever you think about agencies, good or bad, isn't necessarily true in 2020, as everything, and I mean EVERYTHING has changed. A year ago, I wrote a blog post talking about how the world was ready for a new type of agency business model and little did I know that a year later it would be more ready than ever.
The World of Work as We Know it is Over
For years, I've been talking about how the future is freelance. Little did I know that here in 2020, COVID-19 would accelerate those changes to the world of work.

Upwork's Freelance Forward study conducted in the Summer of 2020, found that two million Americans started freelancing in the last 12 months, which is 36% of the workforce.

But here's where things get interesting:
That 36% is up by 8% over 2019, and from 2015 to 2018, that percentage has been stuck between 26% and 28%. Plus, 34% of those surveyed were new freelancers that started during COVID-19.

Finally, the study found that 61% of those who freelanced pre- and during COVID-19 feel they have the amount of work they want or more work than they want during the pandemic.

The future isn't freelance. The freelance economy is here and now.

While you may not identify as a freelancer per se, looking at these trends gives us valuable insight into the rapidly shifting workforce. Remote work is here to stay.

A study by the Kung Group surveyed 500 VC-backed founders, and 70% said that when their offices reopen, many or all employees can work remotely. Work from home will now be completely normal, which is good news for all of us, as the way we work and operate has been completely legitimized.
When I first started Scoop, clients would often struggle with the fact we didn't have a physical office. Around 2018, that became less and less of a question, and I don't think a single prospective client has asked about our virtual model in at least a year.

It's in this landscape that big agencies are continuing to struggle. The big four holding companies that own the majority of big brand agencies reported a decline in Q1 2020. One of those holding companies, Omnicom, reported a 25% revenue hit in Q2 and expected that trend to continue through the end of the year.

The reality is that these big agencies are bloated, and smaller, more agile agencies, that offer cost efficiencies are poised to step in. Even the biggest brands are ready for a change, and they're more open than ever to working with startup agencies.

Which is where the opportunity lies for a new type of agency business model. One that makes the most of technology, offers strategy and support without layers and layers of overhead, and most of all that's able to pivot quickly in a dramatically changing market.
Your Options for Building an Agency
If you've been thinking about growing your business to focus on an agency model, now's the ideal time for this business model. I will be the first to say it's not for everyone, but for someone who's willing and ready to scale with a team, it offers a lot of possibilities here in 2020.

Let's talk about your options, as I'm going to assume you're not looking to build a 50, 100 or 1000 person agency. (Or at least not to start.) 
Hybrid Model
If you're new to the idea of starting an agency or shifting into this model, the hybrid approach is a good jumping off point.

In this model, you're typically still the one who's the face of the business and you're delivering a portion of the work. Before Scoop, I was using this hybrid approach to grow, and it was a safe way for me to test both the revenue potential for this model, and to ensure that I was comfortable with managing a team.

As a solo show for many years, I had zero interest in hiring or managing a team. When I was an Account Director, I spent a lot of time managing and mentoring, and I wasn't sure I wanted to go back there.

With the hybrid model, you'll use contractors to help you deliver on client work, and to help free up your capacity for higher value tasks, or more productized services.

Many times people think that with an agency business model, it's all or nothing, but I believe there is a middle ground where you can get the growth potential of an agency without the need to have a lot of overhead. Plus, this model helps mitigate risk as you're not responsible for contractor's long-term contractors or full-time employees.
Micro Agency
Once you're comfortable with the hybrid approach, you may choose to commit fully to building a small team that works with you consistently to serve clients.

With a micro agency business model, the real goal is to move you out of being the only one dealing with clients or delivering billable work.

Ideally, you'll have an integrator role, who handles a lot of the operational day-to-day with clients and keeps everything running according to plan. This can be client service director, account manager, project manager or another role.

For you to successfully grow a micro agency, you need to have someone you can trust, as you'll have more clients, more work to deliver and more potential points of failure.

Whether you choose to use contractors or full-time employees doesn't matter as much as the fact that you want your team to be relatively stable.

From a client perspective, they'll think of you as their agency, but also an extension of their team. This is good news as that can help position your firm as a flexible alternative, that doesn't bring any of the baggage of a bigger agency with it.

A big plus of running a micro agency is that you don't need to be everything to everyone. You have the opportunity to position yourself as the answer to a very specific problem for a very specific set of clients. This is a big reason that my agency, Scoop Studios, sticks to a very narrow set of services –– while we're a content marketing agency, we're really a content production agency.
Full-Service Agency
Finally, the full-service agency business model offers a wide variety of services. For example, if you were a content marketing agency, you may offer content production, copywriting, social media including video, design, and web.
The idea with "full service" is that you can be a one-stop-shop for your clients, and they can spend more with your agency. This, on the surface, sounds great, but it requires a very special type of business owner to run and scale this type of business.

Why? Full service means you need a lot of specialities, and that means you need people to deliver on that. Usually, that means you'll need a much bigger team, and while you're making more money, you'll have much higher overhead.

Plus, if you're someone who actually enjoys doing client work, you may find yourself needing to be further and further away from that work as you have a large team to manage and the business to run.

There's no denying that this model can definitely work. I have several friends that run successful, full-service agencies, and they're happy in their role running the agency versus spending their days touching client work.
The key here is to avoid defaulting to a full-service model as you think that's what clients expect. I believe there's room for both models. Some clients want an agency with a tightly-defined specialty, and others will want a firm with a broader set of services.
The Agency Business Model Isn't One-Size-Fits-All
If there's anything I've learned over the last five years running Scoop, it's that there's no such thing as a one-size-fits-all agency business model. That's why so much of what's out there targeting small agency owners with blueprints and big promises is simply wrong.

Over the next few weeks, I'll be sharing more about the agency business model, including my agency journey, a deep dive into 2020 at my agency, as well as the five key elements of running a successful agency of any size.

So, if you run an agency or are thinking of running one, you'll want to stick around as we go deep on all things agency model.
Links for This Episode
Upwork Freelance Forward Study
Kung Group study
Decline in agency Q2 revenues
Correction in bloated ad agencies
PS. The Agency Mastermind 2021 Cohort will be opening soon and I have a couple spots available. You can join the wait list below.