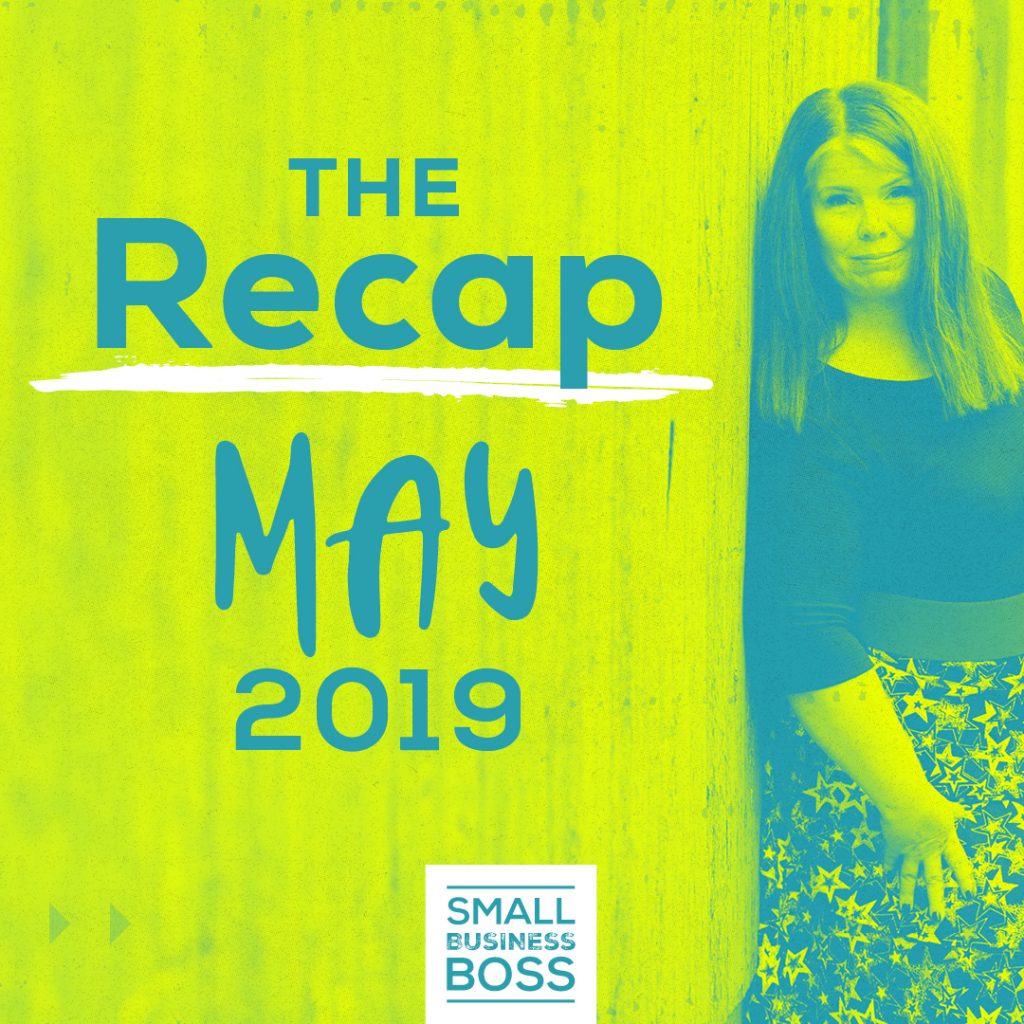 Episode 175: May 2019 Recap
May is always one of my fave months of the year…so the question is, did May 2019 deliver the goods? In this episode, I'm sharing the May recap, and I'll reveal everything that happened in the month that was. Let's do it.
I feel like I just recorded a recap as April was such a big month, and May, well, it flew right by. Earlier this year, I had a May that was stacked to the hilt with half the month in London, followed by major family and friend commitments.
As well planned as the month was, all my plans went out the window, and that's totally fine because as soon as we threw a move into the mix, something had to give.
For Scoop Studios
May was a solid month. I intentionally took my foot off the gas with new business to make room for travel and to keep things on an even keel going into summer. The key here is that I decided to do this in advance — not just due to the fact I had other things on my plate.
When it comes to finding clients, I operate MUCH better if there's a solid plan in place for when we turn up the heat and when we decide to chill a little bit — especially as chill isn't my default mode when it comes to having new business in the door. I've experienced what it's like to get a little too comfortable or complacent.
At this point, we're going to let new business efforts continue to simmer for June/July and then see where we're at for August and beyond. Having added cold outreach to the mix earlier this year, I'm confident that I can and will be able to bring in more business when I feel like there's room for "new" clients.
Interestingly, that doesn't mean there's no new business — it's just not as aggressive. The last week of May, we signed a project client and three new leads landed in my inbox. It was great timing as we've had a few bumps with one of our clients due to their internal communications and delayed payment.
Now, a quick word on payment. As we've evolved with the type of clients we serve, we've run into a few situations where they don't typically prepay at the start of the month. We've been able to negotiate a payment schedule that I'm happy with, but in one specific case, the client, who shall remain nameless, simply didn't follow it.
That has led to me doing some fairly aggressive followup to get paid. I wanted to share that as you can do everything right, but sometimes a client's internal issues or policies cause a problem. In this case, I firmly advocated for Scoop, and we got some movement on payment. The situation is still ongoing at this point, so we'll see how things shake out.
Never be afraid to ask for what you're owed and to tell clients how things need to be if they're not paying. Be prepared to cut people off until you have payments up-to-date, and simply be factual and professional. Teachable moment for me, and hopefully for you, as no client is worth the distraction of paying a bill collector.
Overall, I'm feeling very positive about how the first half of the year has turned out, and I'm excited to see what's next.
For Small Business Boss
Alright, so let's talk Small Business Boss now, as it was an outstanding month. We had the second Double It Mastermind retreat — this time in London. I got a few days of fun in the city around the retreat, and then we spent three days together working on six masterminders' businesses. Honestly, every retreat is such a good experience, and I love having this face-time with each of them. As I've said a million times before, nothing beats being in person!
For the mastermind, we've got one more retreat — this time in Ottawa — and I'm extra pumped to be in my hometown. Plus, I'm planning a BBQ at my new house.
Being up close and personal with the masterminders got my wheels turning on 2020 already, and I'm percolating on some additions to that experience.
Behind-the-scenes, we're also working on getting things ramped up in our free and paid Facebook groups. Speaking of which, be sure to join us in our free Small Business Boss Squad group.
I've also got a few posts that are nearly done. Again, being with the Doublers in person and our casual conversations over dinner and throughout the day got my wheels turning.
It's all good things, and I'm gearing up for a June that's focused heavily on serving clients and the SBB community and then the logistics of our move —oh, and planning the renos to my 70s house which needs some TLC. I'm actually super excited about all the little things we can do to make the house ours, and of course, it's lake time! Prepare yourself for all the lake selfies over on Instagram.
Speaking of summer, for the first time ever, I'm going to be putting the podcast on hiatus for four weeks, and we'll be returning in late July.  But don't worry, I got you covered as for the next four weeks, we'll be sharing some of our "greatest hits" episodes instead.
As of recording this, my house is in complete upheaval, and the idea of recording podcasts amid the chaos doesn't work for me.
And remember, if you're missing the show over the next few weeks, there are 175 episodes to choose from, so head to Apple Podcasts, Google Podcasts, or Spotify to listen to past favorites.
I hope you, too, have your summer break planned, and if you need an extra hand, be sure to go back to episode 173 on taking control of your summer schedule.
I'll see you on the flip side, boss.
Links for the Show: