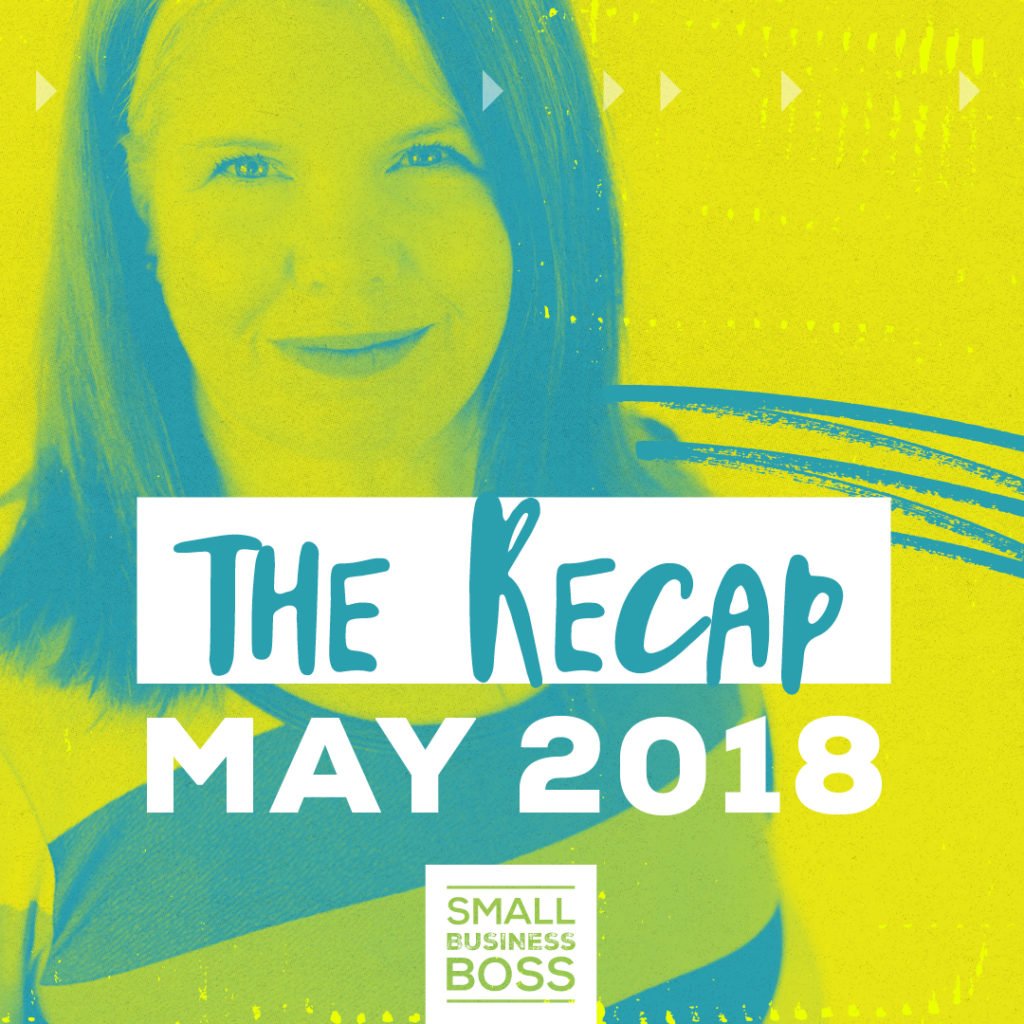 Episode 114: The May 2018 Recap
Oh, May, what a month it was, so there's lots to recap. So, in the spirit of Small Business Boss, in this episode, we're going behind-the-scenes on what happened and where things landed.
There's so much to say in the May recap, but I don't want this to be an hour long episode, so I'm going to attempt to keep it brief.
The biggest change in May was Brittany's unexpected departure from our company. That happened in the first few days of May, so it really set the pace for the month.
Truthfully, it was the perfect example of how a quarterly or monthly plan can experience a real wrench. The good news is that after some deep thought and support from Brittany, I was able to quickly course correct and get things on track.
I was navigating these changes during a time that's been a bit challenging on a personal level and a month that's already jam-packed. The good news is that I had my weekend away with my 8 friends from university, and I had my first weekend of the season at the lake to help fill up my cup. Even for my introverted self, that social time and support were exactly what I needed because my usual tendency would be to go into survival mode on my own.
So, what happened business-wise?
Scoop Studios
A lot of April was what Brittany and I termed "intentional inaction," and I have to say for May, that theme was continued, as I chose to prioritize client service and communication.
It was really important to me that in a time of change, clients felt well taken care of and that things would be consistent — even with Brittany's departure.
As a result, new business development was a bit less than what was planned, but I did make incredible progress on our case study offering by getting our sales page for that up, creating a kick-ass case study for one of our case study clients (how's that for meta?) and more.
Also kicked off a series on our agency blog focused on case studies, and we're working on SEO and promotion of that series. So, all is good on that front.
And I have some amazing new leads I'm working with right now that are pretty much dream projects, so June is looking good! (Also, this is a testament to the ongoing new business development focus for this year as even in a month where I did less of it, there was still meaningful activity.)
With Brittany's departure, I had to take over a number of operational items — in particular, the money. I think I've shared this before, but money is not my fave thing to manage so this was met with resistance, and quite frankly, some anxiety as I ramped up. I quickly realized that for me to feel clear and focused, I needed to spend 10 to 15 minutes each morning on money stuff before I do anything else.
This may seem excessive, but my "morning money date" helps me feel like everything is handled and gets my head in the right space.
From there, I know why I'm doing what I'm doing, and I do a better job of prioritizing what's really important for the business.
Also, it means I'm coming from a place of fact, not emotion when making business decisions — which is a far cry from where I was pre-Brittany!
Small Business Boss
In the last recap, we were days away from launching the new Small Business Boss website.
With the business changes, we had to do some reworking of the site to remove Brittany, but our amazing designer Jessica made this pretty simple, and we got it done.
I'm happy to share the new Small Business Boss site is now live.
But here's what's weird. I'm back to being a solo brand, so now it feels like a personal brand. I needed a little help wrapping my head around that, so I went to my fave leadership coach, Tanya Geisler, to help me make that mental shift.
What's funny about all of this is that I feel more connected and invested in Small Business Boss as more of a personal brand.
So, while this change has been hard, I'm choosing to see it as meant to be and stepping into it.
The real focus for the summer with Small Business Boss will be on content development (I have some amazing things planned), adding to this very podcast so you hear from other service business owners AND growing the Small Business Boss Squad FB group.
I'd love to connect with you, so head on over to this FREE group and join now.
Our small and mighty group is a lot of fun, and it's the best way to connect with me and other service business owners. You can join at smallbusinessboss.co/squad now.
So, May, goodbye. I don't need that type of excitement in my life for the rest of this year! At the time I'm recording this, I'm looking forward to what June has in store and putting some of the plans into action over the summer to make the back half of 2018 amazing.
My word for the year was unstoppable, and I'm rising to the challenge even if — personally and professionally — the year has had some curveballs to test just how unstoppable I actually am.