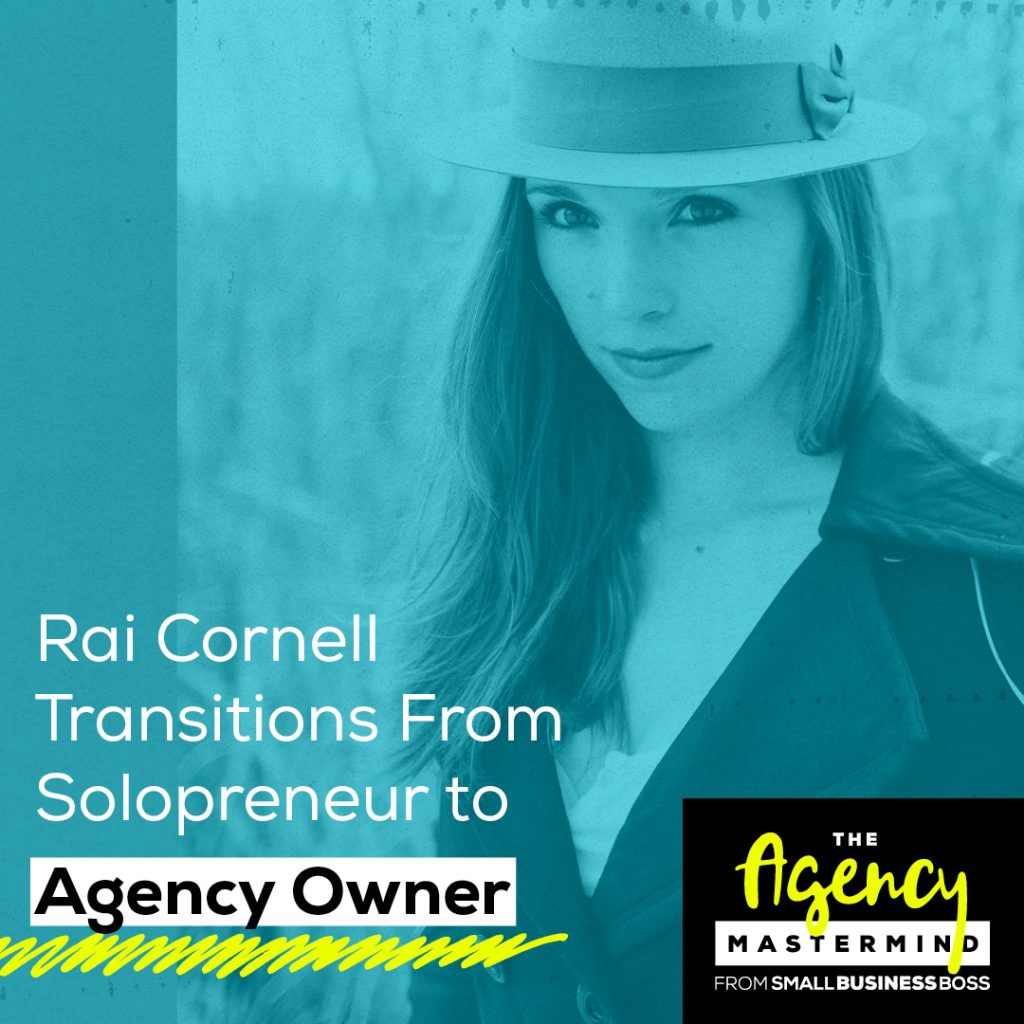 Rai Cornell Transitions from Solopreneur to Agency Owner
Note: The results shared in this post are not at all typical. 
Rai Cornell is the president and senior copywriter at Cornell Copywriting, which offers a host of content marketing services, including comprehensive content strategy, ghostwriting, and more. 
When I met Rai in the winter of 2018, her business was still in its infancy, and she was looking for ways to grow her revenue as she was only generating about $3,000 a month. With this in mind, she hired me to mentor her for three months, and by the end of our time working together, she'd made some foundational changes to her business and increased her revenue to the $8,000 a month mark. 
Later that year, when she'd started to surpass $10,000 in monthly revenue, Rai once again got in touch with me to talk about getting some additional guidance on her business plans.
As Rai explains, "I'd hired my first team member and was starting to think about outsourcing some of the blog content writing that I was doing, but I had no idea where to go from there. I wanted the business to become more streamlined and organized. I also knew that if I was going to continue growing, I would need to better understand how to focus my time and set my boundaries so that I wasn't killing myself by saying yes to everything."
Knowing that in just three months of working with me, she'd seen a tremendous amount of progress in her business, Rai decided that joining the mastermind would help her maintain her momentum. 
"Every time I communicated with Maggie, it was a nudge forward for my business. She was realistic, down-to-earth, and easy to talk to, so I didn't feel like there was anything that I couldn't bring to the table to discuss. Having that ongoing support was really attractive to me. Instead of trying to find the right person to talk to every time an issue in my business cropped up, I'd have Maggie right there to help me work out a solution."
Grow Your Team, Increase Your Revenue
Part of growing your business is learning how to put together a great team that allows you to step back from the smaller tasks, and being in the mastermind has helped Rai free up valuable time that can be spent working ON the business instead of in it. 
"I'm hitting all my income goals, which is amazing, but more importantly, having someone to support me in decisions about what I do and don't want to be doing each day has been really helpful in getting me to the goal of actually doing work I enjoy. I've been able to extract myself from more and more of the day-to-day operations. Maggie's helped me build a team, nurture that team, and keep that strong team together once I have the right people. I'm finally not just doing work that I need to do to pay the bills, but doing what I actually love."
One thing Rai wasn't expecting when she joined the mastermind was the sense of fellowship she would find within the group and how that would positively impact her business.
"The group camaraderie has been huge — just knowing that I have a group of business peers who have my best interests at heart and want to see me do well has been massively helpful for my mindset. Maggie has created a group culture that is so pure and free of judgment."
At the end of our chat, I asked Rai what kind of person she thought would benefit from being in the mastermind as we head into 2020. This is what she shared with me:
"I'd recommend the mastermind to anyone who's looking for a down-to-earth approach to business. Maggie helps you focus on what's actually going to make your business progress and get you to the next step. There's no fluff or sugarcoating — just very real, actionable work that'll help you meet your goals."
The Agency Mastermind for 2020 is open for enrolment for a limited time. You can click here to get all the details.  (And, yes, Rai will be joining us for this round.)