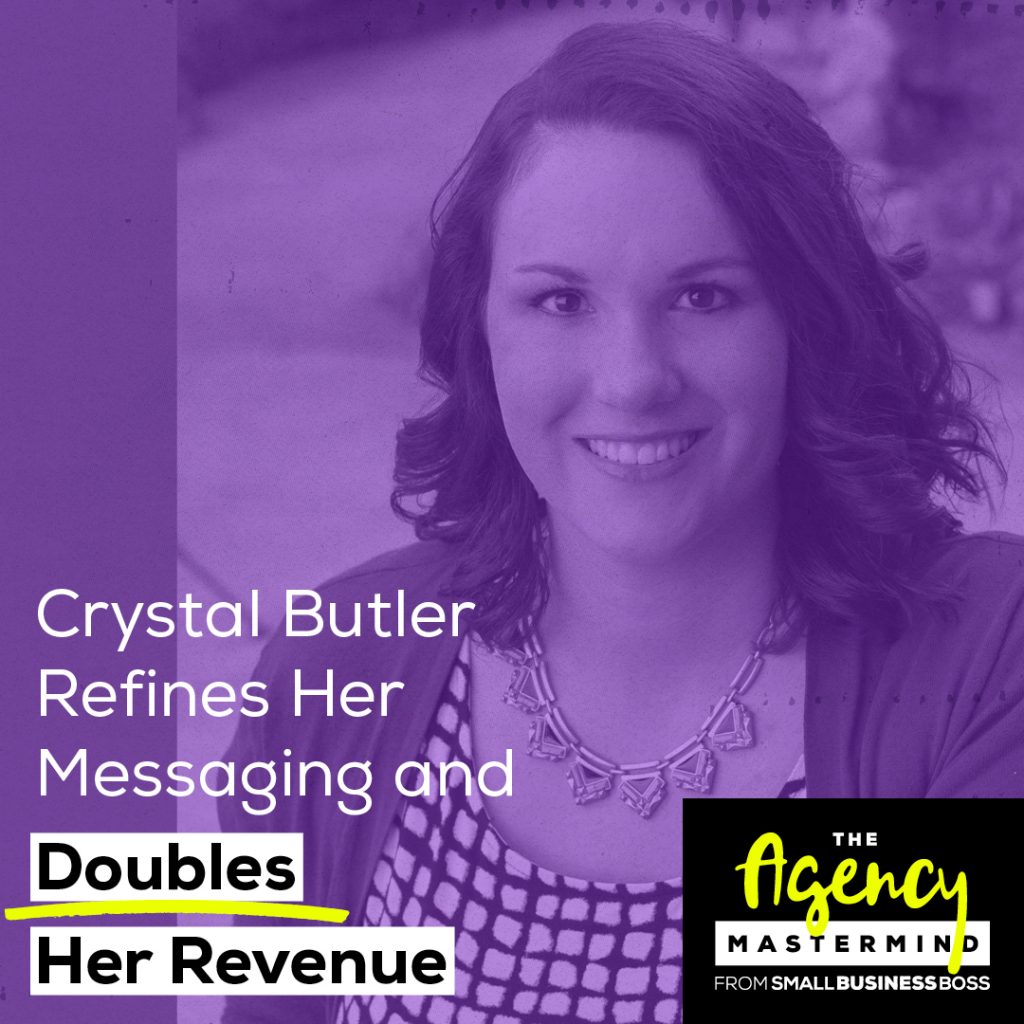 Crystal Butler Refines Her Messaging and Doubles Her Revenue
Crystal Butler, founder of Crystal Marketing Solutions, is a marketing and business consultant for financial advisors. Her business offers financial professionals any marketing service they might need: graphic design, email marketing, social media, website design and management, advertising, and more. 
When I met Crystal a few years ago, she'd been in business for five years. While her business at the time was successful, she found herself looking at ways to improve on what she was already doing. 
As Crystal explains, "I didn't have one particular thing in my business I wanted to focus on. I wanted some validation that what I was doing was working, and I needed to pick someone else's brain. I wanted a sounding board."
Having already been familiar with the work I was doing in the online space, Crystal heard about the Double It Mastermind that would be launching in 2017, and she began to consider if maybe it would be a fit and provide the support she was looking for.

After a few conversations with me, Crystal decided she was all in. 
"I decided to join the Mastermind because I liked Maggie's approach — no BS and no fluff. She focuses on service-based businesses, which is what I run. At the first retreat I went to, I knew I'd made the right decision. I was surrounded by people like me, who were smart and successful. We had intelligent conversations about life and business. There wasn't any pretense and everyone was so real." 
Clearing a Path Towards Business Growth 
Our first order of business in 2017 was tackling her client base. Even though her business was focused on marketing for financial professionals, she had clients that didn't fit that base, which in turn, was causing extra stress and work. Then, in 2018, with the help of the mastermind, she made revenue growth a priority. 
"Since joining the Mastermind, the messaging for my business is now so clear. My client base is more defined. My team has grown. I've more than doubled my revenue while working about the same amount of hours. I've also made a lot of connections through the mastermind, which has increased the types of services I can provide my clients."
While the mastermind has helped her see significant gains in the success of her business, it's not only the business strategy that has been important to her growth. 
"What I love about this mastermind isn't just Maggie, but the people she attracts. I didn't think being a part of a mastermind would help me develop my business relationships in the way that it has."
Now, as she moves toward the end of her third year of the mastermind, Crystal is once again planning to come back for 2020 to continue building on her successes. When asked about why she's coming back for 2020 and shared these thoughts on the new format for the mastermind focusing on agency owners:

"Maggie adds value by constantly enhancing the focus of the group. I've been in the mastermind for three years now, and it's not the same every year. She's evolving as we evolve, which is amazing."  

The Agency Mastermind for 2020 is open for enrolment for a limited time. You can click here to get all the details.