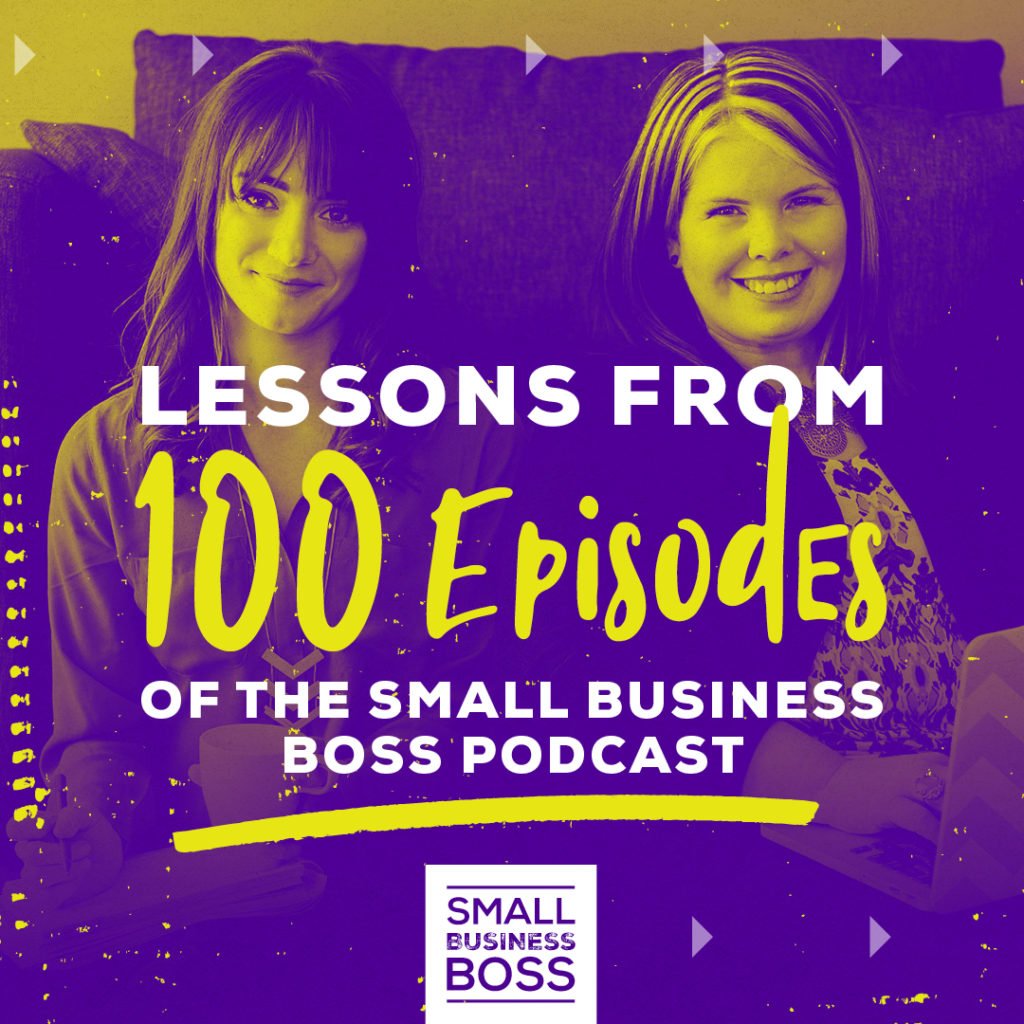 Episode 100: Lessons from 100 Episodes of the Small Business Boss Podcast
It's a big day here at Small Business Boss!
We're celebrating 100 episodes of the Small Business Boss podcast. 100 — that's a lot of episodes, so we wanted to share lessons we've learned from those episodes.
Before we share our lessons and favorite episodes, we want to thank you for listening to our show. From day one when we started Scoop, we knew we wanted to do a podcast, and over the last 100 episodes, that's really evolved into one of our most favorite ways to connect with you.
In short, we appreciate you — and hope you'll be with us for another 100 and beyond!
So, what we're NOT going to do is share 100 lessons, because while we could, that would get real boring real quick. And trust us, there have been a million lessons from this show, but we wanted to share some of our faves.
Maggie's Lessons
Batching for the win!

Batching saves context switching, which saves lots of precious time.
We've developed a very tight process within our team for podcast episodes, so from recording to editing to getting it up on the blog, it's all seamless.
If you're creating content of any kind in your business, you need to set yourself up for success by investing time upfront and batching the work.

Mix things up.

When you run a business, there can be a lot of repetition, so we've made a point of finding new ways to keep ourselves — and our listeners — interested and engaged in what we're talking about.
We've tried new things and learned from them. At one point, we did some interviews on the podcast, and we learned that it's a good way for us to keep ourselves out of the spotlight, which wasn't the real purpose of us doing the show. Sharing an honest look at ourselves and our business is how our audience gets to know us.

Business is ever changing.

We've been at this for two years now, and looking back to when we started the podcast and our confidence level to where we are now is like night and day.
It took us a while to find our footing (the show is on its third name!) but having a willingness to see things through and stick with it is something we're super proud of.
If you're scared to try something in your business, give it a shot! Give it time to evolve and see where it goes.
Brit's Lessons
What seems "hard" today won't seem hard a year from now.

When we started the show, I remember how scared I was because Maggie had years of podcast experience, and I didn't. Layered with being hard of hearing and super self-conscious about my voice = mini hot mess express. Continuing to show up and record and refine led to me being much more comfortable with recording, and if not more comfortable, at least at peace, with my voice, etc.
This also applies to many of the strategies and tactics we've outlined over the last 99 episodes, like getting comfortable with your numbers, being proactive about leads, and upping your prices.
If you're feeling scared or it seems insurmountable, rest assured that practice really does help, and a year from now it won't be nearly as hard.

Getting your money game handled is a life changer.

It's no accident that we have a whole mini-series within the podcast dedicated to money. If there is seriously one tactical lesson I think every business owner must learn is to get comfortable with your numbers — both personal AND business — and start to look at them clinically, not personally.
They're just numbers, and the great thing about money is that you can always make more of it. But you've gotta get comfy with the numbers and your mindset as well.

Business is better (and more fun) if you stay focused and experiment with your productivity at the same time.

The more clear you are in terms of your focus — finding new clients, increasing your proactive outreach, being more productive to work fewer hours — the better everything is.
Not being afraid to experiment with your productivity a little and trying different things is an important part of being in business.
What works one week might not work the next, and something that was your favorite tool a year ago may no longer produce the same effects for you. Stay focused, yet have a little fun too.
Here are some of our favorite episodes of the show and our most popular ones in case you missed them.
Most popular:
Episode #2 – Myths of Services Businesses
Episode #54 – Solopreneur Doesn't Mean You Need to Go It Alone
Episode #9 – The Art of Consults That Convert

Our Faves – Maggie:
Episode #10 – Preparing and Presenting Your Proposals
Episode #85 – Stop Sweating it Over Scaling Your Business
Our Faves – Brittany:
Episode #86 – Stop Buying Into the Online Business Cult of Consumption
Episode #62  – Magic Words to Close More Clients