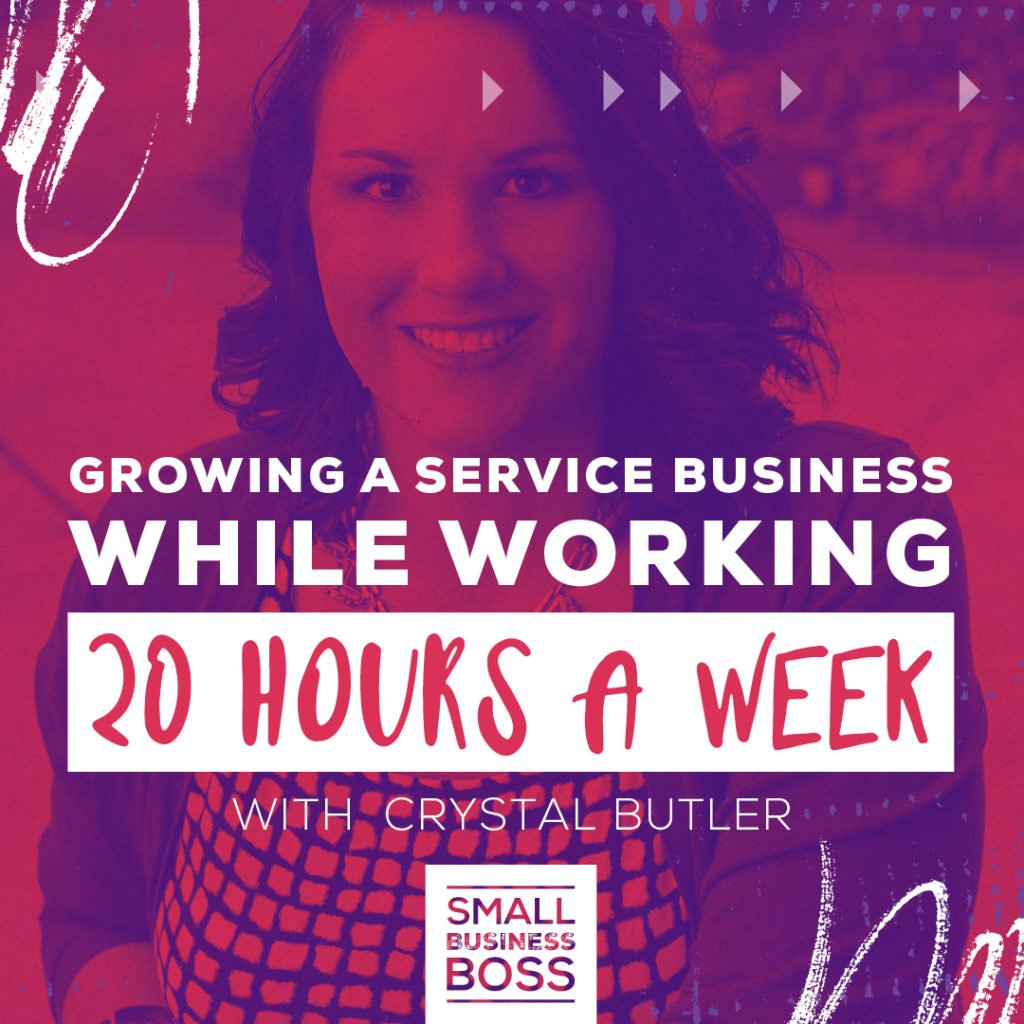 Episode 135: Growing a Service Business While Working 20 Hours a Week with Crystal Butler
Have you ever wished you didn't offer services because you want a "lifestyle" business? Well, it is possible with services, and in this episode, my guest Crystal Butler fills us in how she manages to work 20 hours a week and much more. Let's do this!
I'm excited to introduce you to today's guest Crystal who runs a thriving marketing company that specializes in the financial services market. I've known Crystal for over two years, and it's been amazing to watch her business grow and evolve. Get ready for some real gems in this discussion.
Crystal has over a decade of experience helping small businesses achieve financial growth. In 2012, Crystal Marketing Solutions, LLC (CMS) was established, and today, the firm continues to successfully help small businesses — specifically financial advisers — with marketing strategies that achieve financial growth. Her services include strategic marketing, website management, graphic design and more. Crystal's work has been published on leading financial services blogs, and she has a new podcast on the way for 2019.
Tell us a little bit about your business and how you make money.
I am a creative marketer and business consultant delivering exceptional insights for financial advisors.
I mainly work with financial advisors on a monthly retainer basis, but I also do some consulting and projects for my retainer clients.
How did you start your business?
I never thought I'd be an entrepreneur and start my own business.
I worked in-house with a financial advisor, and before that, I was a marketer for a bank, so I've been in the financial industry my whole adult career.
I met my husband and I moved to where he was, which is very rural, and there aren't a lot of job opportunities unless we want to commute.
So I had an inkling to start my own business, wondering if I could do this marketing thing for more than my current employer.
Being as I worked for a financial business advisor, who is a small business owner, I mentioned it to him one day, and he was very excited for me.
We developed a game plan for me to offboard some of the service work I was doing (because I didn't just do marketing), and I started my own business.
My original employer was my first client, and he's still a client seven years later.
How do you think niching in the finance industry has helped you be successful finding and booking clients?
At first, I was not sure the niche was going to work out.
It did take some time to grow my business in this specific industry, so I wavered back and forth, but I'm so glad I stuck to my guns.
I did pick up a few non-financial clients here and there, but that caused more trouble than it was worth.
Having this niche has made me more efficient in what I do with my current clients.
I'm making a name for myself in the industry, and I'm getting published.
Niching has helped me be more efficient in working because I don't have to switch from one industry to the other.
It's also helped me create great systems.
Every client is a little different, but overall, it's very similar, so it's helped to optimize my time and develop myself as an expert in the industry.
Some clients that I picked up this year hired me specifically because of my industry expertise.
How were you able to exceed your goals for the year and what did you learn in the process?
It's doing the little things on a consistent basis.
I've been getting published for two to three years now in an industry publication.
I'm connecting with other collaborators, just touching base, sharing information with them, and building relationships.
My new clients have come from my existing clients, referrals from those collaborators, or they found me through my published articles.
And being patient has been important.
I love that you work 15-20 hours a week so you have time with your daughter, your family, and things outside of work, and you still earn a healthy full-time income. Can you share how that's possible and how you maintain your boundaries and make sure work doesn't bleed into the rest of the week?
Looking back to when I worked full-time, I've always been pretty efficient.
The financial industry overall is very strict with boundaries. They're 9-5ers, they don't work weekends, some of my clients work modified weeks (they take a day off during the week), and some of my clients take sabbaticals, so they'll take a month or two off every year.
As long as the work gets done, they're pretty easy to work with.
Some months can be busier than others.
Focusing on one industry, I'm able to time block and duplicate stuff and not have to switch gears.
I can really niche down and specialize in doing one thing well, creating a great template and resource and then customizing it for each of my client's unique specifications and how they do business and their personalities and the relationships they want to build.
I also plan a lot in advance.
How has growing and empowering your team worked for you?
I have several contractors who work with me. None of them work full-time hours. They're stay-at-home-moms who want to work and make some money but want that balance as well.
Those contractors have been key in the success of my business.
I actually just hired a new contractor because we are growing, and I want to set myself up to grow a little bit more in 2019.
I'm trying to plan ahead.
I'm also working with a collaborator for doing more ops in the back end to systematize even more to help things run smoother.
I can really stick with the hour restrictions that I put on myself but be able to grow at the same time.
I work when it's best for me.
You've been a part of the Double It Mastermind for the last two years. How has this experience contributed to your growth?
It's helped me make money for sure.
It's helped me build confidence. Being by myself, I still have the imposter complex, but it's helped me feel validated and has helped push me to continue doing the little things, to put myself out there more.
It's helped me grow my confidence that I really lost at one point in time in this business world.
I've also met with other people in the mastermind.
My favorite part is the people that Maggie attracts.
The ladies I have met have really been great resources, a community, a tribe, but I've learned so much from Maggie and everybody else there.
I've been collaborating with some of them.
It's been great to have the support system to help me grow.
The people that I have learned from have definitely helped enhance the services that I currently give each of my clients.
Lessons:
Crystal has a niche, and it took some time for her to get going but it paid off. What really stood out to me is that she didn't force it and it was a natural fit with her experience.
She shared how she accomplished her goals by focusing on consistent action day in, day out. A great reminder that success isn't always about the sexy stuff.
Crystal's story really shows that you can build a profitable business doing services, and you don't have to work full-time. Having firm boundaries means you can make services work for you.
Links for This Show: