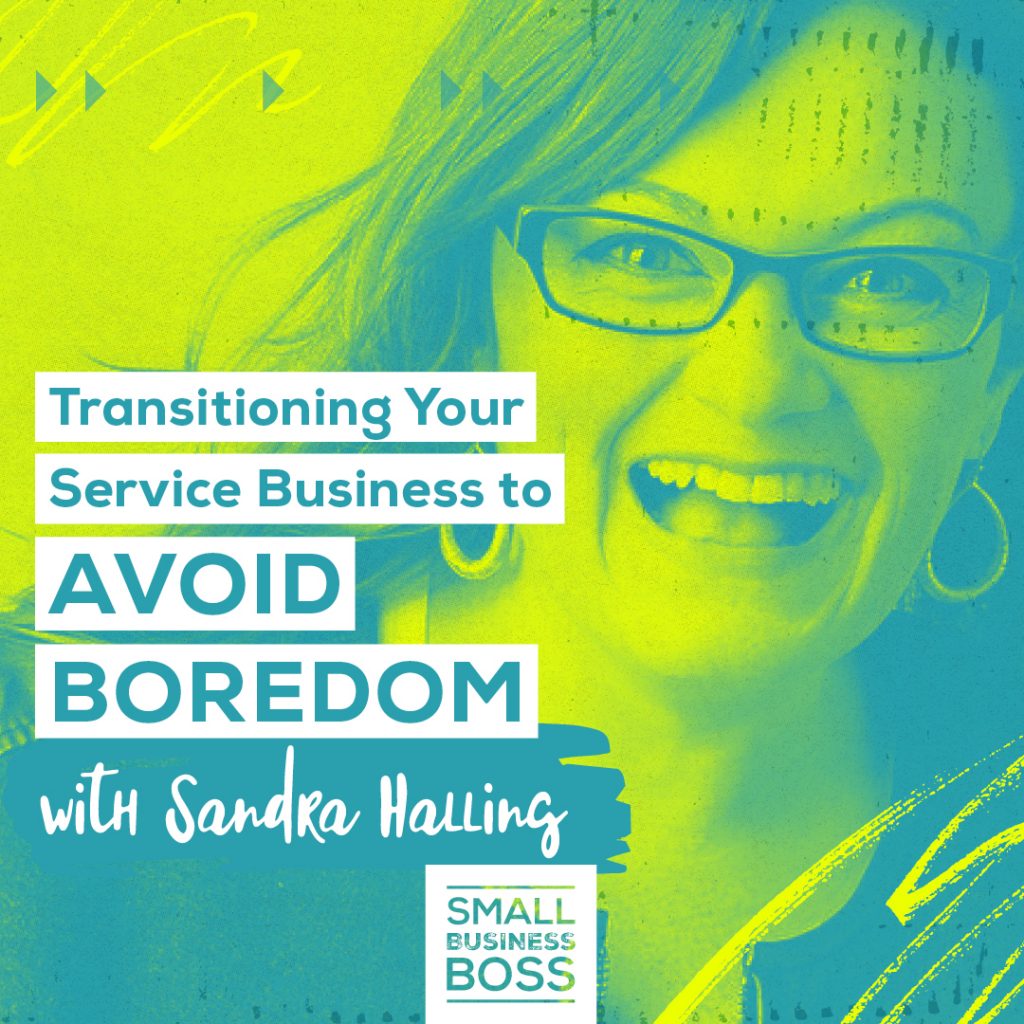 Episode 136: Transitioning Your Service Business to Avoid Boredom with Sandra Halling
Today, my guest is Sandra Halling, who I guarantee you're going to learn so much from! In this interview, Sandra talks frankly about getting bored and needing to change things up! Let's do this!
Sandra works with corporate clients, visionaries, coaches, and creatives who are the best in their business. The only problem is, going from brilliant idea to strategic implementation is often harder than it looks. She combines 20 years of experience working for architects and engineers implementing marketing strategies and the business and tech solutions to support those strategies, with online sales tactics and her love of spreadsheets to create forward momentum grounded in practical action.
Tell us about your business and how you get paid.
My primary revenue driver is consulting with architects, engineers, and sometimes construction firms, on a product called Deltek Vision.
It's an enterprise resource planning database that can be complicated and cumbersome to configure, and I help these firms develop a strategy — mostly on the marketing side but also the big picture — and integrating all of their backend operations, from accounting, project management, and business process workflow and help them train their team on it.
If I'm one of those firms and I come to you, how would you work with me and what kind of services do you offer?
The primary service is strategy at the top level and business process.
Whether you're using a big product relational database like Vision or whether you're using one of the smaller apps that we tend to use as 'online businesses,' there are a lot of processes that go into it.
You have to define what your vision and your values are. That's always the first step with any software implementation.
It moves into the nitty-gritty of what they're marketing and what their goals are.
Then, step-by-step, what are the pieces of information that want to track, how are they going to enter it into their systems, how are they going to get it out, what does reporting look like and so on.
You're really been looking into other revenue streams. What prompted that and how do you see that helping you in 2019 and beyond?
I have a gigantic soft spot for the woo.
I got into human design this year, and it explained so much.
Part of my human design is that I have to restart everything in my life on a seven-year clock.
I get bored; I need new challenges.
Having gotten this far with the services that I have and getting involved in a number of different coaching modalities and groups, I've been looking at helping newer coaches do their packages, pricing, and some of the website configuration and backend stuff.
It's taking what I've done on the corporate side and transitioning it to different sized businesses and different formats.
I stay sharper in all aspects if I have things that challenge me.
Knowing what motivates you is so key.
I actually do better with absurd revenue goals because what if I did hit them?
What lessons can you share as you're going through exploring new revenue streams?
Whenever you're starting something new, you want to double or triple the time you think it's going to take you to do it.
There's high value and power in buffer time — particularly in the time of transition.
You don't know what the emergencies are going to look like in the new model.
We're self-employed for a reason, and we want to have lives that we enjoy.
I slaved away for years with my consulting revenue stream and burnt out.
I had to take stock a couple of years ago and re-evaluate and realize that life needs to be the bigger picture and self-employment is a way to get there and a step to being more in control.
Anything that helps you keep that momentum and protect that precious time is really where it's at.
What kinds of things have you put in place to make this easier?
I had a concurrent project model where I worked on a lot of multiple competing deadlines at the same time.
I got to the point where I was just spent — emotionally, mentally, physically — spent.
We have a better idea which client's situation is more urgent than they do.
You can't make everybody happy; it's a losing proposition.
In the last couple of months, I've put a couple of projects on hold that were slowing down anyway and made that hold more official.
I said, let's pick back up in six weeks, 12 weeks, whatever time you need to do X.
Some of them were a very easy transition because they really needed time to do their 'homework' or integration.
I created some space and reconfigured so that now I'm working in more of a sprint model; no more than three projects at a time where there's a whole lot less context switching.
You take a retainer deposit, you give them a start date, and that retainer deposit is holding the date on my calendar.
Once we get started, they understand they have whatever time frame we've agreed to where they're going to have a focused amount of my time.
That also puts a little pressure on them to be available.
Creating the space and the focus to really do the deep work has been one of the biggest things I've done in terms of transitioning.
You're a member of the Double It Mastermind. Why did you join and how has it helped your business in the past year?
I joined Double It because I knew I needed to shake things up.
From a 30,000 foot view, I was bored; I needed some new challenges.
I wanted to do some stuff in this coaching space, but I wasn't sure what I wanted it to look like yet.
I wanted to challenge myself on the revenue front.
It really felt like next-level stuff.
For a long time, I almost felt like I was accidentally successful, and it took me a while to figure out that wasn't true.
One thing entrepreneurs struggle with — especially at that three or four-year mark — is celebrating that they got that far to begin with.
With Double It, I get the space to do the planning work, to have things mirrored back to me, and to engage with people who are in service-based businesses.
When you hear Double It, you might think about doubling your revenue, which would be great.
But what about doubling the joy in the work that you're doing?
Or doubling your client satisfaction?
Or doubling the number of testimonials?
There are so many ways to increase the positivity around the work that you're doing and the business that might not directly impact revenue but it will in the long run
How has the Double It experience been different from those high-ticket masterminds that you've been involved with?
In the bigger ticket masterminds, one of the big benefits was the exposure to people that operate at that level.
I greatly value the principles that you set around pricing and the approachability and the space that you're creating for all entrepreneurs to be successful.
What often gets skipped over in marketing these days is what a six-figure business really looks like. What does a multiple six-figure business look like? What's that space between $250k and $500k look like?
What Double It does so well is honor every single piece of the puzzle — from the finances to the customer client experience to how you're managing your projects to onboarding to offboarding to getting testimonials to handling content and your website and so on.
When you combine all of that with the content in Small Business Boss, it can turn a small to mid-sized business from stable to one that's kicking ass.
It's hard to get a return on investment with the big-ticket masterminds.
If you invest in Double It, you're going to see your money back that year.
There are many very successful women in the group.
One of the best things about Double It is how varied and experienced — and both humble and proud — the group is.
It's one of the best things I've ever done for my business.
Lessons:
Sandra was very candid about how shifting gears and adding new revenue streams can be messy but that having a plan and carving out time to work on new ideas and projects can be invigorating.
2018 was about creating new boundaries and more efficient processes, so based on what Sandra shared, what can you take away and put into action for your business?
She also talked about her cycles and knowing when something has run its course. I definitely have experienced this, and that's really where boredom shows up. Watch for signs that it's time to change things up or go in a new direction — especially with your services, types of clients, and even how you're working with people.
Links for This Show: