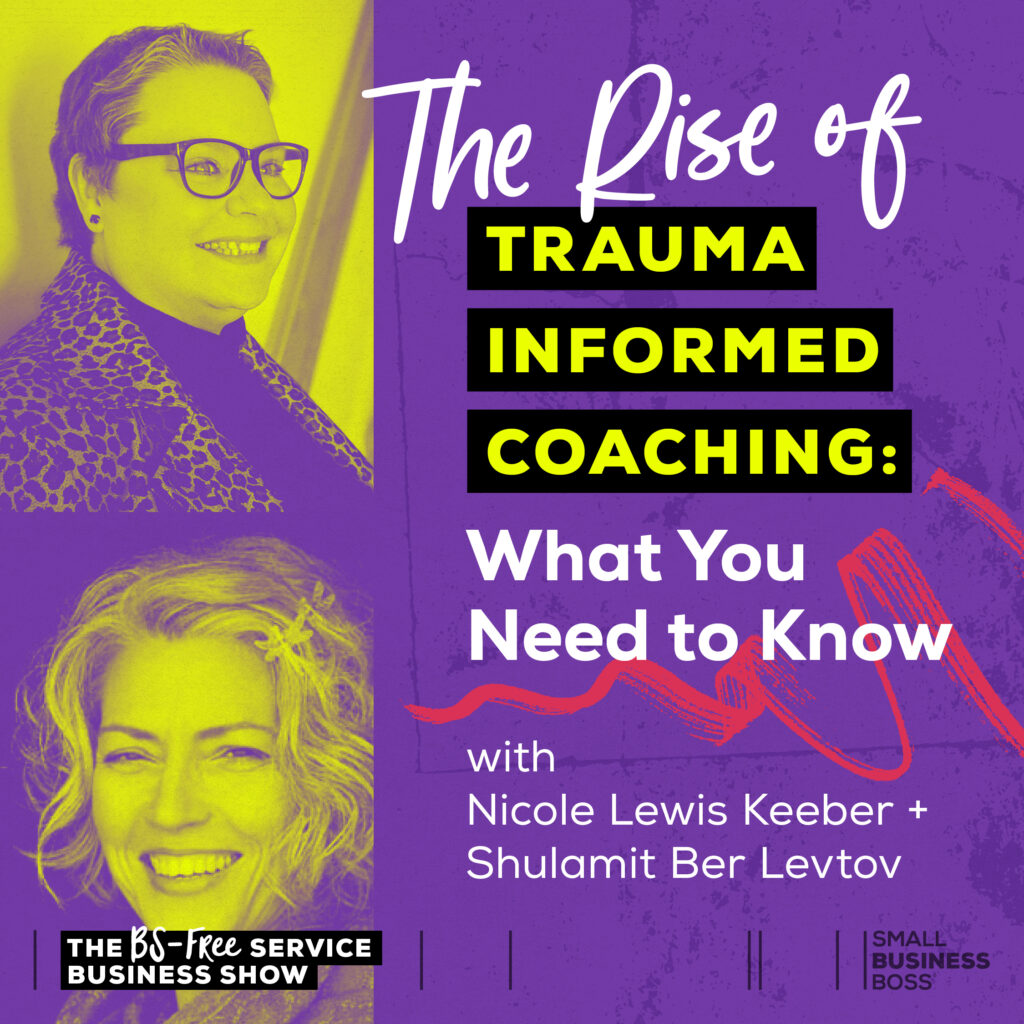 The Rise of Trauma Informed Coaching
You've probably heard of the term trauma informed, but do you really know what it means? And should you trust coaches who are trauma-informed? In this episode, my guests Nicole Lewis-Keeber and Shulamit Ber Levtov join me to explore the rise of trauma-informed coaching.
In January, I shared an episode and essay called 2022: The Year of the BS-Free Business, and in that piece, I called about how I saw more and more people using the term trauma-informed and that I found it concerning.

Over the course of 2022, I've clocked more and more coaches using the term, and honestly, it's troubling on so many fronts. This is why I called in the experts Nicole Lewis-Keeber and Shulamit Ber Levtov, who you'll get to know in this episode.
Before we dive in, a content warning, this episode contains a discussion of trauma so please listen with care.
In this episode, we cover:
How more coaches are claiming they're trauma-informed and what they're seeing out there in the industry, and why it's cause for concern.
What the term trauma-informed really means.
The type of training coaches and service providers should have to be claiming they're trauma-informed.
How trauma shows up in our business and the ways it shows up.
The danger of working with someone who claims to be trauma-informed and truly isn't.
How we can work to ensure we're trauma-aware and stay within our scope of practice with our clients.
Links for This Episode:
Nicole Lewis-Keeber
Nicole's Instagram
Shulamit Ber Levtov
Shulamit's Instagram
Trauma Informed Consumer Questions (PDF Resource)
The Business Therapy Center
APA Trauma Competencies
What is Trauma-Informed Care?
The Four Levels of Trauma-Informed Care
Creating Cultures of Trauma-Informed Care
The Concept of Trauma and Guidance for a Trauma-Informed Approach (SAMSHA)
Trauma-Informed Care in Health Sciences
Trauma-Informed vs. Trauma Sensitive (Lisa Kuzman)