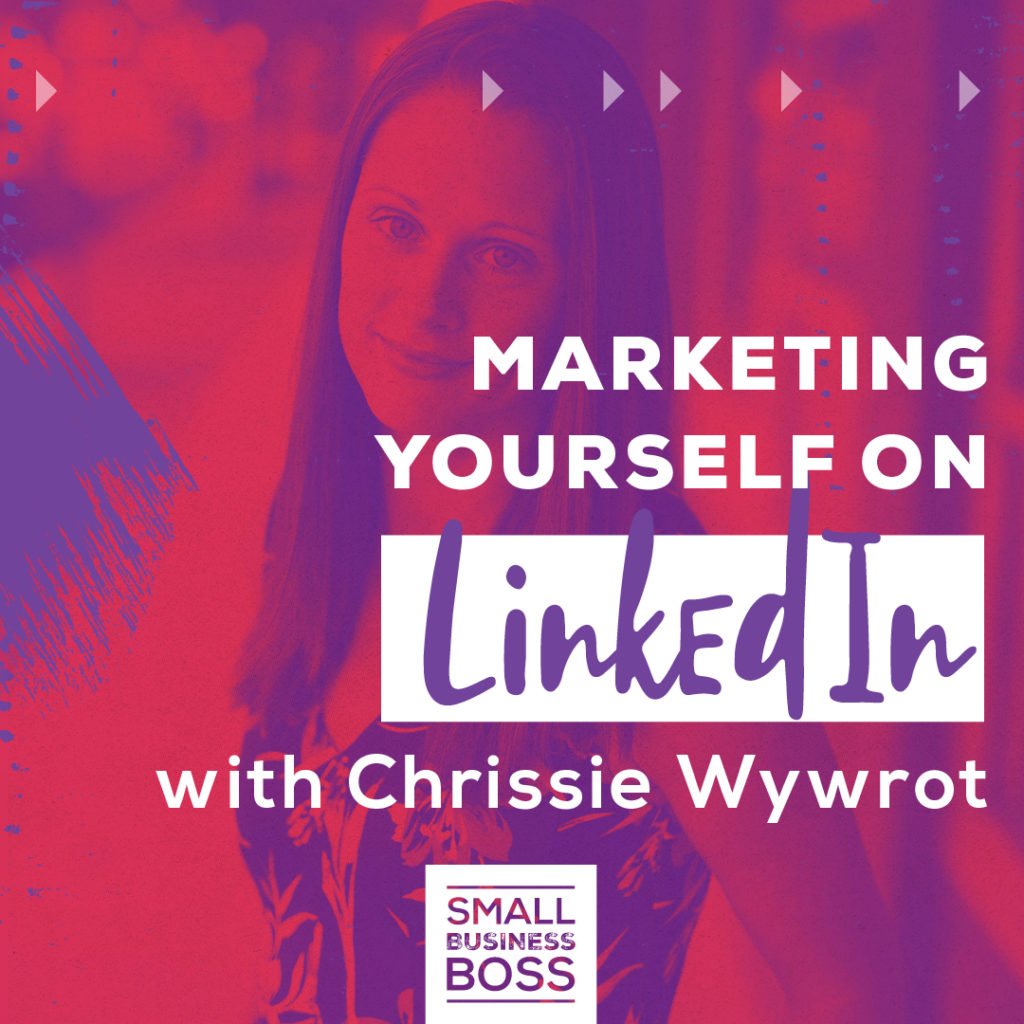 Episode 127: Marketing Yourself on LinkedIn with Chrissie Wywrot
LinkedIn is the forgotten social media platform, but if you work with B2B clients, it's somewhere you need to be. To help us learn more about LinkedIn, I have Chrissie Wywrot joining us to give us some actionable tips on how to use LinkedIn to grow our business.
Over the years, I've gone back and forth on LinkedIn, and now I've finally figured out how to use it effectively to help grow my business. A big part of that is thanks to our guest today Chrissie, so naturally, I wanted to have her on the show to share how you, too, can use LinkedIn!
Chrissie Wywrot has more than 14 years of digital marketing and public relations experience dating back to her time in the NFL.
Working on a national stage with both the Detroit Lions and The ChadTough Foundation has given her an invaluable skill set and network she can leverage with every single client.
She launched Chrissie Wywrot, Inc. as a way to bring all of what she does together in a single, premium offering for clients. She works together with clients on their LinkedIn profiles and online brand to establish them as an expert and resource in their field.
Tell us a little bit about your business and how you make money.
I'm a marketing consultant. I tell people I'm a marketing unicorn.
I started out working in the NFL for the Detroit Lions overseeing a website — before social media even existed.
My primary offering now is LinkedIn — profile optimization, lead generation, and the marketing strategy.
How did you decide to focus specifically on LinkedIn and why LinkedIn?
LinkedIn found me.
This woman randomly reached out to me to ask me to help with her profile, and I had literally never heard of this woman or the person that recommended me to her.
I realized I could help her with my history of ghostwriting and sales.
Now, LinkedIn is this rolling downhill platform that people are jumping on because it's got a lot of potential for sales and lead generation.
How did you start your business? How did you go from the NFL to doing what you do today?
I've always been a writer first and love strategy.
It took me a while to connect the dots between why I love football and sports and why I love what I do now.
It comes down to a love of strategy and human behavior.
I love helping people decode what is the most sellable parts of their business and themselves and helping them to articulate it.
With the human behavior side, I'm really good at figuring out how people are going to respond and what is the best way to approach somebody because this is going to be their frame of mind.
For you, what is one of the most challenging parts of offering services to your clients?
Value — from pricing and for just giving your services to somebody.
At the beginning, the reality of having to tell somebody this is what I do, and you should pay me for it, is really intimidating at first.
Coming from being behind a company that you're working for, all of a sudden, you're just exposed, and you're yourself.
You're selling what you do and your knowledge.
The most difficult part is getting over those mental hurdles to recognize value, pricing and all of those things.
How do your clients typically find you, and where do your clients come from?
LinkedIn the primary way I find people.
I also work with two local foundations that are heavily networked in this area, so I find people that way too.
Even through LinkedIn, I've started to develop my local component.
Part of my service offering is adding relevant individuals to a client's LinkedIn network, so it acts as a funnel of sorts.
The way I've been approaching that for myself is actually reaching out to people that are local which has given them a reason to connect.
It's sparked their interest more than if they were somewhere else in the country.
If we want to amp up our efforts on LinkedIn, where's the first place we should start?
Before you do anything, ask yourself what you're looking to get out of it.
Ask yourself: Who do you want to see your profile and how will they get there?
That will help you determine how you're going to position yourself within the profile.
Some people are in industries that are heavily searched, so someone's going to look for what they offer.
Other people need to generate engagement for people to come to their profile and see it, so their profile is going to be a secondary touchpoint.
Depending on who you want to reach, create the foundation for what you want to say.
What other LinkedIn tips do you have?
My golden rule: Do not paste your entire lead page worth of text into a private message and send it to somebody. Think professional yet personable.
Ensure your title is on par for what the industry expects but is descriptive enough for people to know what you do and for search to pick you up.
LinkedIn is promoting and rewarding conversation with hashtags.
Get involved by commenting on other people's articles and posts.
Share a piece of content of your own, but keep in mind that links within that content may cause your material not to be shown to as many people by LinkedIn.
All of the above are good ways you can get exposure to second and third tier connections as well.
Lessons:
Chrissie shared how LinkedIn has become her number one source of leads. Are you using LinkedIn? If you're selling B2B, it may be time to start. LinkedIn has actually been a valuable tool for networking and lead gen for me in the last year, too, so it may be worth a shot.
If you're going to focus on LinkedIn, it's not set it and forget it. You need to show up and actively engage multiple times per week. It's about a conversation — not a sales pitch.
Spend time on your profile — this is critical for search and first impressions. I know this is something I did, and it made a big difference in terms of reach and what I'm known for.
Links for This Show: