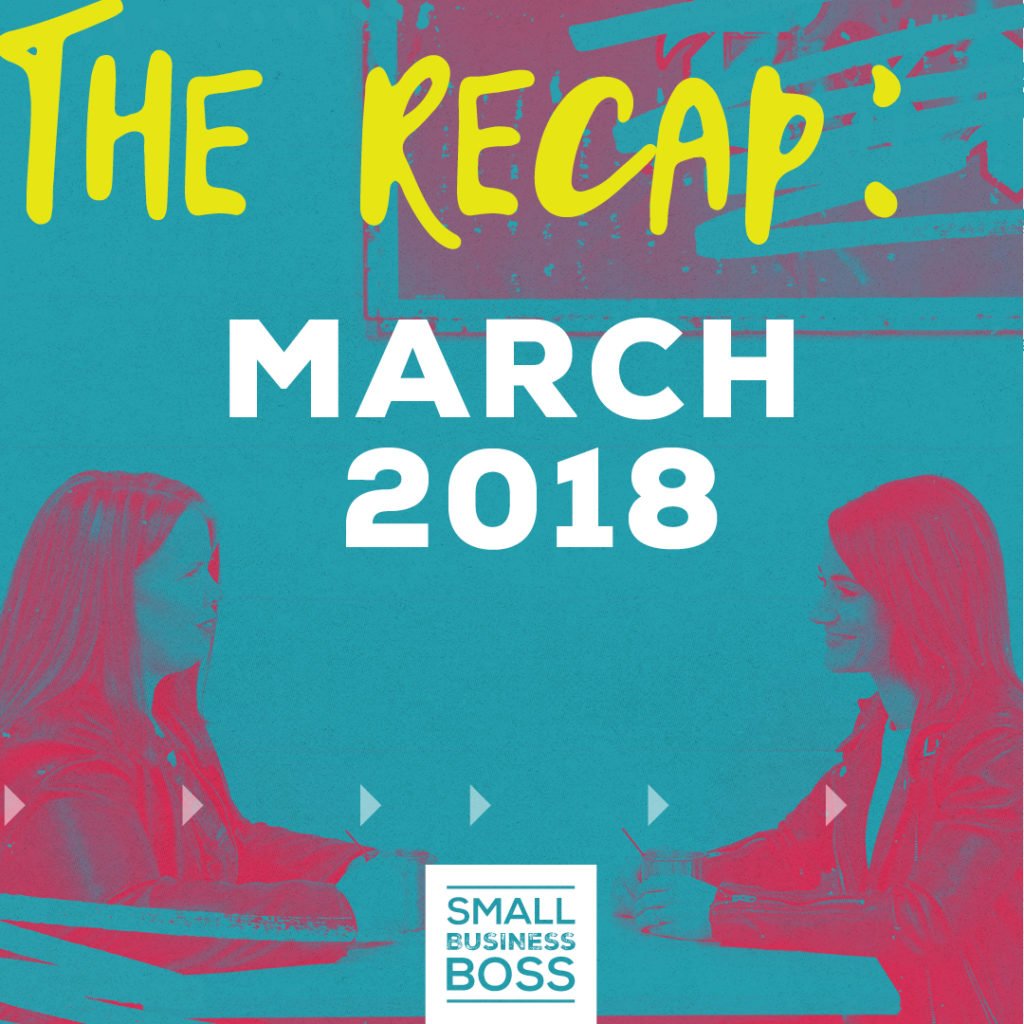 Episode 105: The Recap: March 2018
Some months in business are super crazy busy and exciting…. and others are just fine. March, while some especially fun things happened, was closer to the "just fine" type of month. This was the first month we didn't hit our revenue goal, yet we still had a profit.
Even if there weren't big splashy fireworks for March, the truth is, that's how most months are in business! We're not jet-setting and on a yacht making millions every single day 😉
Sarcasm aside, let's dig into the notable items for the month as even a "just fine" month has lots of insight to be had:
Close of Q1
In March, we didn't hit our goal. Yes, we miss our goals sometimes too!
While we didn't hit our goal, we did still have a profit for the month and didn't need to dip into our buffer.
With the close of Q1, Brit got to get all nerdy and start comparing numbers to last year. Admittedly, we were feeling a little down because of missing our March goal, but our Q1 this year was 23% higher than our Q1 of last year. We'll take that!
What contributed to this increase? What worked?

Proactive lead gen (but admittedly, it weaned a bit in mid-February and beyond).
Better, bigger value, ideal client engagements.
We focused on retainers.
Our mental game was strong.
We talked about money almost every single day.
"Off" Weeks — This wasn't perfect, but this quarter, we put into action the concept of batching our "on" time for calls to just a 2-3 weeks per month (which gives us a free week to work ON our business and also do some higher-level client work that's just too hard to get in the zone for in 30 minutes here or 45 minutes there).

What didn't work:

We let our proactive lead gen game slide just a bit. Still better than it was a year ago, but not as strong as last fall.
Maggie to Jasper + Photos!
THE most fun and best thing to happen in March was Maggie coming to Jasper! It was a semi-quick weekend trip, but it was jam-packed.
The purpose of her coming here was to get photos done for our new website and rebranding. It'd been over 2 years since our last photos — and when we took our last photos, Small Business Boss wasn't even a twinkle in our eyes.
Shout out to Meghan Hochesgang of Meghan Hochesgang Photography. If you're in the Southern Indiana area, she is amazing.
We definitely had some "styled" shots, but these were my favorite photos we've taken because we were also just "us." We had a very clear vision of what we wanted, and dare I say, I think we (and Meghan) achieved it.
It's our biggest hope that during our April recap, we can share with you that our website is either done or almost done!
Spendy Patterns
One thing that became clear to us this month is, like all humans, we have patterns.
One of our patterns is to spend in March. I'd say two of our less than favorite decisions regarding business expenses have happened in Marches of years past. (DANGER!)
March IS typically a big month for us (this year Jan and Feb happened to be bigger than they have ever been), and when things are GOOD, you almost have to be more diligent than when things are not so good in the money department.
We reined this in, but March was still our biggest spend month of the year…. by a LOT.
That said, we don't think we'll look back and say any of our March decisions for spending money were foolish as the majority of extra spending was due to some annual bills and an increase in scope with a few contractors.
Heading Into April
We'll be adjusting our next 90 day goals, though the themes will probably stay somewhat similar. What's fun about this is that while our overarching goals stay the same, our definition can shift and change.
We're still staying super visible and will recommit to that in Q2 and beyond. At the beginning of the year, we thought it meant that we needed to be at a lot of "bigger" events and conferences throughout the year.
We have a few on the calendar, but we also realized that for us, personally, it's just not an awesome season to be on a plane every month or more. And that's 100% okay. It just means we'll be a bit more visible in the online world for the time being.
Personal "Wins" or Habits
We are always keeping ourselves in check and working on our incremental increases.
Our "wins" and/or lessons in this realm in Q1:

Maggie:

Sleep. This was my priority. There was a lot of personal stuff, and I just let sleep happen. That said, my body clock has decided I'm an early riser now, and I'm not a fan. LOL.
Yoga… so much restorative yoga. I've been doing a community class, and it's exactly what I need on a Thursday night.

Brit:

There were a couple of notable wins on the habit front, and I think the most impactful one for me was to start getting up earlier to have dedicated time for the important things before the rest of the world wakes up.
I do have boundaries in place, and it may be left over from corporate days, but it is REALLY hard for me to do 'deep work' in the middle of most days. I started setting my alarm for 4:45 a.m. in February, and I'm happy to report that Tuesday-Friday, I've been consistently working in my office spending 90-120 minutes on stuff that will, hopefully, move the business forward. If nothing else, it allows me to get my thoughts together and have a bit of quiet reflection time before the day starts.
Lest you all think I'm batshit crazy (okay, I might be), one of the things that makes this easier is that my husband is up and out the door by about 4:30 a.m. Tuesday-Friday to get to the restaurant. God bless coffee and space heaters 🙂
Links For This Show:
If you missed any podcasts and want to get caught up, you can click here to find all of our previous episodes on the Podcast landing page.