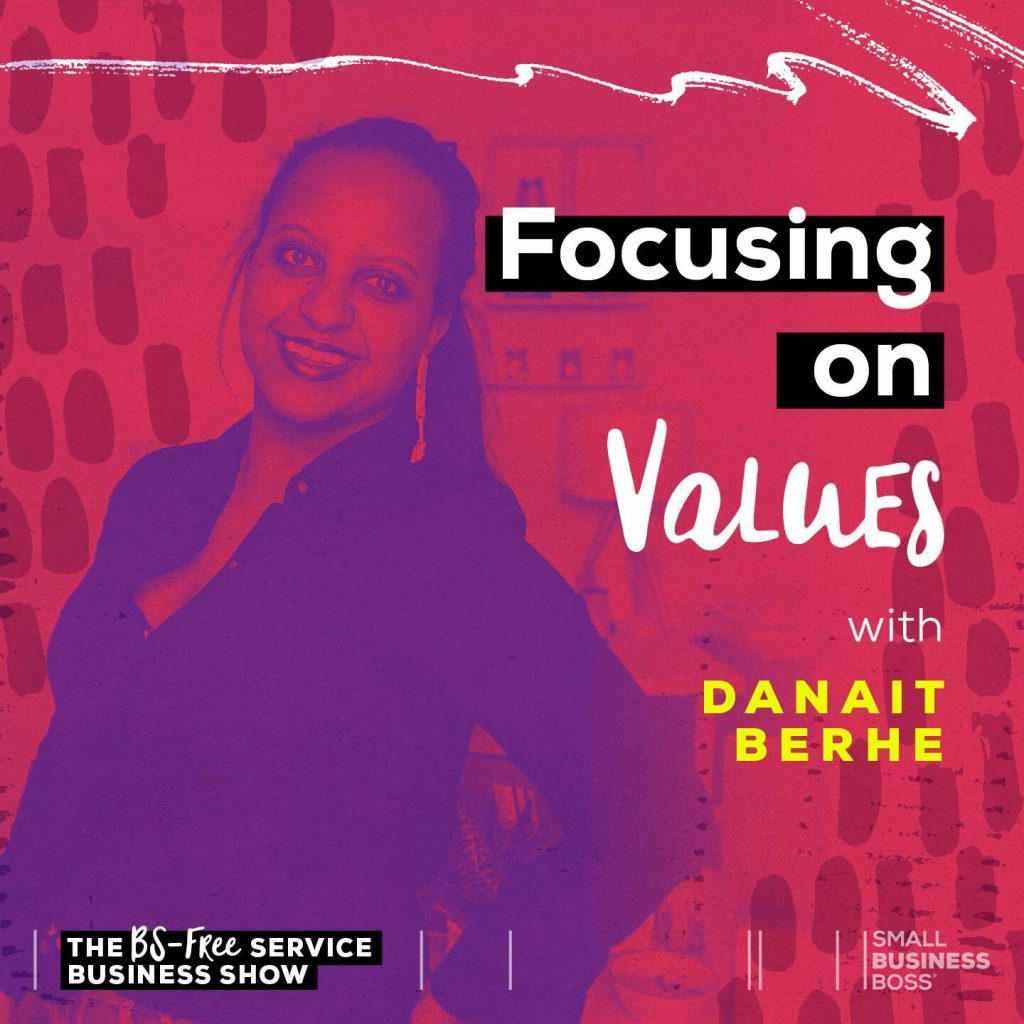 Focusing on Values with Danait Berhe
When you think about your values, it's easy for us to think about what matters on a personal level. But what about your business values? And how do we ensure they're not just something we write down and forget about? In this episode, guest Danait Berhe shares how to put our business values into action.

A few episodes ago, I shared something called the Aligned Service Business Model, which is my approach to ensuring that your offers and services actually work for you.
So many times we lean so hard on our skills, or the hot new online business trend, and then we end up with services that don't entirely work for us. I see it all the time, and I believe it's a big reason that people burn out or abandon our services.
As I shared in that episode, skills are an important part of what we do, but they're not the only thing. Our strengths and values also need to be carefully considered in how we design and ultimately deliver our services.

That's why I want to dig more into all of these three elements of the service business, starting with the role your values should play. This is where our guest Danait Berhe comes in. I worked with her over a year ago to define my values for Small Business Boss, and more importantly, to create a plan for how to operationalize them in everything we do.
In this episode we discuss:
The role of values in our business and what we may be missing when we think it's a one-and-done exercise.
How to figure out and define our values, and why the words we use matter.
Ways to put your values into action across your business, including where a lot of people miss the mark.
Ensuring alignment between our stated values and our actions in our business, and red flags to watch for.
How we ended up with a disconnect in the online business industry around values and actually living them.
About Danait
Danait is the founder and lead strategist of The Asmara Agency. TAA is an award-winning branding agency that helps values-driven companies craft genuine brand and messaging strategies that position them as the go-to in their industry. Danait's unique inside-out approach that comes from her decade-long background in analytical research, marketing, and sales helps her bring intention and nuance to the sometimes one-sided approach of online marketing.
When she's not nerding out over data and words, Danait is cuddling with her pup Lula, exploring the city of Buffalo with her husband, and wondering what the appropriate number of times to have pizza and wine on any given week is. The answer to that question is 7 by the way!
Links for this episode:
Danait's website
Danait on Instagram
Small Business Boss Values