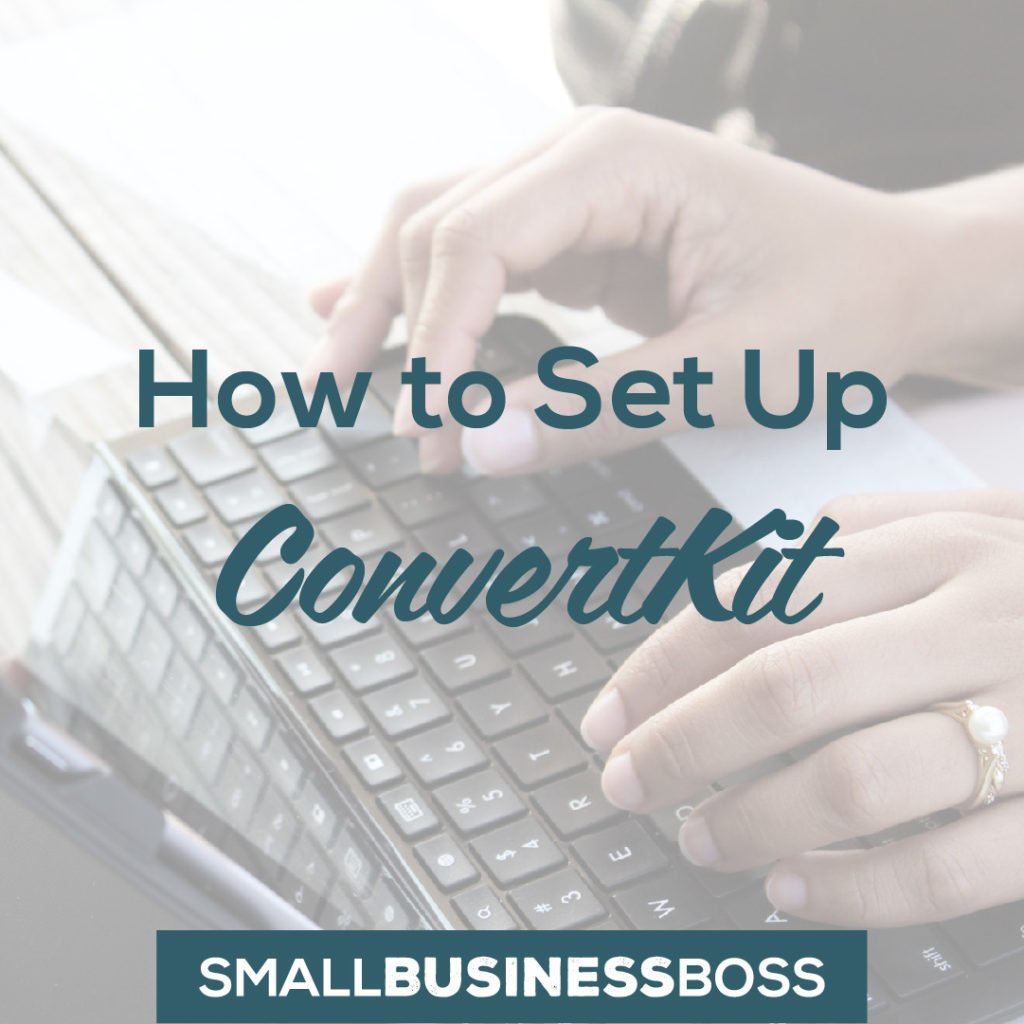 How to Set Up ConvertKit for Your Email Marketing
Congratulations! You've decided to take the next step in your email marketing by getting started with ConvertKit. With that decision out of the way, you now need to figure out how to set up ConvertKit.
ConvertKit is a great solution for bloggers and creators, and that's pretty obvious from their marketing.

What I personally love ConvertKit for? Service-based businesses. ConvertKit is a fantastic choice for services businesses because it allows for easy segmentation of clients versus. prospects, the ability to store simple notes and data on your contact record, simple automations for new clients, and so much more.

ConvertKit for email marketing is ideal for any services business owner with a hybrid type business offering services as well as digital products, content upgrades, and/or is building an audience for future goals.
How to Set Up ConvertKit for Success
You're here because you're ready to jump into ConvertKit. So, first things, first – don't be scared. Whether you've been using an email system in the past or this is your first foray into email marketing, this post is going to make setting up ConvertKit easy.

And if you're wondering why you should believe me, just know you're in good hands.
To date, we've done dozens of migrations to ConvertKit and we work with a variety of clients to maintain and optimize all aspects of their email marketing.

Personally, I've been hard at work behind the scenes of online (and offline) businesses' email marketing for the better part of a decade. Because I nerd out on email marketing, you can get yours set up painlessly with the confidence that I actually I know what the heck I'm talking about.
There's no "right" way to get started with ConvertKit, but after many migrations, I've determined that the following order is a pretty darn efficient one. (And I loathe inefficiency!)
Keep in mind that if you're just getting started with email marketing, you won't need to migrate anything and your set up will be a snap! You can ignore the sections where I talk about importing subscribers and migrating over sequences.

Six Steps to Setting Up Your ConvertKit
Alright, here's the overall order of operations for your ConvertKit Quickstart:
Set up webforms for all opt-ins that currently exist.

Move over nurture emails / autoresponder sequences for all opt-ins.

Move over follow-up emails for your products (if you're going to integrate your payments with ConvertKit).

Set up any automations that are needed.

Replace code on your website and other pages for all opt-ins.

Replace code on your sales pages for all products.
Then, after all of this is complete, you can import your list(s) from your old email provider. Can you import them before? Sure, but you'll have to keep doing imports until you get all your opt-in forms and products moved over, so why not save yourself a step or two?
How to Set Up Forms in ConvertKit
First things first, let's set up your forms and landing pages. This is where people first raise their hand to say "hey, yes, I want to hear more about your services and offerings".

This may be an opt-in on your homepage, your blog posts or on a page such as your About page. You may also have landing pages set up that you'll want to make sure are set up with ConvertKit.
Follow this checklist and watch the videos for even more detail:
Make a list of all forms you need to create.

Create all forms and landing pages.

Set-up confirmation/follow-up email.

Download and install the ConvertKit WordPress plugin if you're using WordPress.

Test all forms and landing pages
How to Set Up Sequences in ConvertKit
Next up, let's get your sequences in place. Sequences are a series of emails that you want to be automatically sent to a group of people, typically after they opt-in or sign up for or purchase something.

These sequences can be evergreen or dated, though be sure to watch the video on dated sequence workarounds if you use dated sequences.
Follow the below checklist and watch the videos for more detail (especially if you need to set up a dated series of emails):
Determine which email sequences you're going to bring over from your current system (if any).

Determine which email sequences you'll need that isn't already created.

Set up your sequences by entering in each email needed.

Test all sequences and emails.
How to Create Broadcasts in ConvertKit
You won't have to do too much initial set-up to create a broadcast in ConvertKit other than determining which email template you want to use under Accounts (more on this later).

If you do have future dated emails you need to send out, you can get those set up here. This is where you'll be sending your regular weekly/biweekly/monthly emails to your list as well as one-off emails for other promotions and any future dated emails you need sent out (rewatch the dated sequence email video above if you aren't sure).
How to Set Up Tags and Subscribers
Before you dive in here, I don't recommend importing your contacts first thing! First, make sure all your opt-in forms are converted over (you'll set them up under Forms) to ConvertKit so that you don't have to do multiple imports of "straggling" people who opt-in during your transition period.

Here's your tags and subscribers checklist:
Add contacts from your old email marketing platform (if applicable).

Create tags to identify contacts.

Create segments for any groups of tags you regularly send to (optional).
How to Set Up ConvertKit Automations
Before diving into setting up the automations in ConvertKit, first map out your automations with post-it notes or something like Mural.ly.
Figuring out what you want to happen outside of ConvertKit will make setting up the automations much easier when it's time to implement and set them up.
Follow the below checklist and watch the videos for more details:
Make a list of all automations that either currently exist in your old system or ones you want to create.

Set up your automations using the Visual Automations and/or Rules. Do this after your forms, tags, and sequences are set up.

Determine which integrations you'll need to set up. Some common examples include Gumroad or Shopify for your payments. Zapier also integrates which opens up a multitude of possibilities. Because ConvertKit focuses on email marketing and automation, you'll likely need to connect one or more other apps to fully streamline your process from optin > purchase > delivery.

Set up any integrations needed.

Test all automations.

Test all integrations.
Setting Up Your Account and Admin Settings
There's not a ton to set up here, but it's important. You want to ensure your emails are coming from the correct email address and that the correct name is in the 'from' field. This is also where you'll choose your default email template and/or set up your custom template(s).
Follow the below checklist and watch the video for more details:
Determine your default days and times to send emails. You can override this setting in each sequence if needed.

Set up your email template.

Check your "reply-to" email address in your Account settings. This will be the email where replies will be sent to when someone replies to one of your emails.
Well, there you have it! You're ready to rock and roll with ConvertKit. If you've read this post and it feels overwhelming or just not the best use of your time, contact us for a quote to get you set up quickly and easily on ConvertKit by our team of ConvertKit Certified Experts.