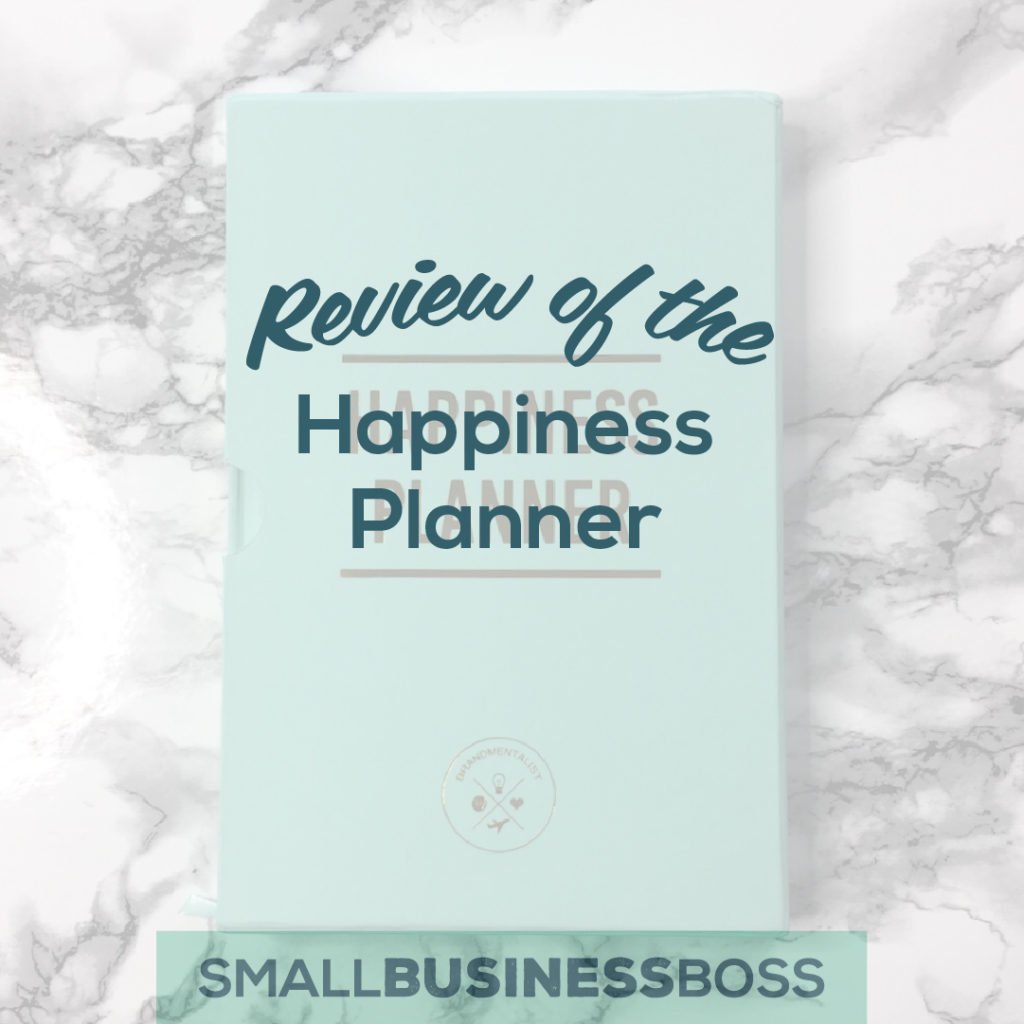 Review of the The 100 Day Happiness Planner
When I heard about the 100 Day Happiness Planner and I was intrigued by the idea.
Instead of productivity, the Happiness Planner focuses on happiness. The design of the planner incorporates mindfulness, gratitude, and positive thinking to help you find more joy and happiness in your day-to-day life.
Where this planner differs from others we've reviewed is that it comes in an undated 100-day version, meaning you can start using it anytime you want.
Now, you're probably wondering…why 100 days?
100 days is the perfect timeframe to not only develop a new habit but to see the improvements that new habit or practice is bringing to your life.
The Happiness Planner comes in a variety of fun colors and for this review, I chose the Aqua edition.
Planner Specs for the 100 Day Happiness Planner 
This planner has two formats – the full year from January to December and the undated 100-day version. For this review, I opted for the 100-day format.
The planner measures just over 8" tall and just under 6" wide and comes with 181 pages.
It has a hardcover that is gold-foil stamped and there's a handy inside pocket for storing extra papers, notes, and other random junk.   It also comes with its own individual slipcase which means your planner stays in mint condition.
On the inside, paper in the planner is smooth white (100 gram) and is, perfect for writing with on with your fanciest pens.
Putting the Happiness Planner Into Action
At the time I tested this planner, there were a lot of client and internal projects on the go, so I was excited to use a different method to help keep me on track.
Since this planner is a bit different as it's designed for 100 days it wasn't super important when I started. I did really like that you can start using this planner whenever you want  – no new month or Monday morning needed. (Perfect for when you need a reset!)
In the first several pages of the planner, there are 10 questions for you to answer about things like what makes you happy and what are your strengths and weaknesses. I felt like this activity was helpful because it made me take some time and reflect on what I trying to accomplish in both business and life.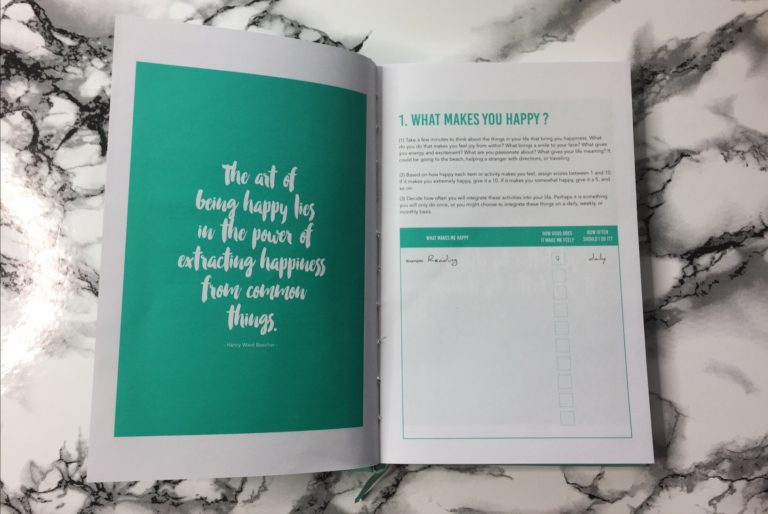 The 100-Day Happiness Planner is laid out so that each week starts with a page for making notes on your goals for the week, which is helpful to get everything planned out ahead of time. Then, each individual day has an inspirational quote and spaces to map out things like your to-do list, what you're grateful for, things you're excited about, etc.
Overall, while I did like the concept of this planner and thought the focus on gratitude and happiness was awesome, One drawback though was that I felt like I didn't have the space I needed on each page to write down everything I wanted to.
What I Loved About This Planner
There were quite a few things that stood out with this planner, starting with the look. The planner is well-made and very portable and is very compact. You could easily throw it in your purse or travel with it, which is different than most of the planners we've reviewed to date.
The reflection part at the start of the planner is valuable. As someone who works in 90-day plans, I love this approach to planning as it keeps you focused. A 100-day timeframe is a bite-sized amount of time to make a real change whether it be a new habit, goal or attitude.
What I really think differentiates this planner from most is the focus on happiness. We're all so focused on goals and everything else that we can miss the point. And if you're not happy, what's the point anyhow? Self-reflection is built into this planner so you can work on this consistently with positivity and mindfulness.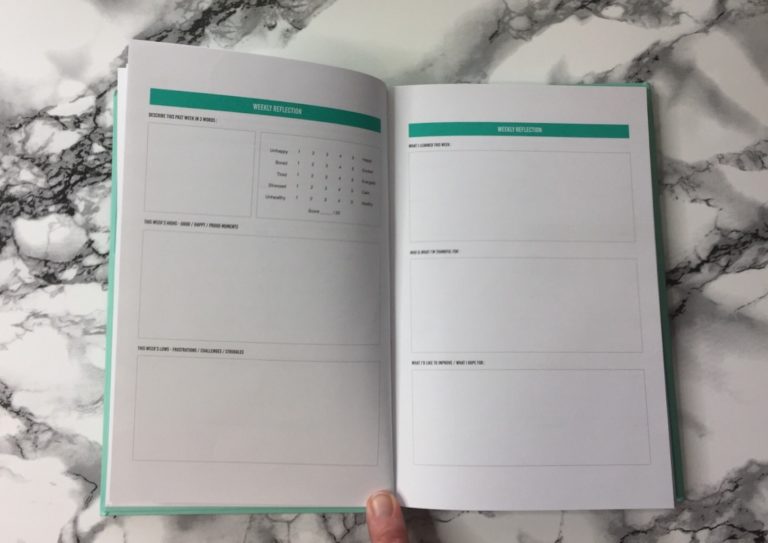 Going beyond the daily to-do list is something I personally value and find helpful.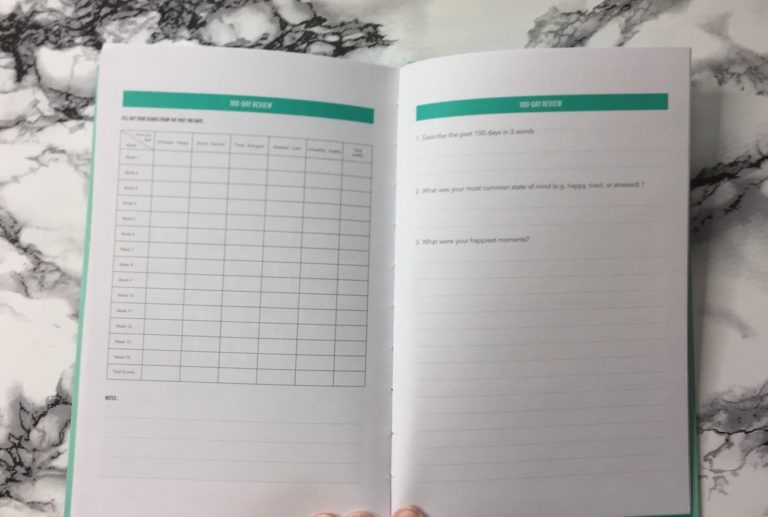 Finally, what I did appreciate that the planner is that it goes beyond your work to include your life with sections on exercise and meals, so it's really designed for you to approach your whole life, not just your daily to-do list.
Items of Note
Complete personal preference coming up, but the fact that this planner was bound made me nuts. I like things to lie flat if I'm going to write in them and this planner can't do that. (This is a deal breaker for me because I'm stubborn like that. But I'm sure for most people this isn't a big deal!)
The planner is smaller in size, which is nice compared to my regular planner, but it's actually a little too small for someone who needs their entire day mapped out in detail. (Yes, I mean me who time blocks everything.)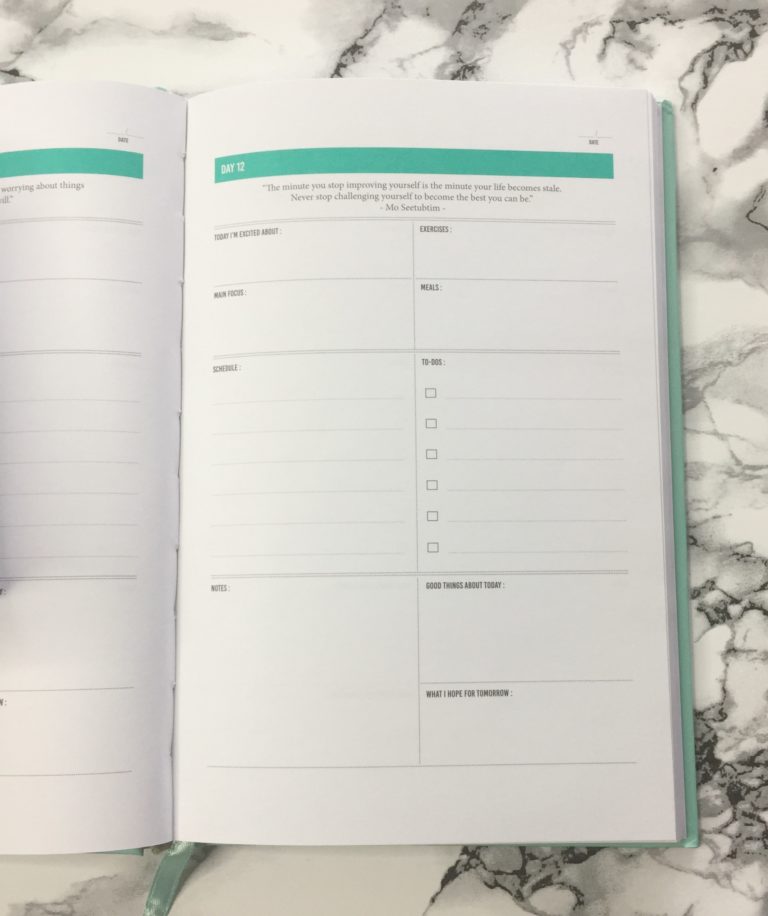 The cost of the 100-Day Happiness Planner is $26.00, which is extremely reasonable considering what you get.
After a week of use, I felt like this was more of a journal than a planner, so I'm not 100% sure I would use it again for tracking my business tasks. I see this planner being an excellent tool to practice gratitude daily and keep happiness and positive thinking front of mind, and I would definitely recommend it for that purpose.