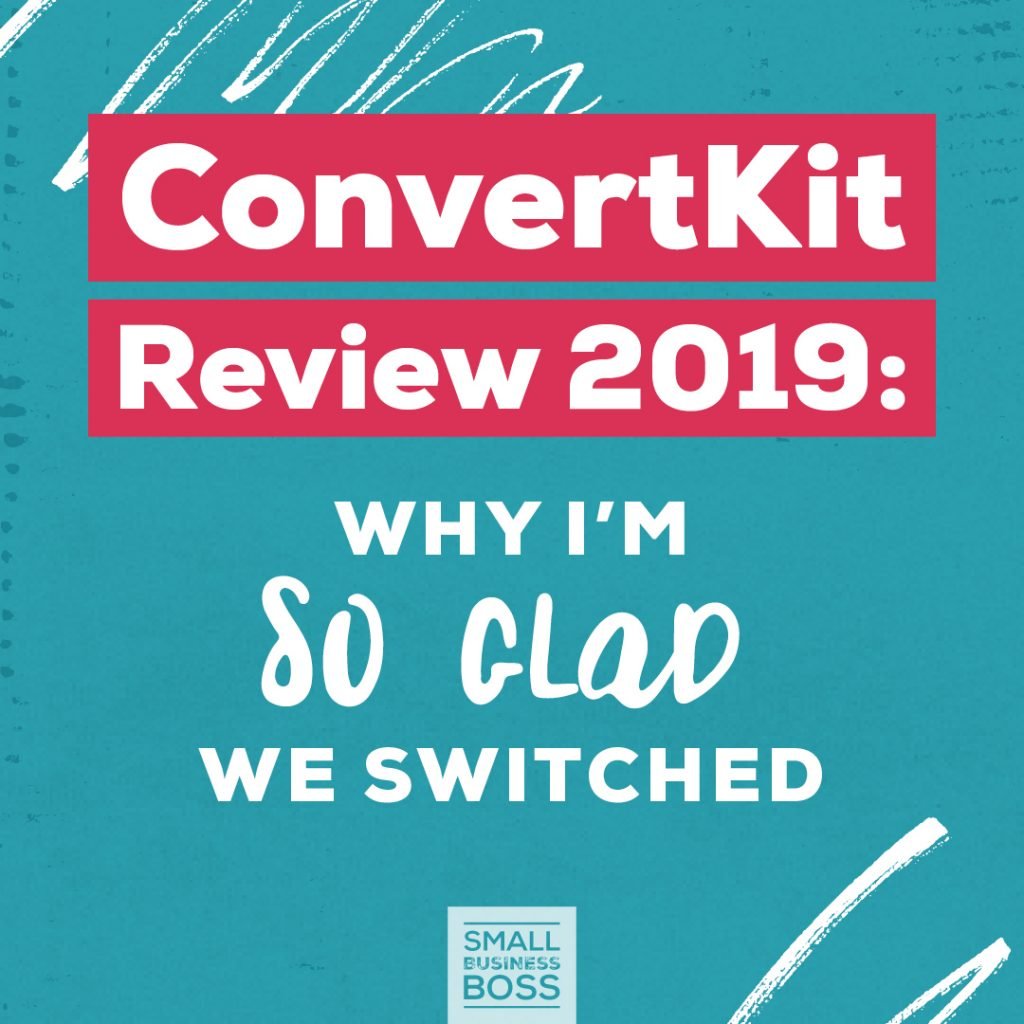 ConvertKit Review 2019: Why I'm So Glad We Switched
In late 2017, we made the switch to ConvertKit from Infusionsoft, and over a year later, I can tell you this was one of the best decisions we've made in our business. With a year of using this platform under our belt, I wanted to share my ConvertKit Review for 2019.
WHY WE SWITCHED TO CONVERTKIT
At the heart of everything we do at Small Business Boss is a need for simplicity. I'm constantly asking myself and our team: How can we make this simpler?
When you're running an online business, it's really easy to get caught up in thinking you need complex systems in order to succeed. That was definitely the case when I started with Infusionsoft back in 2013. I thought having this type of system would be necessary for my growth as an online business.
While that was true back in 2013, once ConvertKit was an option, we no longer needed that level of functionality.
What we used most in Infusionsoft was email marketing and automation in their campaign builder — all of which is functionality that ConvertKit delivers at a fraction of the cost. (As perspective, Infusionsoft was 3x the price of ConvertKit for us.)
Beyond the cost savings, the reality of using Infusionsoft was that only some members of our team could log-in and work in the system. As a very small team, we needed to have a system where everyone could quickly and easily find information as needed.
CONVERTKIT IS EASY TO USE
First and foremost, ConvertKit makes it easy for everyone on our team to understand what's going on, and it still allows us to do the automation we were previously doing in Infusionsoft.
When we made the switch, my business partner Brittany was in charge of email marketing. At the point she exited the company, this switch was a lifesaver, as I was confident I could do anything I needed to do in ConvertKit. I would have been seriously stressed out if we'd still been using a system I struggled to understand.
SEAMLESS INTEGRATION WITH TEACHABLE
Another plus of using ConvertKit is that it integrates seamlessly with our online course platform, Teachable. We rely on Teachable to house all the content for both our membership and our mastermind, as well as additional smaller offers. With this integration, when someone purchases, they're immediately added in ConvertKit and tagged as needed. And when they cancel, they're also tagged and removed from email communication.
This makes for a streamlined experience for our users and our team. When we need to troubleshoot for a customer, we're able to address the problem in a matter of minutes instead of waiting for someone with Infusionsoft skills to jump in.

CONVERTKIT FEATURES: EVERYTHING WE NEED
In the online world, people seem to confuse "more features" with meaning a solution is better. What people fail to understand is that in most cases — unless you have a significant online business doing major course sales — you're unlikely to need many of those features.
I know because I've been there. I literally paid for features I didn't need in Infusionsoft for four years. And here's the thing, if you need to uplevel later to have more sophisticated reporting or advanced functionality, you can do that when you need to.
Here's a rundown on ConvertKit's features:
Forms:  Easy-to-embed, customizable opt-in forms help you turn casual readers into repeat customers.
Automations: Simple workflows with "if this, then that" style automation rules make it easy to create your own custom rules.
Sequences: Drag-and-drop sequence builder helps you create personalized automated emails to grow your list while scaling your business.
Broadcasts: Send your subscribers one-off broadcasts when you have time-sensitive content, or integrate your RSS feed to send your weekly blog posts.
Reporting: Keep track of your growth with a quick look at your homepage dashboard that displays subscriber data and opt-in conversions.
Best of all, ConvertKit is a subscriber-based system and uses tags and systems to help you keep everyone organized. This means you're not paying multiple times for subscribers on multiple lists. This tag-based approach allows you to build greater sophistication and intelligence into your email marketing strategy. (This is the main reason I encourage clients to use ConvertKit over MailChimp.)
CONVERTKIT PRICING
ConvertKit is priced affordably and offers a full range of features — no matter how big or small your list is.
ConvertKit Pricing for 2019:
0-1000 subscribers is $29 per month
1000-3000 subscribers is $49 per month
3000-5000 subscribers is $79 per month
5000-8000 is $99 per month
In the first year of using ConvertKit, we saved $2400 in subscription costs, which cut the cost of our email marketing platform by 67%. The cost savings — combined with the ease of use — made the switch to ConvertKit a big win.