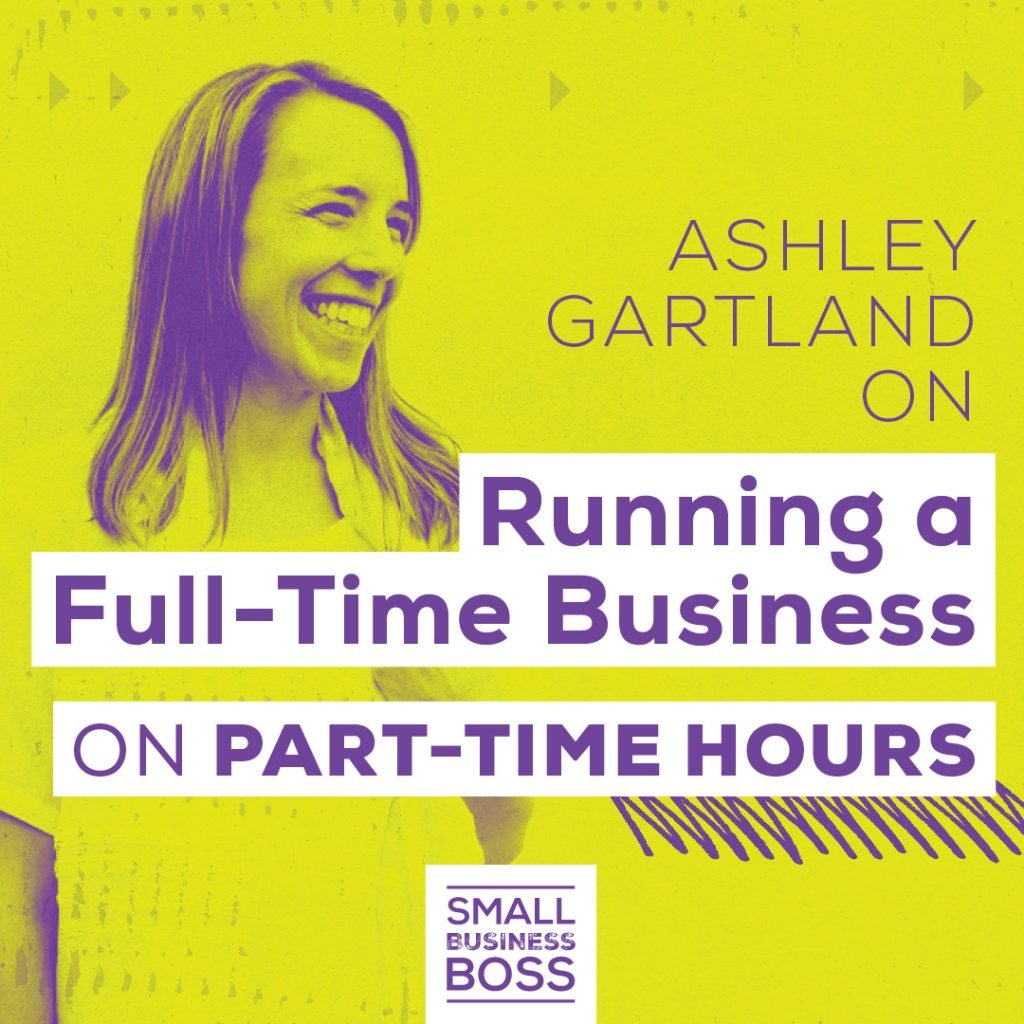 Episode 170: Ashley Gartland on Running a Full-Time Business on Part-time Hours
We've all heard and seen the promises of making a full-time income on part-time hours, and when you're working 60 or 80 hours a week to make your dream happen, that can seem completely unrealistic. In this episode, guest Ashley Gartland shares a realistic map to getting to that part-time, flexible schedule you're dreaming of.
Over the years of running my business, I've been through cycles of working too many hours to count, and then others where I was making great money but not working all that much. Amid the hype of working from the beach or only four hours a week, it's easy to feel completely cynical that the freedom you started your business in search of is even possible. And while it's all about seasons in business, I want you to know that the flexible, freedom-filled schedule you may be seeking is possible.
That's why I invited Ashley as a guest on the show. She's been able to set up her business to make a full-time income on a part-time schedule without having a massive team or any sketchy shortcuts.
Here's What we Discussed:
Ashley talked about her business and how she makes money.
What working a part-time schedule looks like for her.
Ways Ashley has simplified her schedule that we can steal to help us reduce the number of hours we work.
Ways to managing those time boundaries with clients.
Where to start when you want to start rolling back the number of hours you work.
Systems Ashley has in place to help her spend more time serving clients when she is working.
Ashley's Bio:
Ashley Gartland works with service-based entrepreneurs whose business is doing well but who feel like a hot mess behind the scenes — and who knows it's holding them back from reaching the next level. She helps her clients simplify and streamline their business so they can grow more and experience more freedom and fulfillment in their life. Ashley has been an entrepreneur since the age of 22 when she got her start as a freelance food writer. After working in editing, event planning, public relations, and digital publishing, Ashley launched her coaching practice to help overwhelmed entrepreneurs grow their business by doing less better. Ashley's work has been featured in O, The Oprah Magazine, The Huffington Post, and Being Boss, and she's appeared on The Startup Sessions, Courage & Clarity, and the Creative Empire podcasts.
Three Lessons on Running a Full-Time Business on Part-time Hours:
Start with rolling back your hours. If you really want to make progress and work less, start small. Instead of trying to go from 60 hours a week to 30, look for ways to cut back your hours, and hold yourself accountable to those goals. Those rollbacks will add up over time and show your progress to keep you motivated.
Save time with systems. We've talked about systems a lot on the show, but the truth is, if you're constantly wasting time looking for things or recreating documents, you're going to waste time. Having a clear set of systems for basics in your business can save a huge amount of time.
Get rid of things that you don't need. Ashley shared how one of the ways she's kept to her part-time schedule is by understanding what she really needs and doesn't need. By getting rid of things you don't need in your business — from tools to Facebook groups to the VA you're creating work to use their hours — there's always room to trim the fat.
Links for the Show