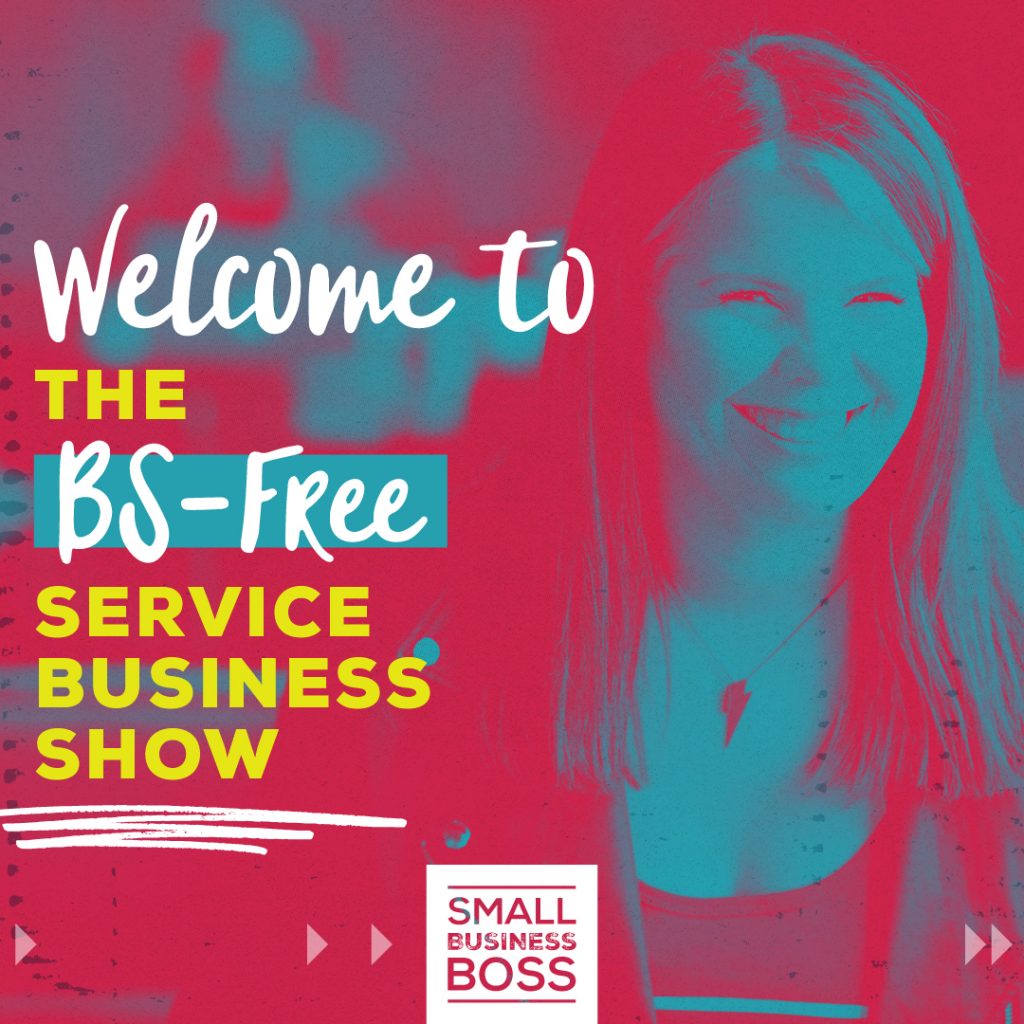 Episode 220: Welcome to the BS-Free Service Business Show
You may (or may not) have noticed that starting today, the Small Business Boss podcast has a new name. We're now the BS-Free Service Business show.

If you're wondering why, it's because as a brand over the last three years, we've evolved in a big way. While Small Business Boss will continue to be the overall brand, the podcast needed to be more specific towards service business owners. And it needed to convey the true promise of the show, the brand and what I want to be known for – which is cutting through the BS.
As background, I've been quietly working behind-the-scenes on messaging and how to evolve the brand for nearly a year. And truthfully, it wasn't coming together. I couldn't quite get it, so I decided not to rush it.

Once we got into 2020, I was very much in a "wait and see" mode with Small Business Boss, until I decided it was time to go all in, or to stop trying to force it.

After many conversations, lots of feedback and internal debate, where we landed is on the fact that Small Business Boss isn't just about building a service business. It's about creating a business that's free of the BS that's so prevalent in this industry.

When I said a few episodes back I wanted to be the goodwill ambassador for service businesses, I wasn't kidding. And to do that, I have to be specific to call in the people, like you, who are building service businesses and want nothing to do with all the BS out there.

Plus, I think we can all agree, calling out BS and cutting through it is a big part of what I really do best. It's my secret sauce as a business owner and a mentor, so it's time to own it.

Here's the good news, this is really a brand refresh, and not much is going to change here on the podcast. If anything, I think things will only get better from here on out as I'm clearer than ever, and a fire has been lit within me over the past two months. I'm excited in a way I've not been for a while, so get ready for more of everything you love about this podcast.

Plus, as part of this shift, I've committed to being more active on Instagram, including the new Online Business Hall of Fame, where I'm breaking down marketing and business BS in the wild. It's a Hall of Fame, as I'm not here to shame anyone, and I believe that when we know better, we do better.

My goal with my Online Business Hall of Fame analysis is to use my years of experience in copywriting, communications, marketing and business so we can learn and do better as bosses. Judging by the response to the first one where I looked at problematic parts of a big name's launch sales page, I know this will be fun and educational for all of us. You can follow me over @SmallBusinessBoss on IG.

Finally, as I alluded to a couple of weeks ago, the flagship offering for Small Business Boss moving ahead will be masterminds, with a new one coming in September. And trust me when I say — this will be a mastermind like you've not seen before.

I'm tired of masterminds that cost a lot and don't deliver in this industry, and I know you are too. I'm striving to re-invent the model in a way that helps you get the support you need, increase your income, and do it without breaking the bank. (And if you own an agency, yes, there will be a mastermind for 2021 for you.)

So, that's it for this week's episode. Next week we'll be back talking about what you need to know NOW for your service business. Because here in 2020, you don't need any tired tactics from three years ago. You need relevant, on point, BS-free ideas and guidance that are working now.