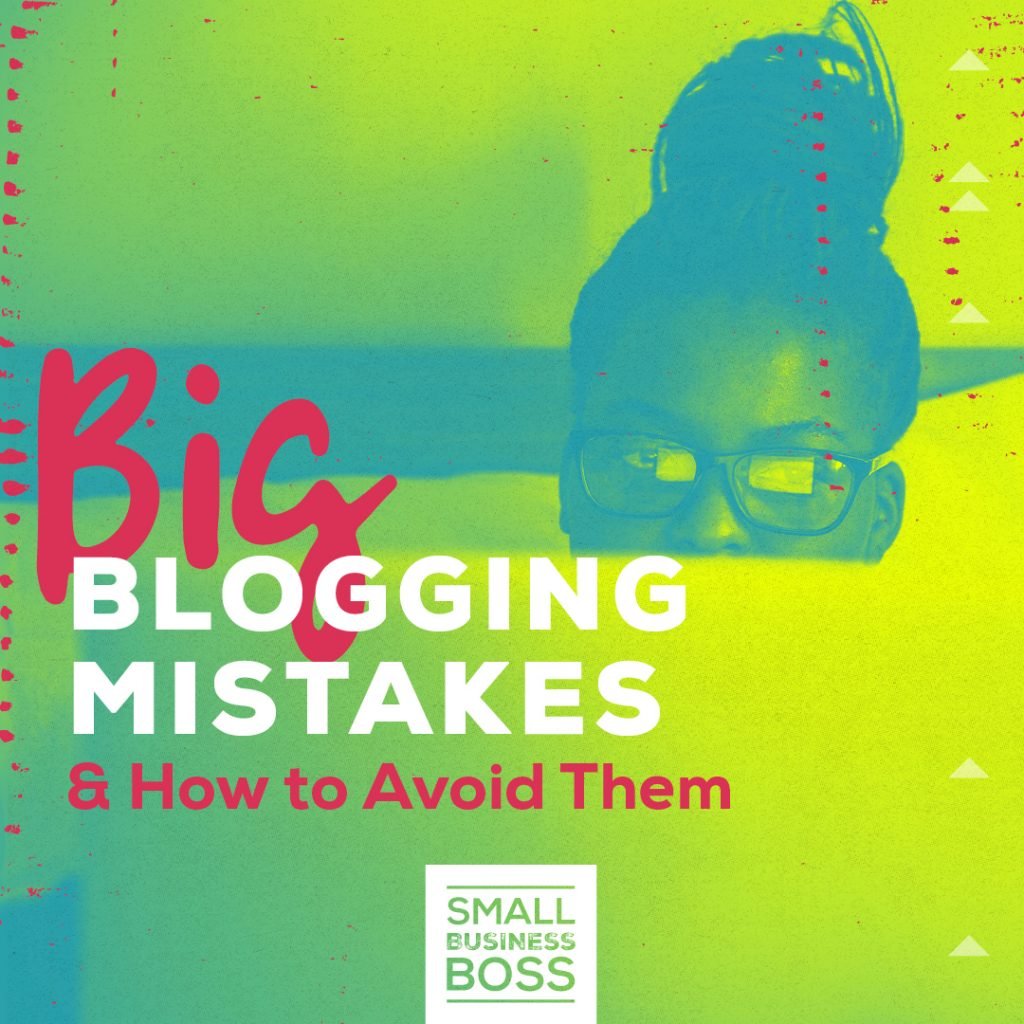 Episode 153: Big Blogging Mistakes & How to Avoid Them
Are you blogging for your business or thinking about adding a blog into the mix? Then you'll definitely want to listen in on this one. In this episode, I'm sharing seven BIG blogging mistakes and how to avoid them.
Blogging sounds like it should be easy. After all, you just write a post, put it online, and then magic happens, right?
If only. That's actually what I thought way back when I first started blogging. Let me tell you, I quickly got schooled and spent years learning everything there is to learn about blogging.
Blogging is a huge part of my business today, and it's been the backbone of many of my clients' businesses — and even some of my past businesses. I mean, my first blog was in the paper crafting industry, and that taught me so much about creating a loyal, engaged audience who would buy from you.
When it comes to blogging, there are a few big mistakes I see bloggers make, and I wanted to share them with you, and more importantly, break down how to fix them.
Not Understanding Your Readers
If you're going to blog, you need to write something people want to read, something that fills a real need and is connected to your business. There's no point in spending your time and talents on a blog if you don't understand what your readers want.
Understanding your readers is simpler than most people realize. You need to listen. What are your potential clients telling you? What do they ask for? What are they struggling with?
If you're not sure, take the time to ask. Survey your community. Get on the phone and talk to real people.
Sitting around with your expert hat on theorizing on what people want to read can make for content that falls flat. Get to know your readers and what they really need from you, and you'll build a loyal readership. More importantly, you'll have readers that turn into clients.
Writing That's Hard to Read
Even if you're a "good" writer, how you write may be wrong for the web. Writing for an online audience is VERY different than writing business correspondence or a college essay.
Many of the rules you were taught back in school don't apply, and your content needs to be written in a way that's easy to read.
Start by using short paragraphs, frequent subheads, and making use of bold and italics.
Watch for jargon and complex word choice. Keep your writing simple. If you need help with this, try using the Hemmingway app to simplify your writing and get areas for improvement.
Your Headlines Suck
The headline for your post should not be an afterthought. I'm serious. It should be the first thing you write and be crafted with a great deal of care.
Why? Your headlines should pull the reader in and make them want to read more. This doesn't mean it needs to be clever to be effective.
If you need help with headlines, start by writing five or even 10 headlines for your post. This may seem like a lot of work, but you may be surprised how quickly you can come up with a winner.
Also, look for headline templates to get inspiration, or consider using Co-Schedule's headline analyzer tool.

Lack of Consistency
Want to kill your blog readership? Blog willy-nilly with no consistent plan. Publish once every seven weeks, then every week, then take an 8-month hiatus.
I wish I was joking. It's shocking to me how many people blog with absolutely no consistency. Blogging is a long game, so you need to be willing to commit to a schedule and stick to it.
One of the common reasons people get off track with their blog is they don't have a plan. At a minimum, you need a quarterly editorial calendar that outlines the schedule and topics you have planned. Consider creating a process to keep you accountable with your blog. If you have a team, this is a great place to enlist them as you'll have deadlines to follow!
To get help with your blog processes and consistency, you can grab the Blog Planner Toolkit – this is a free resource what shares my favorite templates with you.
You Don't Promote Your Posts
If you blog it, they will come. Wait. That's not right. So many times over the years, I've talked to people who legitimately think that Google will do all the work for them and bring them all the readers. (More on Google coming up in a second!)
For your posts to get read, they need to be seen. Think about how you consume blog content here in 2019. I'm willing to bet it's because you're reminded of it via email or social media. You're likely not sitting around visiting five or 10 blogs a day to read up on the latest and greatest.
We live in a time where everyone's attention is fractured, so you need to be saying: "HEY OVER HERE! LOOK AT ME!" so that people remember to consume your content.
First and foremost, to promote your content, you need to be cultivating a list of email subscribers. These are your most loyal audience, and you need to provide them with value week in, week out with your blog posts.
Next up, you need to SHARE the everlovin' out of your posts on social. And not just once; you need to have a plan to have your content out there being shared time and time again. Ideally, you should have a "primary" platform where you focus your efforts and then some supplementary ones. For example, for Small Business Boss, Instagram is really our primary channel; Facebook and Pinterest are our backups. Meanwhile, for the agency, LinkedIn is our #1, with backup from Facebook.
No SEO Strategy
So, let's talk about Google. Seriously. I feel like SEO is so misunderstood and people think it's WAY more complicated than it actually is.
Yes, it takes time. But if you want your content to be found, you need to have an SEO strategy. What I recommend to start is simple. Learn how to do keyword research to find keywords you can actually rank for. Avoid super general terms with high search volume as you're unlikely to be seen.
Think of your keyword research as a way to "niche" your content by focusing on high volume terms that have little competition.
And if that sounds like complete nonsense to you, spend some time getting up to speed. Meg Casebolt has some amazing resources, and I'll link to her in the show notes.  

No Clear Next Step
We're on our last mistake, and this one is a doozy. Any idea what it is?
Your blog content has no clear next step. If someone reads a post, they're ready for more. They're ripe for learning more and building on what they just read.
Yet, so many times, we don't make it simple for people to take that next step.
The best next step may vary based on your audience, but typically, it will be some type of email opt-in. The secret here is for your email guide or checklist to align closely with the content of the blog post. If you're writing about business plans, you need to offer a freebie that's related to business plans.
And if that sounds like a lot of work — not going to lie— it takes time. But when done right, it can really pay off.
If you're not sure where to start, look for an opt-in that bridges multiple categories on your blog and then go from there.
And if you need an extra helping hand with your blog, sign up for the Small Business Boss Vault below. It includes my extremely popular Blog Planner Toolkit (as well as other don't miss resources for your services business). 
Links for the Show: