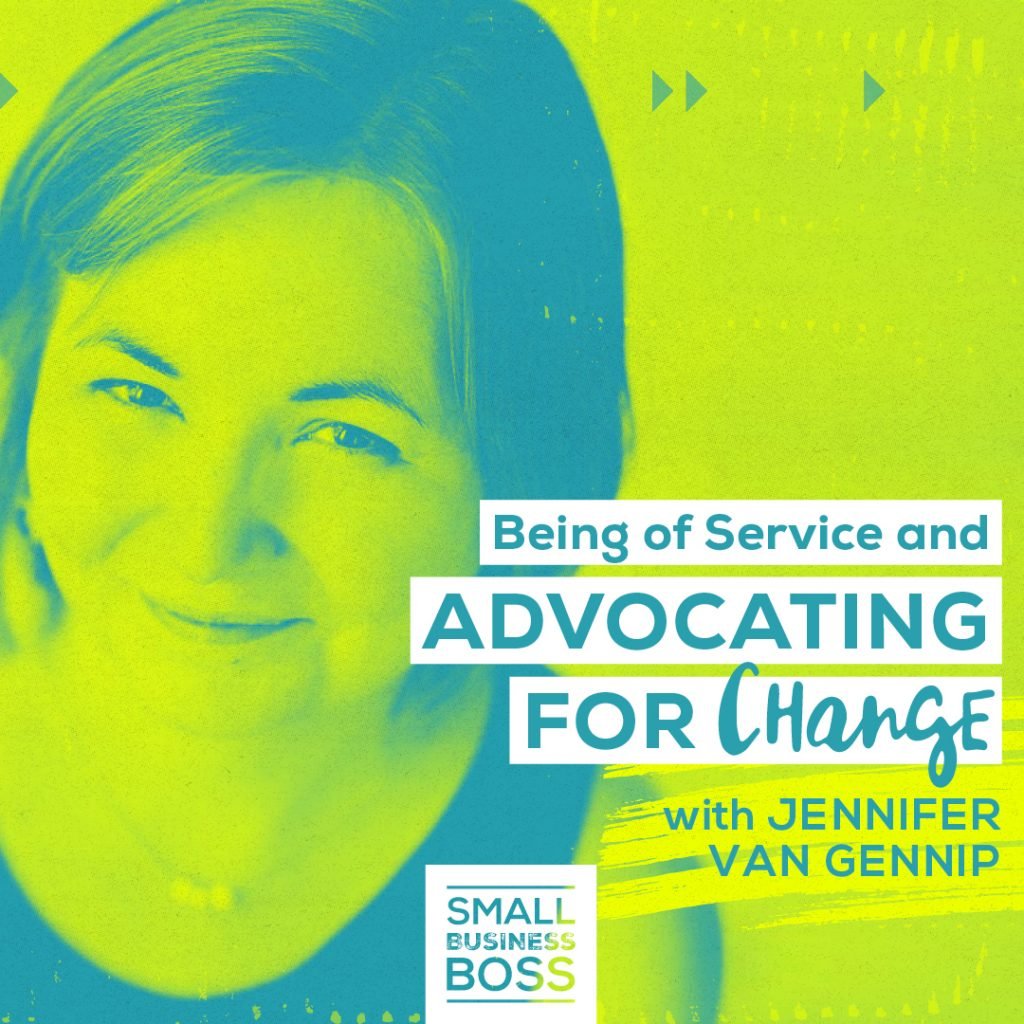 Episode 142: Being of Service and Advocating for Change with Jennifer Van Gennip
When you run a service business, service is at the heart of what you do, but what if your mission was even bigger for your clients? As an advocacy and communication strategy, that's exactly what Jennifer Van Gennip's business is all about, and in this episode, we talk about her shifting role as a business owner and how she helps create lasting change for her clients and the communities they serve.
A couple of years ago, I got this request to do an in-person consulting session with someone who was going to drive five hours for our meeting. To be honest, at the time, I was very hesitant at first, but once I chatted more with Jennifer, I was ready to go.
And let me tell you, today, I'm SO glad I said yes. Over the years, I've gotten to know Jennifer and her business. To be honest, she's made a lasting impression on me because she's making a living and serving her community. I can't wait for you to hear from Jennifer and learn from her journey.
Here's a bit about Jennifer:
Jennifer is an advocacy and communications strategist who works with non-profit organizations. Over the last five years, she's worked on multiple affordable housing and poverty reduction initiatives, has been involved in campaigns around blood supply and safety, started a conversation about best practices for elderly people with Down syndrome in long-term care facilities, and is working towards the elimination of hepatitis C. Jennifer lives an hour north of Toronto with her husband and three kids. She loves summer, SUP, and hammocks, then spends the winter hibernating and reading.


Tell us about your business and how you make money.
I'm an advocacy and communication strategist.
I get contracted by non-profit agencies or coalitions who want to get public policy or societal behavior changed to make their clients' lives better, but they don't have the capacity internally to design or implement an advocacy campaign.
Examples are treatment access for patients, getting daycare legislation changed so it doesn't discriminate against children with disabilities, and advocating for policy change that results in more equitable access to musical education in schools.
It sounds more exciting than it is, but I really enjoy it.
How do you typically work with your clients?
My signature service is the Confident Campaigning Blueprint.
This maps out the full plan for how the client can best frame up their ask, who to target (likely and unlikely allies who may have aligned interests), and my best ideas for which tactics to deploy and when.
If the client needs ongoing support — and we still like each other — I'll help execute that blueprint as well.
Most of my clients are long-term contracts, which is great because then I get to really understand their issues, and I'm often still around to see the fruits of our labor.
Advocacy is often the long-game, so it's great to be able to see the results.
How did you start your business?
It's not been a straight path, but I've been self-employed for a long time, so that part's pretty normal for me.
My first business was in music education.
I taught piano lessons mostly, but I also ran summer camps and offered music workshops in schools and for other teachers.
I have three kids, so as they got older and went to school, I started to look for work I could do from home while my kids were gone during the day.
Around that time, my friends had just started a charity around affordable housing, and I started helping them out with the communications and development because they were my friends and because it was a cause I cared about.
Then, our local Down Syndrome association put out an ad for an administrator, and I applied and got that job for a few hours a week.
There was another posting that came up on CharityVillage.com for a few hours a week (contract) for an administrator for a national non-profit organization, and I was successful in that application as well.
At this point, I had the three admin contracts plus my music education business, and I felt really disjointed — like I didn't know what I wanted to be when I grew up.
So I started working with a coach who helped me see a common thread in the different roles which was the advocacy piece.
I was able to recognize the parts of my work that I liked the most and realize how I liked to work and how I brought the most value to my clients.
What seemed easy to me often seemed difficult to others, and that set me on a path to slowly build a business around advocacy and communications.
The timing was perfect because around that time, I received a referral for a second national contract for an advocacy coalition.
It's turned out to be a great playground to learn about government relations and try out different advocacy tactics.
What can we learn from the process you've gone through to secure your contacts and clients?
Often with my contracts, I'm the only paid person working for a board of volunteers.
It's important to be super clear on boundaries and scope of work.
Often the people I'm answering to are doing this work in their free time, so I get texts and emails at 10:30 at night or 6:00 in the morning because that's when they're available.
I try really hard to only answer during regular work hours — unless it's an emergency — and to really manage those expectations about my availability.
We all tend to be super passionate about the causes we're working in, so it's easy to push yourself to work too late, to meet unrealistic deadlines, working for free beyond the hours in the contract — which can lead to burnout and mistakes and resentment.
Sometimes we end up caring more about our client's work than our client's care about their work.
There are times when I have to step back for perspective, and I find some super honest dialogue has been helpful in a few cases.
How do you get in the door with these organizations?
Some of my first clients came from job postings.
Since then, clients have come largely from referrals.
Due to the long-term nature of most of my contracts, I don't have to go looking for new clients very often, which is great.
Through my clients, I'm in several networks made up of similar non-profits, so I just try to provide value through those networks where I can, so that when they do need someone, I'm top of mind.
This is the first calendar year you have not taught piano lessons. How have you been able to make that transition, and how has it impacted both your business and your life?
It was certainly a process because I felt this huge responsibility to my students.
I had started focusing on kids with special needs, so I didn't have a good person to refer them to.
But it was time for me and my family.
I wasn't resenting my students, but I started resenting the time commitment to have people in my home.
The way I was able to do it was getting clarity around my new business, getting help in the mastermind to put a plan in place, to increase my visibility in my target market, developing my signature service package, and then also raising my rates in my contracts which led me to be able to replace that income and letting the teaching go.
I thought I would miss it, but so far, I don't.
Two of my core desired feelings are free and gracious, and the opposite of those are obligations and resentments. Having the main source for both lifted out of my life has had a huge impact on how I feel about my work and my quality of life.
What has been your biggest win being part of the Double It Mastermind?
I knew this was going to be a year of shifting, and I would need to get out of my comfort zone, so I was going to need some accountability for that.
What I wasn't banking on was the amazing resource and inspiration I'd get from the other members of the mastermind — especially during those in-person meetups. They have been of huge value to me.
I really appreciate the opportunity to connect with other small service business owners and to learn from their successes.
A lot of them, their business is helping optimize other people's businesses, so I was able to pick up a lot of tips and tricks to implement for myself.
Lessons:
In Jennifer's work, it's often about the long game, so she's built her client relationships to reflect that reality. As a business owner, it's important to find the sweet spot between how we work and how we can best serve our clients. For her, that's been long-term retainer relationships, so how can you build your client engagements to ensure your clients get the results they're seeking?
Jennifer shared how she's evolved her role with her clients and how she let go of teaching piano. I love how she's gone through these changes and been open to seeing a new path ahead. In our businesses, there are always opportunities, and sometimes, we need to spot the opportunities and seize them where we can.
The thing I love the most is Jennifer's commitment to her clients and the changes they make in the world. It made me really think about how, as business owners, we don't just help our clients but the communities we live in. It may require getting creative to make it happen, but it's worth the effort and speaks to the impact we can make as business owners.
Links for This Show: