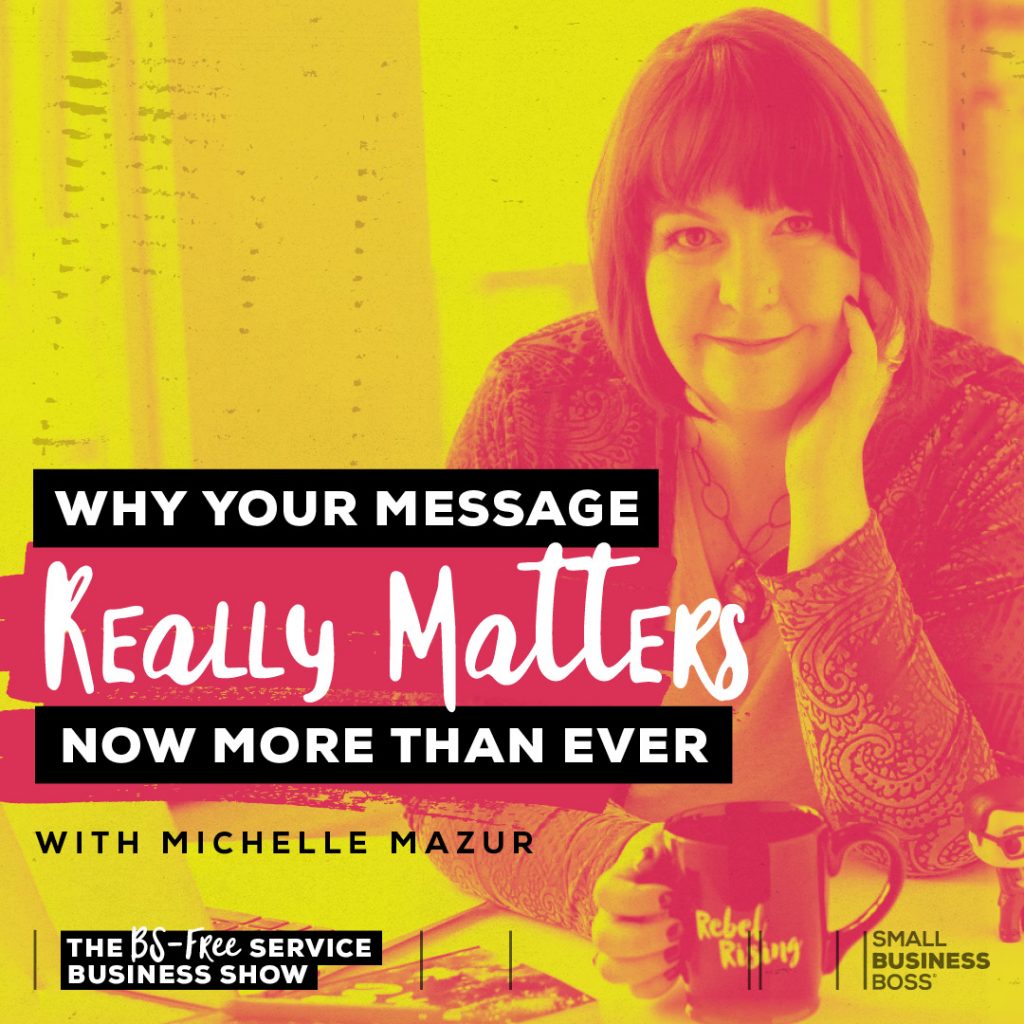 Why Your Message Really Matters Now More Than Ever with Michelle Mazur
Freedom. Your best life. Burnout. What do all these things have in common? They're all messages we hear over and over again in online business. And while they're tried and true, is that what we really need to say about our work or promise our clients?
In this episode, Dr. Michelle Mazur joins us to unpack exactly why your message matters, how to make a compelling argument for your work and so much more.

If you've been around online business for a hot minute, you've heard the same messages over and over and over again. So much so that these messages act as a type of blueprint where we're conditioned to think that we must use these messages.

The problem is that we all sound the same. You're not memorable. Your offer is a commodity. I saw this in action a few weeks ago when I did a competitive analysis, the same message over and over, and I didn't know how anyone was different.

That's why I've invited my friend and Duped co-host Michelle to join us today to talk about what messaging is, why it matter and exactly how to find a message that will help you be different.
In this episode we discuss:
What messaging is and why it matters
How we're drowning in the sea of sameness and we're doing our message/business dirty
Common messaging tropes in online business
How to make an argument for your work
Messages we're totally over right now
Finally, this is the last episode in our winter season. We'll be back in March with fresh new episodes for our spring season.
In the meantime, we're sharing some of our most popular episodes with a "best of" series over the next few weeks. We'll be sharing episodes on finding clients, LinkedIn, client experience, myths of growing your service business, and more. They're a good refresher if you've heard them before OR to spark some ideas if they're new to you.
About Dr.Michelle Mazur
Michelle Mazur is a messaging expert who works with brilliant business owners who are shaking things up but having trouble talking about it. She combines the tools of successful social movements with the qualitative research skills she earned in her Communications Ph.D. to help them craft their powerful, captivating message. Get started finding your 3 Word Rebellion for free at 3wordrebellion.com.
Links for this show:
Michelle's Website
Michelle's Podcast
Duped Podcast Michelle on LinkedIn
Three Word Rebellion Book