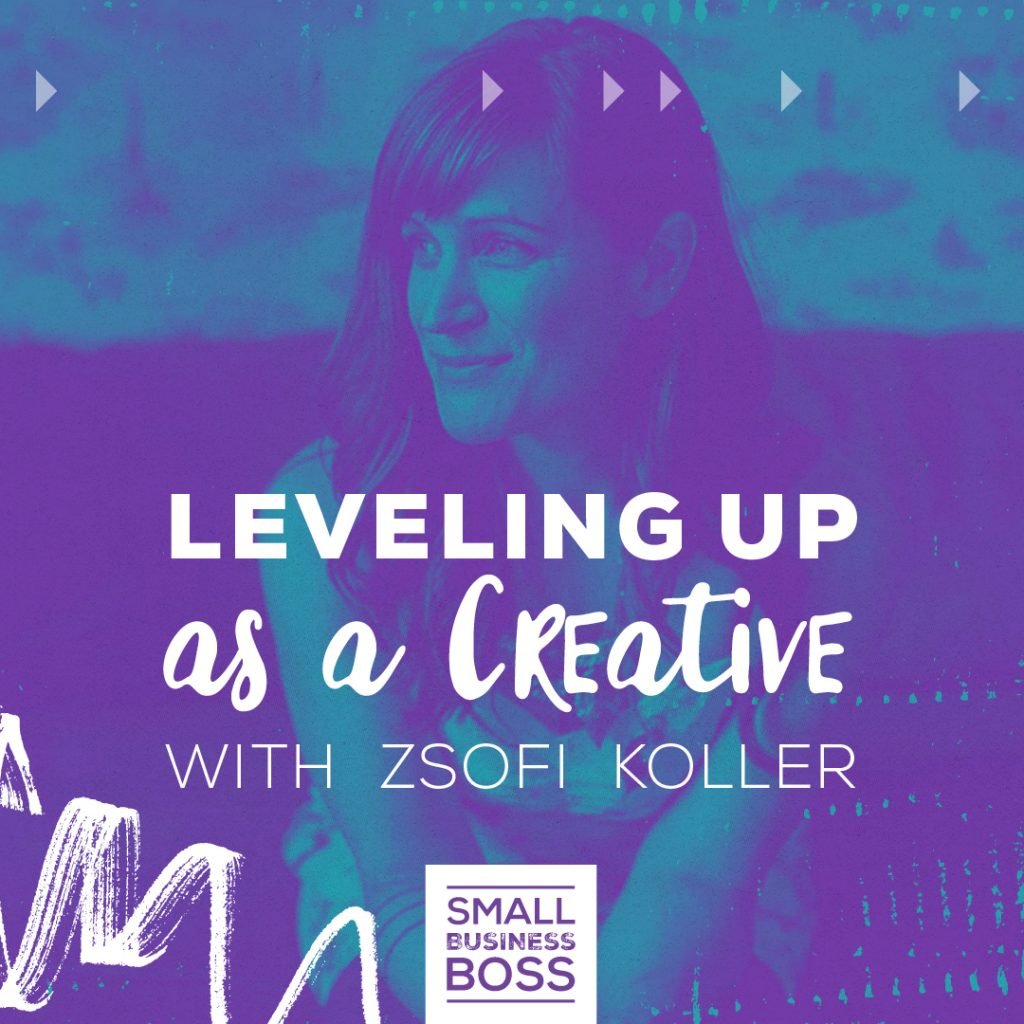 Episode 141: Leveling Up as a Creative with Zsofi Koller
If you're a creative, you know the dance between loving what you do and the running of the business. In this episode, I chat with Zsofi Koller of Lilt Creative to take a peek-behind-the-curtain of her business and about leveling up as a creative.
As a creative at heart, I identify strongly with the challenges I hear from my clients running creative businesses. The reality is that when you're making a business based on a creative pursuit, it can be challenging to manage the working in the business with working on the business. That's why I'm so excited to share this interview with you today.
Here's a bit about Zsofi:
Zsofi Koller is the owner and Creative Director at Lilt Creative, a small design studio with lofty ambitions and boundless vision. She's passionate about extraordinary results, and connection and collaboration are intrinsic to how she works.
Tell us about your business and how you make money.
I am primarily a web designer doing identity designs for small businesses, and occasionally, I will do books.
I've had this business for seven years — working entirely for myself.
Once you feel that, I can't imagine ever going back and not working for myself. I love the freedom of that.
What kind of services do you offer?
I work in a way that's intensively collaborative, really high-touch.
I like to cultivate in-depth relationships with my clients.
I want to learn what my clients' goals are, what they really want to express, and the message they're looking to get out.
In web design, the ability to be creative is vast.
My job is to hone in on what the client really wants.
There's this magic in-between stage of what the client loves and what their audience will love — and trying to meet in the middle.
It's a problem-solving process, but it's also all about communication.
I'm taking their abstract ideas and putting them (literally) in a digital format that people can see and read.
How did you start your business?
I was on maternity leave after having twin baby girls, and I knew I needed (and wanted) to start work again.
I started working part-time so I could ease into it and have more control.
I always had the skillset of design — which I never had formal training for — and it came in useful to pay the bills.
When you're paying for childcare, you can set boundaries easily and be really efficient because you know that what you're doing for work is costing X amount in childcare.
You're a creative. How do you manage the creative aspects of your business with the day-to-day with clients?
The only thing that has helped me is to hire people who are really good at those things to do it for me so I don't have to.
Hiring people isn't easy — it's a whole process.
Give yourself the space to identify what's bogging you down and keeping you from that state of flow.
Now, I have a project manager to "nag" my clients when necessary.
Also, using a timer to figure out what I'm doing all day has been helpful.
Realizing my own limitations and trying to honor them instead of being like DO MORE!
Giving myself space to play.
Sometimes it just doesn't come to me until I do something else for inspiration. Sometimes you just have to go and start the task no matter how bad it is.
You've upleveled your caliber of clients and projects you work on this year. How has this impacted your business, and how has that made you feel more confident that these big brands you admire are interested in working with you?
It's really exciting, and it feels magical.
Sometimes, I can't believe what I get to do. I keep coming back to it, but it is so fun.
Despite the stresses and strains and the burnout of having a creative business, I get sheer joy and delight from doing it. Otherwise, what would be the point?
Working with that level of client has reassured me that I am doing world-class level of work — which is still hard to say with a straight face — and realizing I'm on the same playing field as other amazing designers and know that I can do what they do.
It took me a long time to let myself believe that.
It's a very deeply motivating feeling.
This is my contribution, and it actually does matter. It's good, and I'm proud of it.
It's okay to let yourself be inspired by others without making yourself feel bad about what you're doing.
It takes self-confidence and maturity with what you're doing and knowing you've been doing it for a while, and you're going to keep doing it because it's kind of awesome, and your work is just as valuable.
It's amazing how much our work brings out our insecurities.
You're a part of the Double It Mastermind. How has this experience contributed to your growth and just your business this past year?
Maggie is kind of lifeline.
No matter the situation, she is there for me.
I don't know what I'd do without you on my speed dial.
It's so easy to second-guess everything you're doing and be like, "I'm crazy."
Being able to contact you directly with my concerns and have you straighten me out with no BS immediately is amazing.
The other thing is the community of women that are in the mastermind group.
There are really amazing people that I've connected with deeply.
I love the in-person events when I can go, but I do prioritize going to at least one, if not two, a year.
It's amazing to give yourself the space to talk about your business with people who are doing the same thing — which is both super validating and motivating.
The friendships I've made in the group have been great, and I've hired different people from the group for different reasons.
It's made a big difference in feeling supported and understood.
The difference between online groups and these in-person events is being able to look people in the eyes and laugh about stuff.
Lessons:
Zsofi shared how she really commits to her clients and delivers on their vision, which I think can be a huge challenge for many bosses as we want our relationships to have boundaries and even be more transactional. This is a good reminder as to how we can truly collaborate with our clients in a healthy, meaningful way.
She talked about how, as a creative, she's hired help to do the parts of the work that don't come naturally to her. This is a great lesson about how we don't have to be great at everything, and if running the business feels heavy or constricting, we can get help along the way. (And that it's good to ask for help!)
In our conversation, Zsofi shared how she gets joy and delight from the work she does for her clients. It can be easy to lose sight of the joy in a service business — especially if you've got challenging clients. Looking for the joy and delight more is a must. If we wanted a soul-sucking experience, we can have a 9 to 5 we hate instead!
Links for This Show: