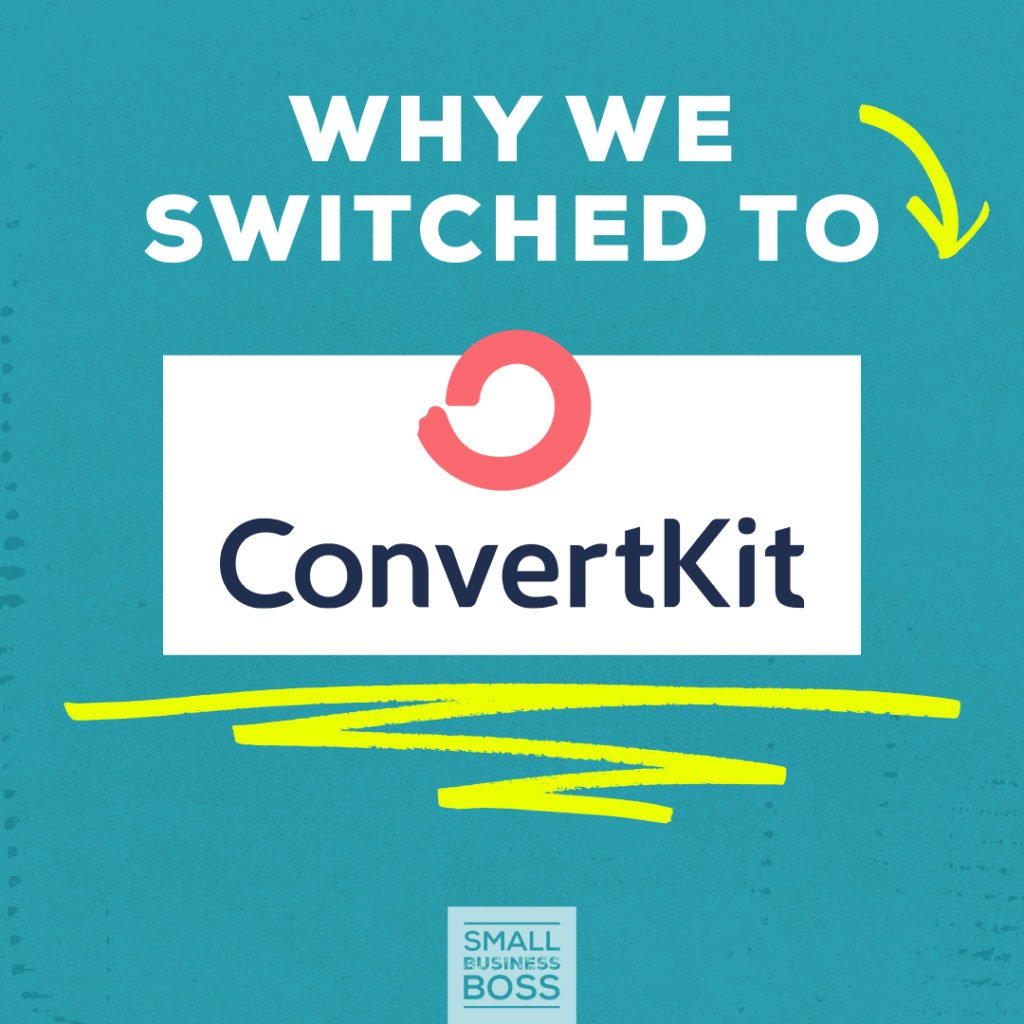 Why We Switched to ConvertKit
We recently made the decision to migrate our well-established online business from using Infusionsoft to ConvertKit, and let me tell you…it was no small undertaking. You may be thinking: why would they switch? Well, here's why we switched to ConvertKit.
The number one reason we decided to make the switch was that we needed something a bit simpler. Here at Small Business Boss, we're all about simplicity, so this seemed like a good place to make a change.
Benefits of Switching to ConvertKit
While we really like what Infusionsoft offers, and we definitely think it's a great solution for the right business, it just wasn't right for us.
What we used most in Infusionsoft was email marketing and automation in their campaign builder, and up until a couple years ago, you had to go with an expensive all-in-one system like Infusionsoft to get this level of sophistication.
The beauty of technology means that that's just not the case anymore. Along with the high price tag and fancy campaign builder, came a lot of complexity, and as a small team, we really needed a solution that would allow everyone to see what was going on — even if they aren't techy geeks (like me!).
ConvertKit makes it easy for everyone on our team to understand what's going on, and it still allows us to do the automation we were previously doing in Infusionsoft.
Along with the need for simplicity was the fact that we just weren't using all of the bells and whistles that Infusionsoft was offering. We mainly just used the pieces related to email marketing and the rest left a little to be desired.
Truthfully, the Infusionsoft eCommerce platform has never been particularly strong, and we only have a handful of products that actually need an eCommerce solution outside of invoicing clients for Scoop Studios. This reason alone didn't really justify the need to keep the eCommerce solution provided by Infusionsoft.
By focusing on using ConvertKit for email marketing and then easily syncing up Teachable and AccessAlly for our membership that does need automation, we're actually able to provide a much more streamlined solution, not just for our own team, but for our end users as well.
How We Did the Migration
You're probably wondering how insanely complicated this whole migration was and if it was actually worth it. This is the most common question I've had to answer since we made the move.
We help clients with their email marketing every day. We have clients that use both Infusionsoft and ConvertKit. So let me be clear that the purpose of this is NOT to slam Infusionsoft.
For our business, which is focused on servicing clients with our agency and offering a membership and a mastermind within the Small Business Boss brand, using Infusionsoft was complete overkill. It was creating more complexity than was needed.
For businesses that have things like complex funnels, Infusionsoft IS a great solution. It's just not the right solution for our business.
The process of migration was super involved. Like any big project, a high level of organization was key to making this work. I treated this migration the same way I would with any client and used our "migration tracker" to keep things organized and on time.
I also decided to utilize the help of the ConvertKit migration team, namely to bring over the 100 or so tags we had in Infusionsoft so that I didn't have to do them one by one. (Thank goodness!!)
Was It Worth It?
We debated making the move to ConvertKit for at least a year before we actually went ahead with it. Looking back, we really did need that whole year to weigh out the pros and cons for our business.
But now, having completed the migration, I can say that it was 100% worth the effort.
Not only do we now have a simple yet sophisticated system that our whole team can use and understand, we've seen some other benefits as well.
We're spending less money (yes!).
We're also noticing our email open rates have been significantly higher since the switch. As the person who sets up all of our emails, I'm actually having more fun doing it, which isn't something I expected.
ConvertKit is super user-friendly and intuitive, so working in it is a breeze.
If this has inspired you to make the move from Infusionsoft, or MailChimp, or some other software, be sure to take advantage of our free 30 day trial!