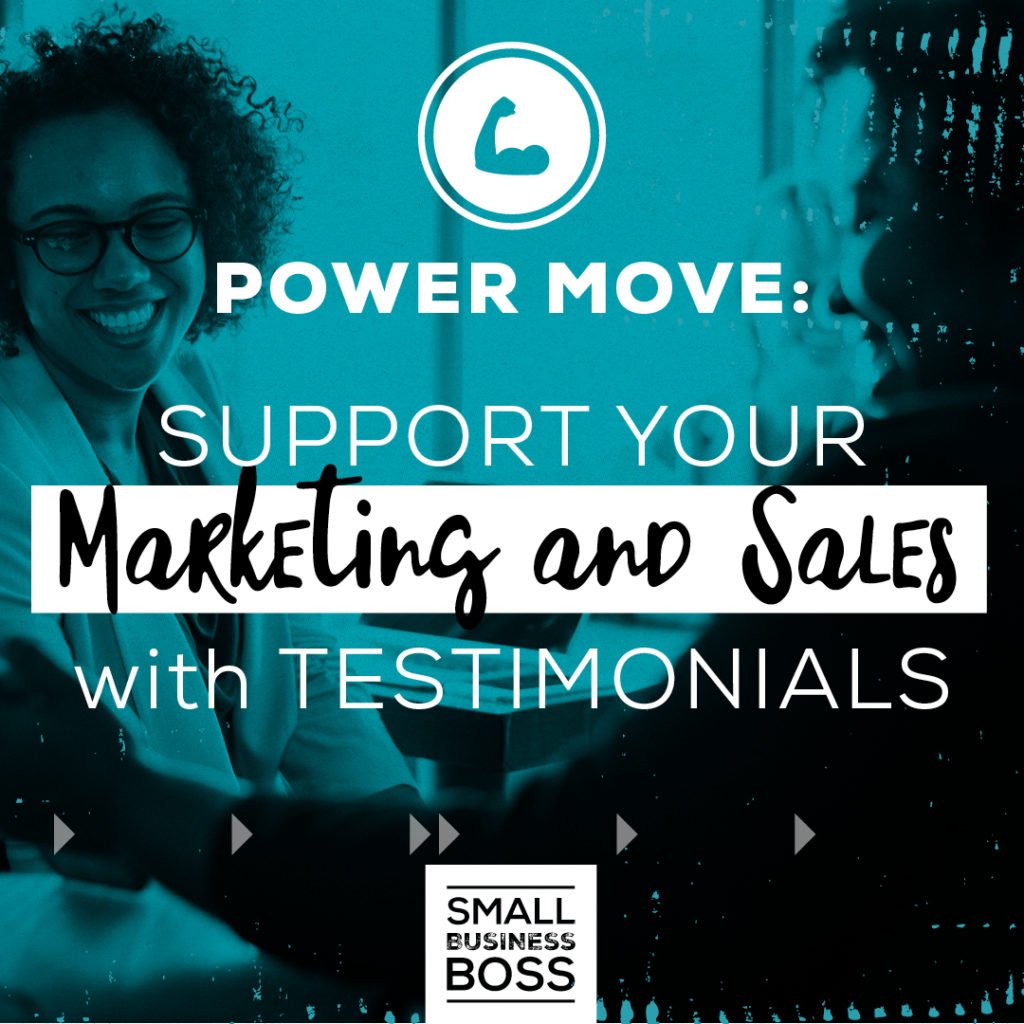 Episode 133: Power Move: Support Your Marketing and Sales With Testimonials
As bosses, we do a lot of things on a daily basis to help attract customers and then turn them into clients. But there's one relatively small thing we can do that often gets overlooked. Wondering what it is? It's testimonials, and in this episode, we're talking all things testimonials. Let's do it.
I took a look back at past episodes of the podcast, and I realized that I've really not talked about testimonials very much on the show, so this episode is long overdue. That struck me as funny as in the agency, we actively work on customer success story programs for our clients week in, week out.
And that experience has taught me how incredibly powerful sharing customer stories can be in your sales and marketing — especially as a solo or small business!
Now, let's get down to the meat and potatoes and talk all things testimonials.
Why are they so important?
The process of marketing to potential clients and signing them on as clients is full of potential roadblocks. Us saying we're as good as we claim to be isn't enough many times to get people to know, like, and trust us — which is essential if they're going to do business with us.
The fact is that we can do a lot of things to get attention and put people's minds at ease, but there's no substitute for the power of social proof.
If you're not familiar with the concept of social proof, it's one of Robert Cialdini's six principles of persuasion. The idea is that when someone isn't sure what to do, they'll look to their peers for ideas on what to do. So if they're trying to decide whether or not to follow you or buy from you, they'll look for others that do to make their decision.
Social proof helps to remove friction and creates security that the potential client is doing the right thing. And it's more compelling than a discount, so never ever underestimate its power for your sales and marketing.
How to use them in sales and marketing?
Now, we've all seen testimonials on sales pages as a way to convince us to buy what that person is selling, but that's only one way to use testimonials to support finding and booking clients.
Testimonials are seriously under utilized by small business bosses, and we should be sprinkling them around like confetti! Here are a few ways to use them:

On your website
In your proposals
On social media
In blog posts or other content you create
In emails
Presentations
Speaking engagements

You can also step up your testimonials and turn them into other marketing assets such as videos, case studies and more. These can be used across your sales and marketing to help tell the story of what it's like to work with you and what type of results clients get when they work with you.
How to get them?
Make a list of all past/present clients to figure out who you can ask.
Create a template email you can use to ask your customers for testimonials.
Send out the initial request, then send the questions/questionnaire.
Write them up into testimonials and use them freely.
Things to consider:

The timing of when you ask — don't ask too soon or wait too long.
Think carefully about the questions you ask as they will dictate the answers you get back.
Don't ask clients that aren't ideal.
Position your ask as a win/win — not just them doing a favor.