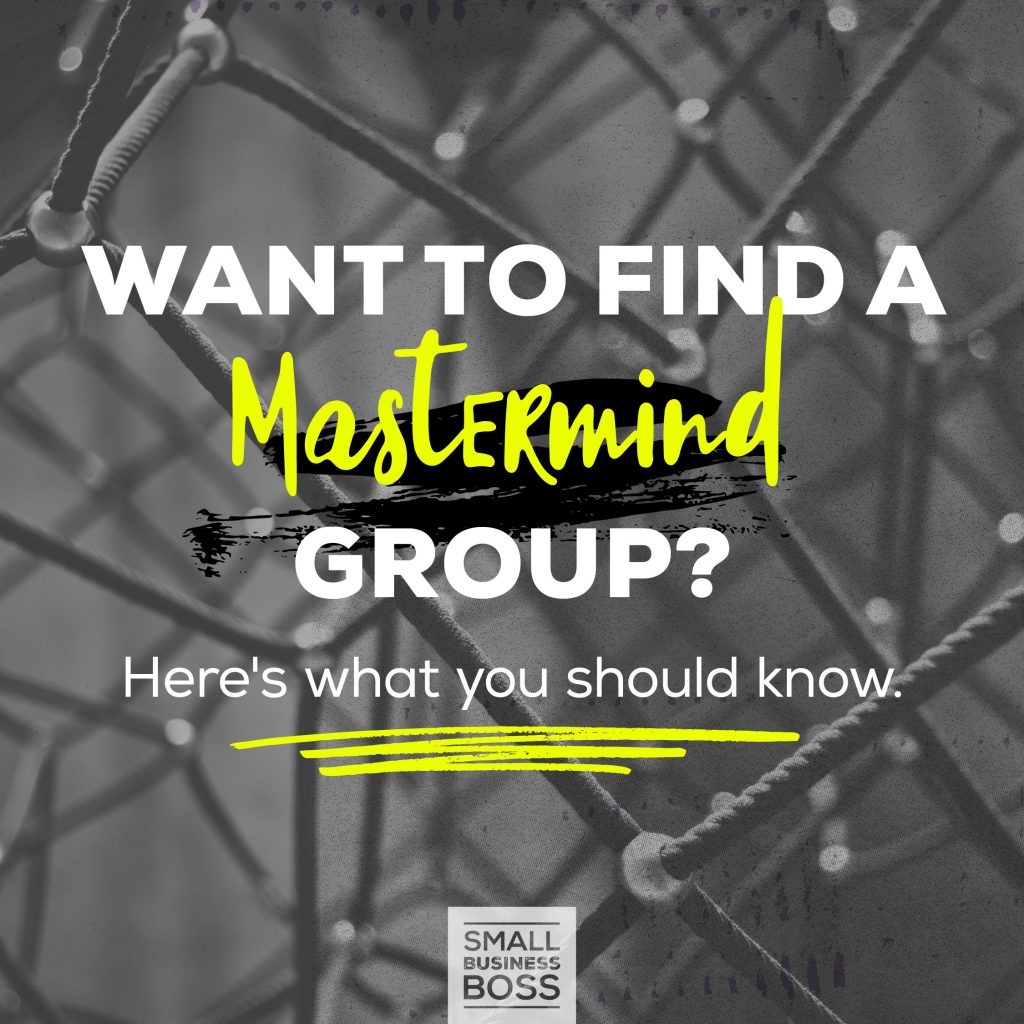 Want to Find a Mastermind Group? Here's What You Should Know.
Running a service business can be a challenge, which is why so many of us need support. One of the best ways to do that as a business owner is to find a mastermind group.
I won't get into the detailed history of masterminds here, but the concept is nearly 100 years old. In 1925, author Napoleon Hill shared the idea in his book The Law of Success. (Side note: I'm not a fan of his work at all, but giving credit where credit is due and all that jazz.)

While professionals in every field join masterminds to advance their careers, the trend is especially prevalent with small businesses and online-based businesses.
With the rise in self-employment, freelancing and consulting, it's no surprise that everyone seems to be looking to find a mastermind group. It's a powerful way to get the support, guidance and community from a group of like-minded people.
What's a Business Mastermind?
The term mastermind gets thrown around a lot, but sometimes there's confusion as to what a mastermind actually is.
Before I go too far, let me start by clearing something up. A mastermind is not a course, coaching program or membership community.

While course material or coaching may be included in the mastermind experience, the most important element is being in a small group of people with similar challenges. Rather than discussing strategies or ideas in isolation, the collective brainpower of the group benefits everyone.
What Happens in a Mastermind?
When you're looking to find a mastermind group as a service business owner, what you're really seeking is a group of peers with similar businesses and goals.

It's based on peer-to-peer mentoring and powered by the idea that each member of the group is invested in not only achieving personal success but championing one another.
When you join a mastermind, you're committing to offering support and accountability to your fellow members. You should bring a willingness to share ideas, resources and feedback. If someone in the group has a problem or challenge, you'll want to pitch in and help them solve it.
In other words, masterminds have reciprocity built-in. While you're not obligated to contribute in any particular way, in general, the more you give the more you get back.
Not only that, but you want to find a mastermind group that's organized by a leader who knows what the hell they're doing. As someone who's been in masterminds, and runs masterminds, there's an art to facilitating these groups. It's not just a matter of throwing people together and hoping for the best.

That's why I always recommend that if you're joining a paid mastermind group you look for people who are running businesses like yours. So many service business owners end up in groups with people who have no clue how to run a creative or consulting business.
The role of the mastermind leader is to nurture the community, organizes virtual and in-person meetups and retreats, facilitate discussions, offer helpful resources, plan events, and may provide one-on-one mentoring — all dependent on the structure of the group.
If you want to find a mastermind group that has a positive impact on your business, it's important to know that every mastermind is different. For me, one of my biggest frustrations, when I was in a mastermind group, was being with people who didn't understand that I was building an agency, not a course business.

Why Find a Mastermind Group?
There are plenty of reasons for joining a mastermind, which will vary depending on what you need most in your business right now, the stage you are in with your business, and the challenges you may be facing.
If you're in start-up mode, your challenges tend to be different from an agency owner with a team of contractors or employees. If you're aiming for fast growth, your challenges are different from someone whose biggest goal is to create more work/life balance.

If you want to grow a service business, your needs differ from someone who wants to grow a course-based business.
It's not that you can't learn from people in all stages and with a variety of businesses. But think carefully about what you need, how you can best be supported, and how to benefit from connecting with other group members — not to mention how you can best contribute.
Let's look at some of the common reasons to find a mastermind group:
Reason #1: Connect with Your Peers
Running a business can get lonely. Not only are you probably working from home alone at your desk all day, but people with "regular" jobs don't really get what you do.

When you find a mastermind group and connect with people who understand what a day in the life of a service business owner looks like, it's seriously refreshing.
Reason #2: Grow Your Professional Network
Masterminds present an opportunity to build deep and lasting relationships with the people in your group. (Seriously, so many of the people who've met in the groups I've run have built friendships and business relationships.)

The members of the group will know who you are, what you do, and what you're capable of. Connecting in the group will give them an opportunity to know, like, and trust you and that opens the door for them to hire or refer business to you.
Reason #3: Get Accountability
When you run your own business, the buck stops with you. You don't have a manager to ensure you're meeting your business goals.

It's easy to sell yourself short when nobody even knows what you've set out to do. Planning to pitch a new client this week? Launch your new website next month? Let your fellow mastermind members know and they'll hold you to it.
Reason #4: Gain Input and Feedback
If you've got even a hint of an entrepreneurial spirit, chances are you're full of ideas. Thinking about launching a new service offering? Want to go after a new vertical? Considering launching a podcast?

When you find a mastermind group you get to bounce those ideas off of people who have been there, done that, or have some insight or perspective that can be helpful to you. You get honest advice from a group of your peers that supports your business goals.
Reason #5: Spot New Possibilities
One of the biggest benefits of having candid conversations with other business owners is that it opens your eyes to things you may have never known or considered otherwise.

You might discover you've been terribly undercharging, learn about a different way to package your services or realize you can set boundaries that you thought your clients would never go for.
Reason #6: Up Your Game
When you surround yourself with driven, goal-oriented people, they'll help you believe in yourself. I won't claim that it'll magically happen, but you'll be inspired by what other people in the mastermind are doing.
When trying to find a mastermind that you think will work well for you, focus on exactly what you want to get out of the mastermind and then look for a group that will help you meet those goals.

Types of Masterminds
With more and more freelancers, creatives and consultants looking to find a mastermind group these days, the good news is you've got several options.
Option 1: Peer-Led
If you think all mastermind groups require a financial investment, think again. People are starting mastermind groups all the time. And they're inviting a hand-picked group of peers to join them—at no cost.
You may have heard acquaintances talk about their mastermind group and wondered how they learned about it or how you can get in on the action. Well, don't be surprised if you can't find an answer. (This might even be why you're reading this blog post, on an elusive hunt to find a mastermind group.)
People tend to be secretive and gatekeep information about who's in their mastermind or how it formed. Sometimes it's treated as an exclusive insider-only club. (I know, I know, not cool!)

Maybe you'll be invited to join one or be welcomed into the fold or maybe you won't. But there's no need to sit around and find out; you have other choices.
Option 2: Start Your Own
As I mentioned, people are starting mastermind groups every day. So why not you? If you can't find a mastermind group that suits your needs, create one.
Don't get me wrong, I wouldn't recommend you start a group if you have no idea what you're doing and the people you'd invite to join you don't know either. But if you have some experience, you're ready to make progress and you know a handful of people who are likely to say yes, this definitely can work.
Brainstorm who you'd like to mastermind with, come up with some clear rules of engagement and expectations, and reach out to pitch the idea.
A word of caution: With informal, unpaid mastermind groups, it's not uncommon for people to flake out or for them to run their course. Masterminds require an investment of time, and people don't always realize that when they join.

Be sure to lay some ground mastermind group rules about engagement right from the start.
Option #3: Paid Mastermind Group
Joining a paid mastermind group is often the best option. The members and leader are more likely to be committed.
Some mastermind groups require a reasonable financial investment, and sometimes they come with a huge price tag.
Don't get duped into overinvesting in a big-ticket mastermind that promises the stars and can't possibly offer a positive ROI. Think carefully about the potential benefit you'll gain from joining the group and be wary of anything that looks too good to be true.
There are some real shady characters out there using high-pressure tactics to push high-ticket masterminds. Always dig into the details before committing to anything.
Here's what you'll want to ask before joining a paid mastermind:
Does the mastermind leader have recent experience with my business model?
Do they run the type of business I run? (If not, what qualifies them to lead this group?)
What are the requirements for participating in the group?
Is this for done-for-you service providers? Online entrepreneurs? Virtual coaches?
What are you doing to screen people for fit before joining? Is there an application process?
How many people will be in my mastermind group?
How is the mastermind group structured and how is it run?
What are the values driving this group?
What can I expect in terms of communication and engagement?
Is there a Slack Channel or other online community?
How much 1:1 time and support will I be getting?
How often are mastermind group meetings? Do you meet on a regular basis? What are the meeting times?
How are meetings structured? What's the format? Do they include a hot seat component?
Who do I get 1:1 support from?
If there's no 1:1 support, how do I get personalized support and feedback?
How often will we meet and how will those meetings be structured?
What will be done to foster connections with other group members?
What are some of the results people like me have achieved in the past?
What are the community guidelines? How's conflict handled?
Most of all for service business owners, watch for catch-all groups that claim to service everyone and anyone.

Within the online business realm there are countless mass group programs that claim to be masterminds where it's hard to get actual support, and when you do, it's generalized advice from someone who doesn't understand your business.

After all, I started offering masterminds as I was frustrated by my own experiences and the downright terrible advice I was given that didn't apply to my service business. Plus, I see the aftermath of these large groups led by people who have extremely limited knowledge of how creative and consulting businesses actually work.

Never shy away from asking questions or getting to the bottom of exactly what you'll be getting before you invest in a mastermind group. Don't let a sales page, scarcity tactics or looming enrollment deadlines trick you into making a rash decision.
You'll kick yourself if you pay to join a mastermind that's not a good fit. It's typically a long-term commitment that lasts several months to a year, so it can be a costly and frustrating mistake.
Find a Mastermind Group that's Right for You
To wrap up, mastermind groups can be incredibly valuable, but you need to do your homework and get a clear understanding of what you really want.

Consider if the mastermind will help you achieve the things you want to do, or will it cause you to lose sight of where you'd like to go in your business? A mastermind group that's not a fit with your needs can be a massive distraction as well as a waste of your time and money.

Are you a service business owner looking for a mastermind? We have multiple groups to choose from, and you can check them out here.