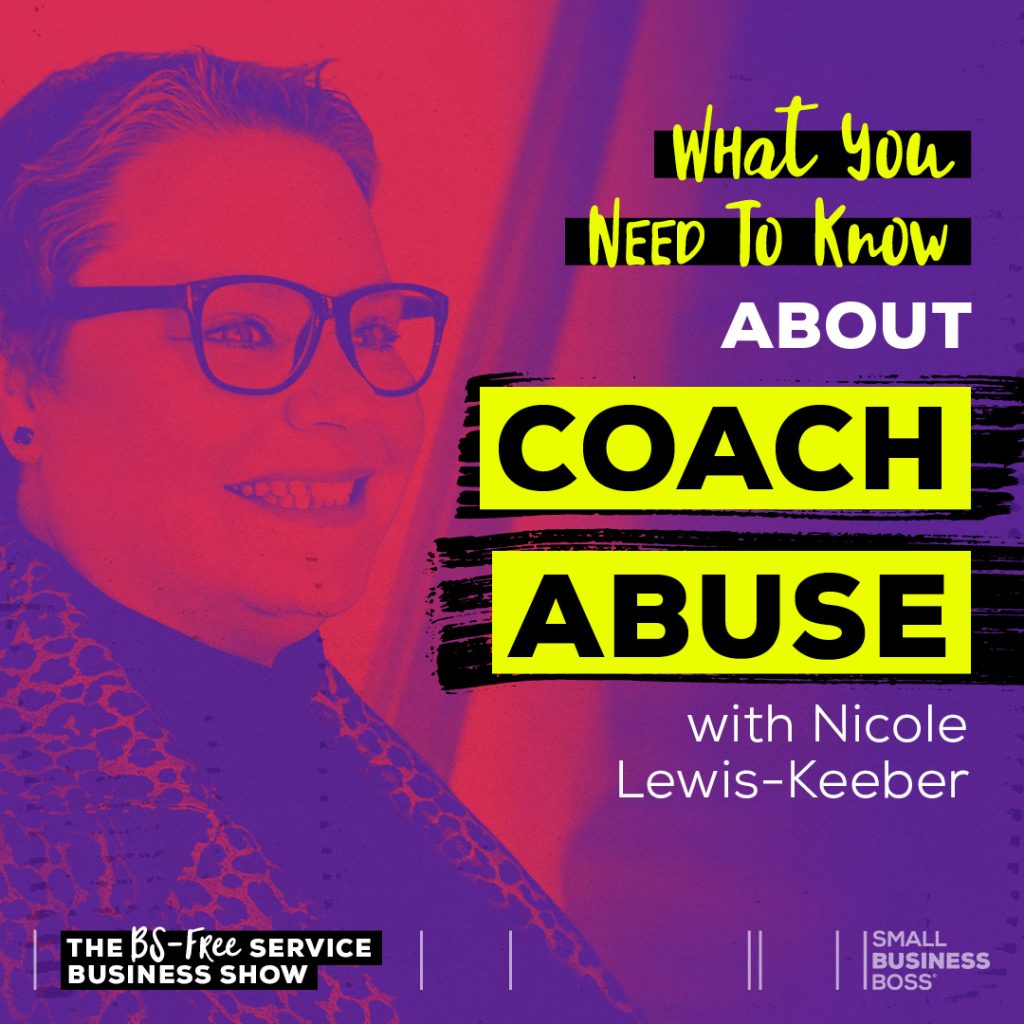 What You Need to Know About Coach Abuse with Nicole Lewis-Keeber
Content Warning: This podcast and blog post includes discussion of abusive relationships.
Have you ever worked with a coach and felt like something just wasn't right? Or left your one-on-one session feeling worse than you did at the start of the call? When you work with a coach, it's a relationship, which means it's also possible for abuse to occur. In this episode, guest Nicole Lewis-Keeber joins us to discuss coach abuse.

Last summer I had the chance to interview Nicole for an essay I was working on, and in our conversation we started talking about coach abuse. Honestly, it was a bit mindblowing, as while I always knew these relationships could turn bad, and many times were really and truly toxic, I'd never thought about it in those terms. Since then, I've not been able to stop thinking about it.

Because while I've had some not so great experiences with coaches over the years, I've never had an experience like this. But I do know what a twisted, toxic and abusive relationship with someone looks like, making it easy for me to see how this could happen in a coaching relationship.

Like many things I write about and share on this show, they're not things that people publicly discuss in the online business world. If they're discussed, it's in confidence and done so behind closed doors.

Which is exactly why I wanted to have this conversation about coach abuse. It's real, it's happening, and we need to talk about it.
Today's guest, Nicole Lewis-Keeber, has a background as a therapist and today works with business owners to understand the impact of trauma on their businesses.
Here's what we discussed:
Nicole's background as a therapist and the work she does today.
Why the relationship with our business is important and how as business owners we show up with our trauma and that can impact how we run our businesses.
What coach abuse is and how it may show up in our coaching engagements.
Red flags to watch for when it comes to looking for and hiring a coach.
Considerations around NLP and how it could be an abuse of power to use it.
What to consider if we're in a toxic coaching relationship and need to end it.
Why coach abuse is happening and what we may be able to do about it.
Lessons From This Episode
If we have trauma, we can easily replicate our past relationships with our coaches, and other times we may find ourselves working with a coach in a way that's not healthy. This shows up a lot with coaches around things like money mindset when the advice is things like "leap and the net will appear" and people end up with much bigger issues.
Abuse can show up in many ways. It may be financial abuse where your coach takes advantage of you for their gain, or it may be in terms of power and control. With coaches, and their communities, indoctrination can happen to the point that if you question anything you're going to be shut out or forced to get into line.
When hiring a coach we need to look at their training, their education, and understand how they're qualified. We need to look at how they operate their businesses and if they lean heavily on ideology that can be a red flag.
If you're considering leaving a coaching relationship that's gone off the rails, you need support to do so, and you need a plan. You need to assess the potential fallout and plan accordingly.
Understand that if you're offering services or coaching, you won't be perfect in how you show up all the time, but you need to be willing to own that and work with your clients.
As consumers, we need to keep in mind that many times this industry operates with little to no oversight, so we have to be ready to dig in. We need to be our own consumer advocate, do our research and decide if things really add up before we buy.
About Nicole
Nicole Lewis-Keeber is a business therapist and mindset coach who works with entrepreneurs to create and nurture healthy relationships with their businesses. She's a Licensed Clinical Social Worker with a Masters in Social Work and has a rich and varied experience as a therapist. Certified in Brené Brown's Dare To Lead™ methodology, she's also been featured on numerous media outlets including Fast Company and NPR for her work in breaking the stigma of mental health and business ownership. She writes and speaks about the impact of small t trauma on businesses but her biggest, more important work is in combining therapeutic processes with business coaching to help entrepreneurs build emotionally sustainable and financially stable businesses.
Links for this Episode
Free Class: Trauma and Its Impact on Business
Trauma & Entrepreneurship Assessment
Essay and episode that discusses NLP