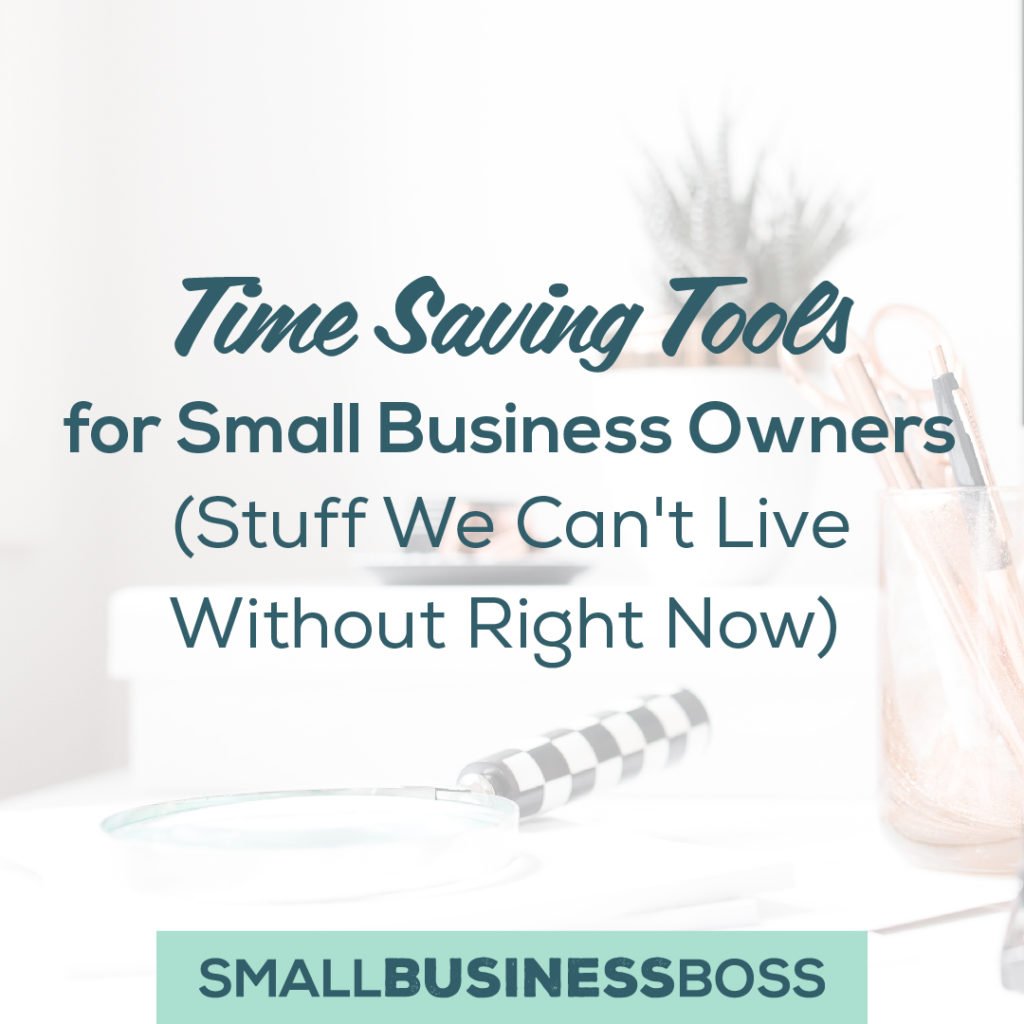 Episode 97: Time Saving Tools for Small Business Owners (Stuff We Can't Live Without Right Now)
Are you on the quest to find the PERFECT tool to do all the things in your business or wondering how you can save time? In this episode, we're talking about our fave time-saving tools for small business owners.
Most of us have a love/hate relationship with tools as we love what they can do for us, but finding the right tool can be tricky.
We get asked about what tools we use all the time, and it's a conversation that's come up with several of our mastermind members as they work on their systems this quarter.
One of the most common challenges is finding a solution that does all the things. And, truthfully, that's because there's no one perfect tool. Every tool has good points and not so good points, and often a tool your biz BFF loves just doesn't work for your brain.
Before we talk about specific tools, we want to share how we approach it. After much time and energy spent on trying to find an all-in-one that worked for us, we've moved to using best-in-class tools where needed and opting for simplicity as much as possible.
Here's our list of tools we can't live without.
For Proposals + Contracts: Bidsketch
We love Bidsketch, and we don't understand why people make things so much harder than they need to be!
We write a fair number of proposals in the average month, and Bidsketch helps keep everything organized.
We can see how many bids we've won, lost, and even each time a proposal is viewed. We actually just did a review of our 2017 proposals to look at win/loss rate and how we can improve.
Using Bidsketch means we have a repository of every proposal we've written, so for similar projects, we can quickly and easily find one and then customize to the client. You could do this in Google Drive or whatever, but the simplicity and ease of this solution can't be beaten.
We especially love the way Bidsketch presents fees — you can have set fees, optional fees, and more. There are many times we're able to increase the value of a contract with "optional" fees for things a client can add on.
When it comes time to prepare a proposal, we don't have to worry about the components; our time is spent on customizing a proposal, which we know for a fact wins us more business.
A recent new client commented on how customized it was and how it stood out because all the other ones were so cookie cutter. That's time well spent versus tracking down a document.
For some bids, we can prepare a proposal in a matter of minutes, and it saves major time each month.
We use the signature function on it to have the client approve the engagement, so we don't need to use another system for e-signatures.
For Project Management: Basecamp 2
We love Basecamp, as it runs our entire business.
We use it to manage all client projects, as well as communications with our mastermind AND internal projects.
It handles many functions including updates/emails, to-dos, tasks, files and more.
One of the big objections we hear about BC is the cost, but to us, it's worth every single penny in terms of the value it delivers and the time it saves.
Remember: Don't fall into the idea that a free tool is the best idea because it's free. Many times, as business owners, we try to save money on small things that would actually make our lives easier when we don't think twice about dropping $2k on a course.
Your TIME is valuable, so investing in the right tools is worth the money. Don't have tools for the sake of it, but if you need a specific tool and use it daily, it's worth the money.
For Email Marketing: ConvertKit
We recently moved all our email marketing over to ConvertKit for simplicity and streamlining. We have a full video on YouTube if you want to check out more about this move.
So far, it has saved both time and perceived time. It's very user-friendly, and the whole team is now able to look for things they need instead of relying on one person because our previous system was much more complex.
For Document Management: Google Drive
Since changing to Google Drive, we don't miss the drama of not having the right version or things not saving or them going missing on a hard drive.
From word processing to spreadsheets to forms, Google Drive is amazing. If you're still clinging to your Office Suite, cut that out and get over to Google Drive.
It's a huge time saver because there are no lost documents; you can always find what you need with the search function.
There's no version confusion and you have easy link sharing with your clients.
Occasionally, a client will resist using it, but once they get in there, they are pleasantly surprised, and we go so far as to put into our proposals/contracts that all documents are via Google Docs.
Over the years, we've tried a number of different systems, but we've gone back to a super simple system that works with our existing processes.
We use a spreadsheet to track contacts, and the bulk of our notes and follow-up are in Basecamp.
We created a "new business" project in Basecamp where we can add tasks and it tells us when to follow-up with people. That's actually resulted in some closed business this past month as we were able to follow-up in a timely manner and not let things slip through the cracks.
It's easy to send the proposal and then not follow-up; so until it's a no, it's still a maybe. Thoughtful follow-up can go a long way in helping to close people that are on the fence and staying in touch as they make their decision is a solid strategy.
And for fun, we wanted to share some time-saving tools from our "real" life as that's so closely intertwined with our real lives.
Maggie's Faves
Right now I'm all about my slow cooker. We got an Instant Pot a few months ago, which is good for relatively quick meals, but I still love the set it and forget it of the slow cooker. Working from home, I'm able to throw something in the morning or at lunch, and we have a great meal later.
Brittany's Faves
This isn't necessarily time-saving, but it's something I use to make time seem to go faster…and that's podcasts. My podcasts-to-listen-to list seems to keep growing, and I've started listening to audiobooks lately, too. As someone who works from home and rarely is stuck in traffic, listening time is scarce.
I listen during my morning walk, but that's not nearly enough time. So on the weekends or in the evenings, I've started listening to podcasts while I do chores and cleaning that I otherwise put off.
Links for this show: