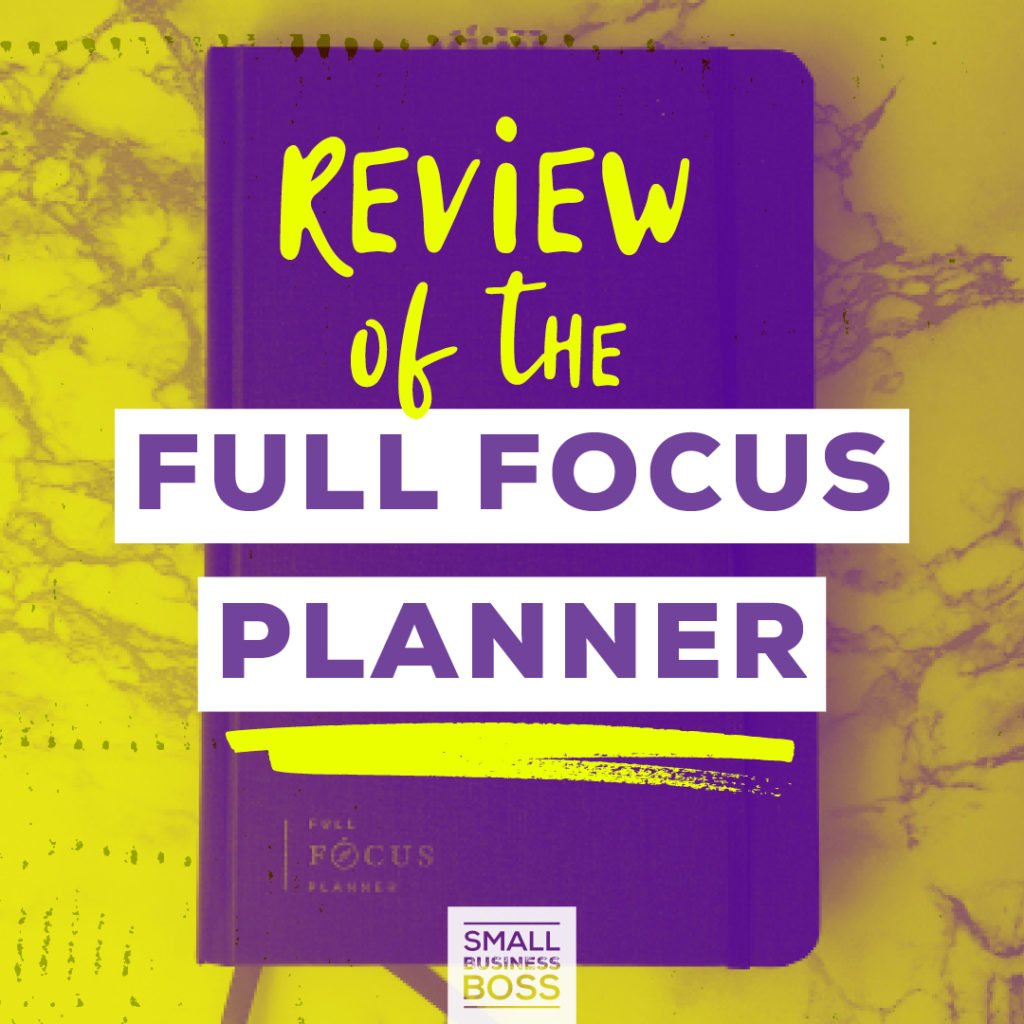 Review of Full Focus Planner
Our love of planners here at Small Business Boss HQ is probably the worst kept secret ever. In our never-ending quest to find the absolute perfect day planner, we've decided to review the Full Focus Planner.
We've been doing planner reviews for over a year now, and one thing we've noticed is that there's a trend of many planners moving from the traditional full calendar or academic year to quarterly or monthly chunks of time.
The Full Focus Planner developed by Michael Hyatt is indeed one of these planners, with it focusing on 90 days at a time.
I personally love 90-day goal setting, and this planner provides some great resources and tools if you're a big goal setter too.
While this planner isn't specifically designed for either business or personal life focus, it is designed in a way that both sides of your life can be intermingled.
The planner also comes with an extensive library of how-to and set up videos, along with a very engaged Facebook community. These folks are passionate about their planners!
PLANNER SPECS
The Full Focus Planner has a hardcover cloth over boards finish.
It measures in at 6 ¼" x 9 ¼" with 256 pages with a flat spine binding.
The planner comes with two ribbon markers and an elastic enclosure.
You can order one planner for $39.50 USD, or if you'd rather do an annual subscription, you'll get four planners for $125 USD.
PUTTING THE FULL FOCUS PLANNER TO THE TEST
The journal starts you off with a goal summary section right at the front where you can map out what you're working towards. There's also a little spot for an asterisk where you can designate which ones you're focusing on for the quarter.
One of my favourite things about this planner is that each individual goal on the main summary page then has its own full page where you map out what type of goal it is, why you're focusing on it, how you'll reward yourself when the goal is met and a section to write out your next steps. In particular, I think the motivation section is especially helpful as you can go back to it when your momentum may be waning and remind yourself what your purpose is for working on that one goal.
Because it's a quarterly journal, you get 3 full calendar months that you can fill out high-level information. One thing to note is that these pages are undated, so there is the extra step of filling out each calendar.
Next comes the ideal week section where you write out a schedule and include things that happen on a recurring basis. This particular exercise is fantastic if you've never taken the time to time block and figure out where your time is going on a weekly basis.
There's also a daily rituals section, broken down by morning, evening, workday startup and workday shutdown. This allows you to create your own little checklists for each part of your day, which can be very helpful. If you're someone who works from home, I think the workday rituals, in particular, can be a great way to set out a few specific things that signify the start of the end of a workday.
Once you're through those sections, it's all about your daily planning. Each day covers a two-page spread and includes some checkboxes for your daily rituals. One thing that made this planner stand out was the daily "big three", which is designed to make you prioritize. Sure, there's always lots to do in one day but identifying your top three for the day adds a little incentive to get those particular ones done.
I love that there is ample space for notes. It's a great way to keep track of the little things you need to remember for later.
WHAT I LOVED ABOUT THIS PLANNER
This planner is very portable and compact and comes with an elastic strap to keep it closed. It's about the same size as a bullet journal. I can easily fit it in my purse, which is always a bonus.
I really liked that there's a dedicated page for each goal so you can work through your motivations and rewards and really drill down on how you're going to achieve the goal.
There's a weekly review space for reflection which I can fully admit is something I am not great at, so having the space to do that is helpful. When I do actually do it, I'm always reminded how powerful of an activity it is.
Another thing I was loving with the Full Focus planner is that you have two pages per day. Plenty of space to write out lists, add notes, and keep track of your life. This means that both your personal and business stuff can all be housed in one convenient location.
ITEMS OF NOTE
If you're thinking of buying this planner, there are a few things that you should know ahead of time.
One thing I didn't love was that the ink on the inside of the planner was quite dark so it was a bit hard to see my writing. I noticed that this was a piece of feedback other people had provided in the Facebook group, and I've heard that they are planning on changing that, so hopefully that will be corrected in the near future.
The weekend optimizer was something that I didn't find particularly helpful or necessary. The idea is good, it's just something I didn't need or use as I tend to put all of that stuff in one place.
The last thing that wasn't my favourite is that it doesn't lay flat. This is also something I saw that was on the list of improvements, so I think with that small change the planner would be more appealing.
On the whole, there's a lot to love about this planner. If you're into goal setting, having plenty of space for daily notes and a place for intentional reflection, the Full Focus Planner is a great option for you.