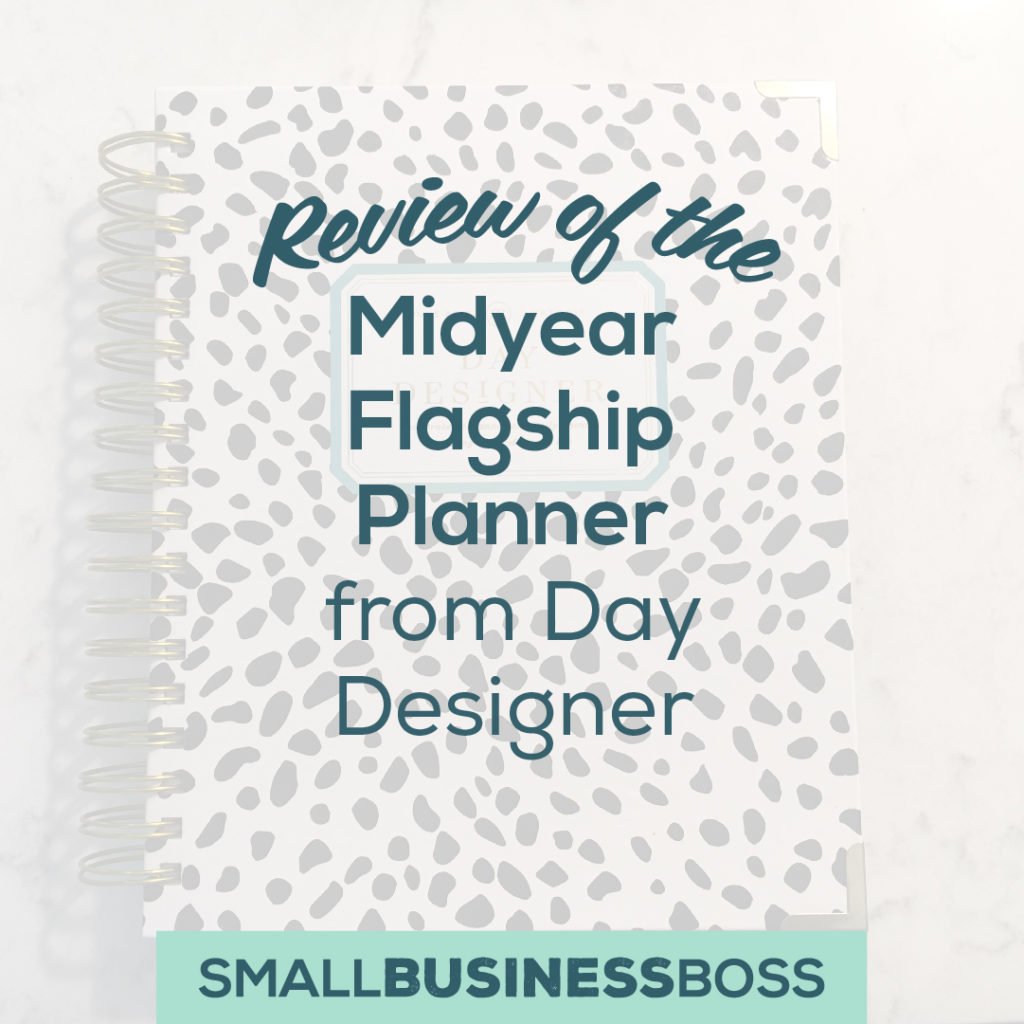 Review of the Midyear Flagship Planner From Day Designer
The Flagship Planner from Day Designer is a classic, and both Maggie and I are quite devoted to this one.

Truth be told, this is the ONLY planner that I was able to use and stick with for more than a month when I first realized I needed to be writing things down every day.
While the rest of the planners we review are typically used for a set amount of time, I've been using this particular style of Day Designer I've been using consistently for two years.
The Day Designer MidYear Flagship Planner is a gold spiral-bound planner that's a tried and true classic or as their site says, the "original daily planner". While the covers are super colorful and bright, the interior is very clean and simple, which this sorta-minimalist adores.
For my planner, I chose the Black Spotty design for a touch of color.
Planner Specs
This planner has two main formats – the full year from January to December and the Midyear which runs from June through May. There is also a mini version that's well, a miniature version of the full-size one. This review is for the full-size mid-year planner.
(The Day Designer also comes in an A5 version that I reviewed earlier this year which you can check out here.)
The planner is  9″ wide x 9.75″ tall and the pages are  7.3″ wide x 9.5″ tall. It is 1.5″ deep (including the binding) and weighs in at 2.1 pounds.
The cover is very sturdy and has a smooth, glossy finish. The interior of the cover is also coated and includes a pocket for storing extra paper, notes, receipts, etc. The corners of the cover have gold protectors to keep your cover in tip-top shape all year.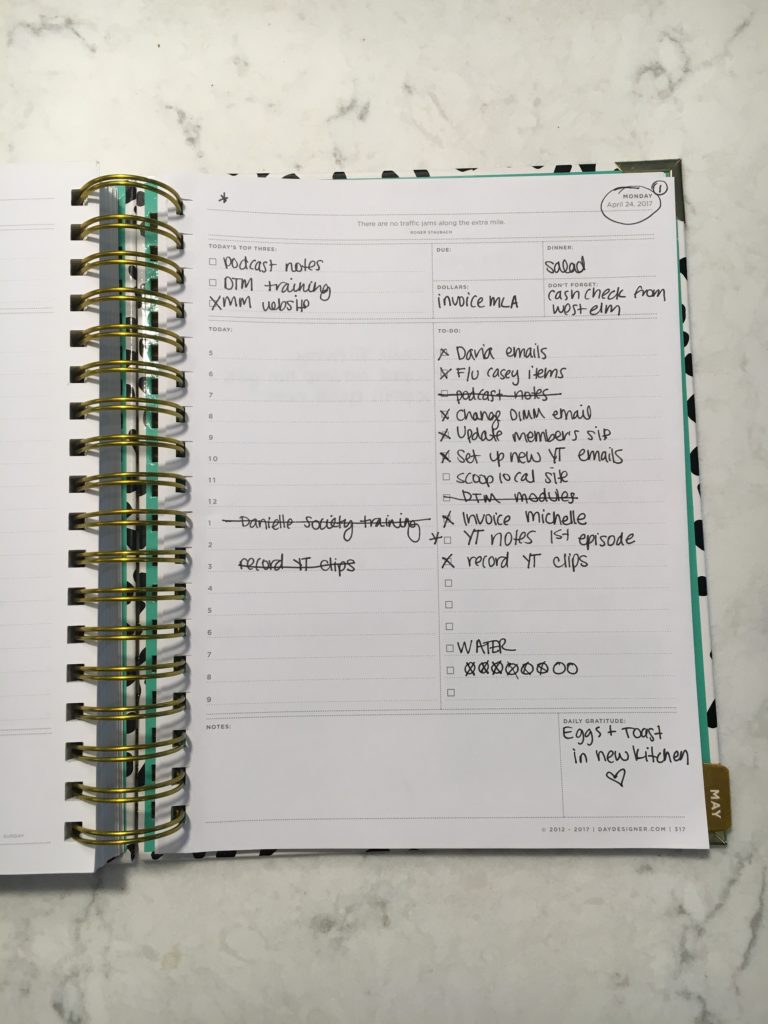 The paper inside is 90 GSM for smooth (and relatively bleed-free) writing. Like the LiveWell Planner and Desire Map, this planner is bound with a gold wire-o and the book lays flat.
Putting the MidYear Flagship Planner from Day Designer in Action
As I mentioned a bit earlier, this planner has received the test drive of all test drives as I've used this (nearly) daily for nearly two years.
Honestly, the weeks that I didn't use it or that I thought "I have it covered" were shall we say…less than productive. Point being, if I've learned nothing else in the last year it's that to keep my sanity on a daily and weekly basis, I've got to write my stuff down in a planner. Even if – especially if – I have it listed online in a project management system or in my inbox. This planner alone taught me the importance of that.
But I digress…
I did actually go and do a full review of this planner again, though and I was surprised at my reaction. After reviewing many different planners, my thoughts have changed a bit about this planner.
It's still a big gold star for me, but I'm not 100% sure it'll be the planner I stick with long-term. We'll have to see!
I used this planner during a week that I had travel away from the office for two out of the three days. And, I didn't bring it with me on my travels (more on why in a minute).
What I Loved About This Planner
I love many things about the Flagship Planner from Day Designer, and I think the #1 thing I love about it is the sheer amount of white space dedicated to each day.
There's ample space for a full schedule AND too many to-dos. (It can be a bit of double-edged sword though on those days that my to-dos and schedule is actually in check.)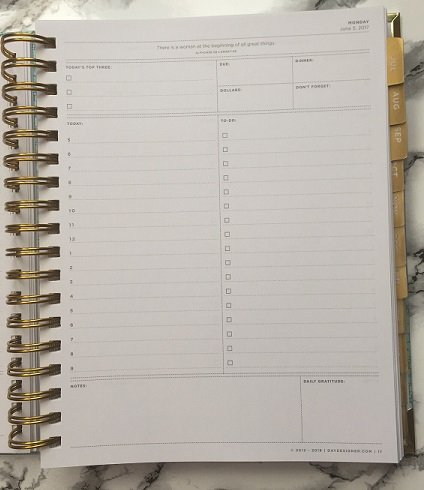 I love that the interior is no-fuss, but also very smartly designed. Each day has spaces for gratitude, notes, top three items, dinner, due and more. I don't always fill all of these in, but it's nice to have them there.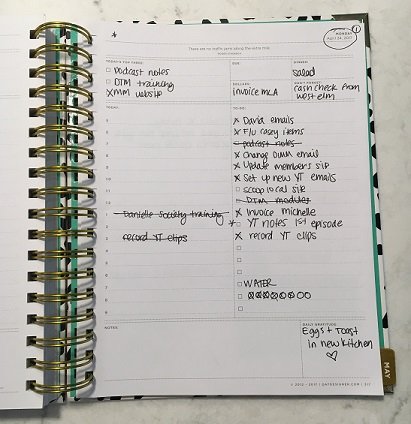 Each month has a sturdy gold laminated tab which makes flipping through to the correct month super easy.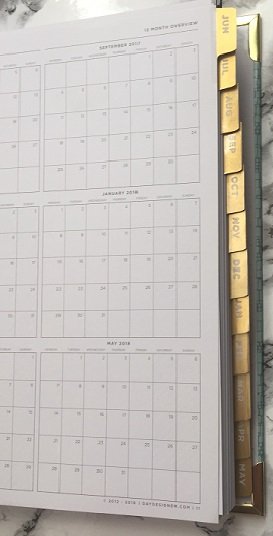 While I'm (mostly) in the habit of not working weekends, I do like that they include the weekends on a combined page because oftentimes there are house projects or errands that I need to get done and having a place with enough space that I can put them makes my weekends a little less hectic. There's even a space at the bottom of the weekend pages that has boxes for the next week – I love using this for meal planning.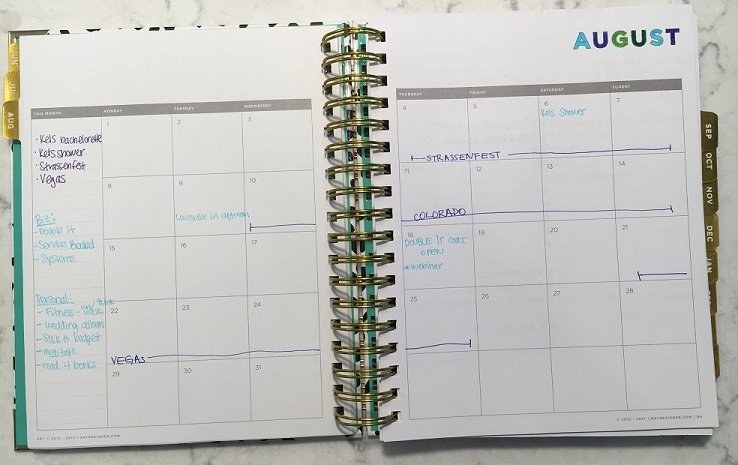 Fun Extras in This Planner
Perhaps the thing I love the most in the Flagship Planner from Day Designer is the planner pages that they have in the front of the planner. They are pages designed to help you set the stage for your goals for the coming year and there are a ton of exercises you can work through along with instructions on how to get the most out of the planner.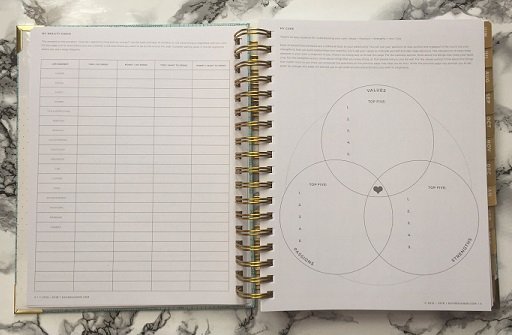 Each page has an inspirational quote at the top and it's a subtle reminder for me each day to stop and read the quote and reflect a little bit before diving right into the day's work.
Items of Note
One picky little thing that I would have liked to see is a water tracker for each day. It's a little silly, but I love tracking my water intake every day to make sure I at least do that one thing on the craziest of days. It's certainly not a deal breaker, but one thing I noticed I really enjoyed on some other planners.
While technically it's sturdy enough to be portable, it's quite a heavy a bulky planner to tote around, weighing in at over 2 pounds and nearly 2 inches thick. My MacBook Pro is  3.5 pounds and so rarely do I ever pack this planner up when I'm traveling. That's okay when I'm gone for a day or two, but when I'm doing a week of travel or have meetings outside of my home office, I do find myself wishing it was a little more portable.
I didn't realize I enjoyed a weekly view until I tried other planners. That said, I love having a full page for each day… so it's honestly a little bit of an internal debate in my brain as to which one truly works better for me. The jury is still out, but there's no denying my brain likes this planner.
The team at Day Designer really know how to make a quality product. They were certainly one of the pioneers in the 'luxe' daily planner world and I'm so glad their product is still top notch.
I do remember thinking the Flagship Planner from Day Designer was such an expensive planner the first time I bought it, but I can tell you that the quality of what you get matches the price point of $59.00. There are different versions available on the website (mini, A5) at different price points and they also have covers and other accessories available from time to time.