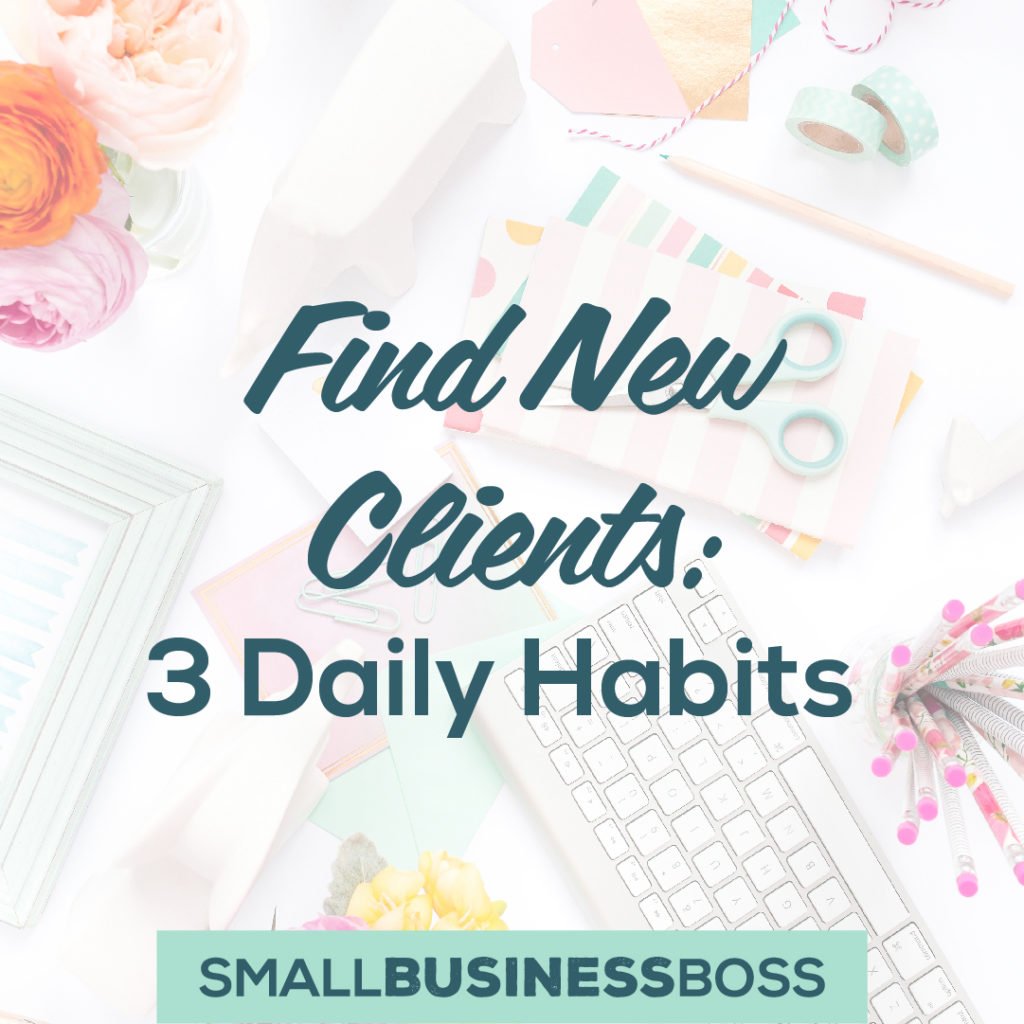 Find New Clients: Three Daily Habits
We all know that we need to find new clients to grow and sustain our businesses, but how do you do that when you get sidetracked by client needs and other daily distractions?
How do you make finding clients a consistent part of your day?
The key word here is consistent. When you run a business that's client based, you want to have new clients coming in on a regular basis to help your business grow.
When things are busy and you've got a full client roster, it's easy to sit back and not bother spending time on sourcing new clients.
The problem with this is that we wait until we not only want new clients, but we actually need those new clients to keep our revenue stream flowing. And then it's just a whole bunch of stress and hustle, which we all would rather avoid.
You Need to Make The Time
Before we start looking at specific habits we can implement, we want you to frame this all in the right way.
I'm a big believer that if something isn't scheduled, it won't get done. I recommend you start off by blocking out  some time on your calendar each day to focus on tasks related to finding clients. Try doing this in the morning before all of the other distractions of the day creep in.
When you block the time out for this task, start by making it a fairly small amount of time. Initially, you may think 30 minutes is a good block to work with, but we actually suggest going even smaller, closer to five to ten minutes per day.
You want to make the timeframe small enough that you can still do your daily task on days where things are busy and time is likely to get away from you. Because realistically, if your day has gone sideways and the next thing you know it's well into the evening, are you really going to dedicate 30 minutes to a work task? Probably not, but five minutes is completely doable.
Over time as you've built the habit, you can then increase to longer periods of time. In the meantime, think of it this way: 25 minutes a week is WAY better than zero minutes, right?
Here are three actions you can do to make finding new clients a regular part of your daily routine.
Daily Habit #1: Make a Prospect List
If you're doing this for the first time, use your five minute increments for the first week or two just coming up with a prospect list.
Once the list is compiled, you can then start researching people you've identified as prospects. LinkedIn and other social media is a great place to start with this activity.
While researching, you want to look for any connections you may have between a prospective client and your existing network.
Additionally, you're going to want to take the time to follow up. We often meet people at networking events, conference or places and they say, "Hey, we should chat sometime." Now is the time to reach out to those people.
If you're wondering where this list should live, after trying out a ton of different technology to keep things organized, I've come back to the old faithful…a Google spreadsheet. I make notes on a regular basis of things like when I last contacted them, who's connected to them, etc., and this allows me and our team to have a detailed log on each prospect.
The last thing you want is to put in all this work and end up forgetting what you've done with whom, so keeping track of this information is a key part of forming the habit.
Daily Habit #2: Work the Network You've Created
Once you have your prospect list set up and have identified who you should reach out to, you need to actually do it.
Start by sending them an email letting them know what you're up to. Or if you're the type of person who would rather pick up the phone and call them or invite them to meet in person, go for it. There's no one right way to do this step; it's just important you actually make a move and reach out.
Chances are that people aren't as in tune to exactly what you're doing these days as you think they are, so you can't assume they already know.
Don't forget to remind the people you contact that even if they aren't in need of your services or expertise, you'd love it if they would send people your way who do need the kind of things you provide. Tell them how much you'd appreciate any referrals or recommendations they can send to you.
For past and current clients, make sure you reach out to them on a regular basis and ask for referrals. You want to make it easy for them, so let them know they just need to pass your name along if they come across someone who may need your services. Many people love to recommend other people and be a connector.
Daily Habit #3: Always Be Following Up
Sending an initial email asking for a referral or introduction isn't enough. It just isn't!
Most people stop after the initial contact, but this is where you're going to rise above and always find clients, because you're going to always follow up. Whether it's one follow up email or several, this step is what usually makes the biggest difference.
People are busy and more distracted than ever. We can barely remember what we had for dinner last night, let alone someone who provided us with fantastic service six months ago!
You may be worried that trying to stay top of mind with people is annoying, but it isn't if you do it right.
So what does going about it the right way look like?
Always be of service. Provide links and resources that you know will be of value to them.
Take advantage of natural times in the calendar. Use those times in the year to reignite stale or stagnant relationships. Holidays, milestones, end of quarter and end of year are all opportunities to reach out.
Follow up with casual encounters. Sending a quick email after you've met someone at an event can go a long way. Make it personal and tell them you look forward to staying in touch.
Take Action
Keeping your pipeline full and growing your business consistently requires daily focus.
Start by blocking out as little as five minutes a day to focus on these three habits to find new clients and with just a little dedicated effort and time, you'll be pleasantly surprised at what can be achieved.