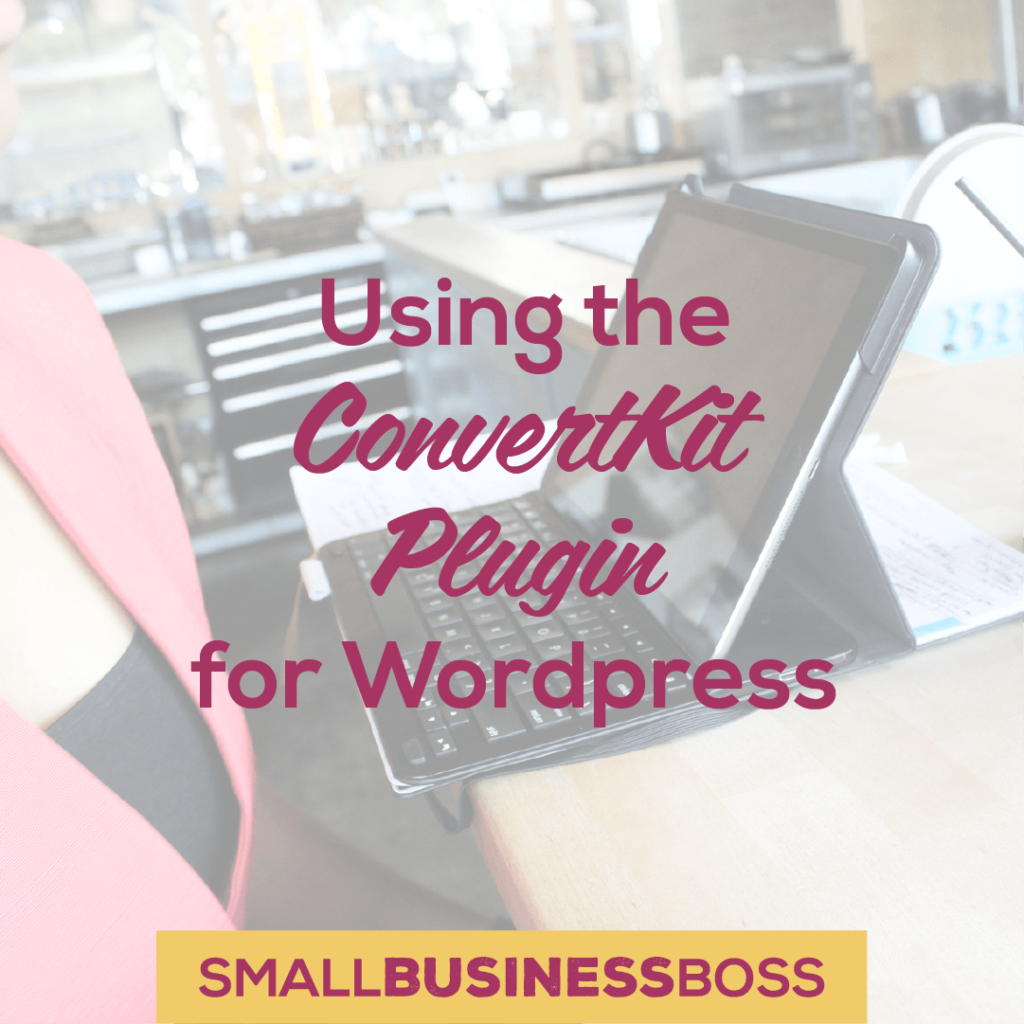 Using the ConvertKit Plugin for Wordpress
You've signed up for ConvertKit…woohoo! And you can't wait to start capturing subscribers…. but where to start? First things first — you need to get set up with the ConvertKit plugin for Wordpress.
You know you need to start capturing email addresses on your website with ConvertKit but you're just not sure how to code it or make it happen.
Getting Started
The first thing you'll need to do is log in to the backend of your Wordpress website. Then you can head over to Google and do a search for 'ConvertKit Wordpress plugin'. Once you've found the plugin, you'll go to the Wordpress.org page and download the plugin.
Once you've completed the download, you're going to head back over to your Wordpress dashboard, select the Plugins option on the left-hand menu, and then select Add New.
Once the Add Plugin page is open, you'll select Upload, and then choose the plugin file you just downloaded. From there, you'll click on Activate Plugin and then go back to the left menu and select Settings > ConvertKit.
At this point, you need to activate your plugin. You'll need your API Key and API Secret from ConvertKit to do this step. This information can be found in your ConvertKit account settings. You can simply copy and paste these two pieces of information directly from ConvertKit into Wordpress.
Once you've completed that step, you're going to need to pick a default form to show at the end of your blog posts. If you don't want to use anything, you can simply choose None; otherwise, you'll pick one of your existing forms in ConvertKit by selecting it from the drop-down menu in Settings > ConvertKit from your Wordpress dashboard. From there click on Save, and you're good to go.
Should you decide you want something different than what you selected as your default form on a particular blog post, you can easily change this at the post level. Go to your post and then scroll down to the ConvertKit section at the bottom of the post. In this section, you'll see your form listed as Default, and you can easily change that to any other form in the list using the drop-down menu.
If you don't want any form at the end of the post, simply select None from the drop-down menu.
Using the Widget
From the left-hand menu, if you select Appearance > Widgets, you'll now see that there's a ConvertKit form as an available widget that you can put in your posts. Simply drag the ConvertKit form widget over to the area you want it (like the Primary Sidebar) and then select the form you want to use.
Remember, the form will pull exactly what you have in ConvertKit, so if you simply have a bare-bones form, it may lack context and require you to add some additional text to go along with it in your post to ensure it makes sense.
Optimizing Your Tags
One of the coolest and most sophisticated things you can do with the ConvertKit plugin is to display certain content if someone has a tag or applying a tag if someone visits a certain page.
If this is something you want to set up, the first thing you need to do is to go into ConvertKit and under the Account section, click on Email. From there, you're going to scroll to the bottom of the page, and make sure that under the Advanced section, the Add Subscriber box is checked. This is what allows Wordpress to look at the subscriber, recognize the tag they have, and then push specific content to them. In the case of tags, having this box checked means Wordpress will recognize the page they've visited and add the tag to their account. That will only work from your newsletter or from your email, but it can still be very powerful.
Now you're going to go back into your post in Wordpress. The most simple action is having it set up so that when someone clicks on the post, a tag is applied. If you scroll back down to the bottom of the post where the ConvertKit section is, you'll see the Add a Tag section. From there you just need to select the tag you want applied when they visit the post from the drop-down menu.
This type of tagging can come in handy with your blog post categories. You can start to see which things people are visiting the most (and what categories are most popular) when they click through to your site.
Using Tags with Targeted Content
You may find you want to only show certain content within a blog post to subscribers with specific tags. You can do that with the plugin!
To do this, open your Wordpress post. From the editing toolbar within the post, click on the envelope icon, which is labeled as ConvertKit Custom Content. A pop up with a drop-down menu will open and you can select the tag you want use. Wordpress will add a shortcode into the post, and this means that anyone with that specified tag will see the content within the shortcode brackets. If they don't have the tag, they won't see the content within those brackets.
Now that you know some of the things the ConvertKit plugin for Wordpress can do, make sure you download it and install it on your Wordpress site to get the most use out of ConvertKit.
From capturing new subscribers to customizing content for your loyal readers, the ConvertKit plugin in Wordpress opens up a ton of possibilities for your business.